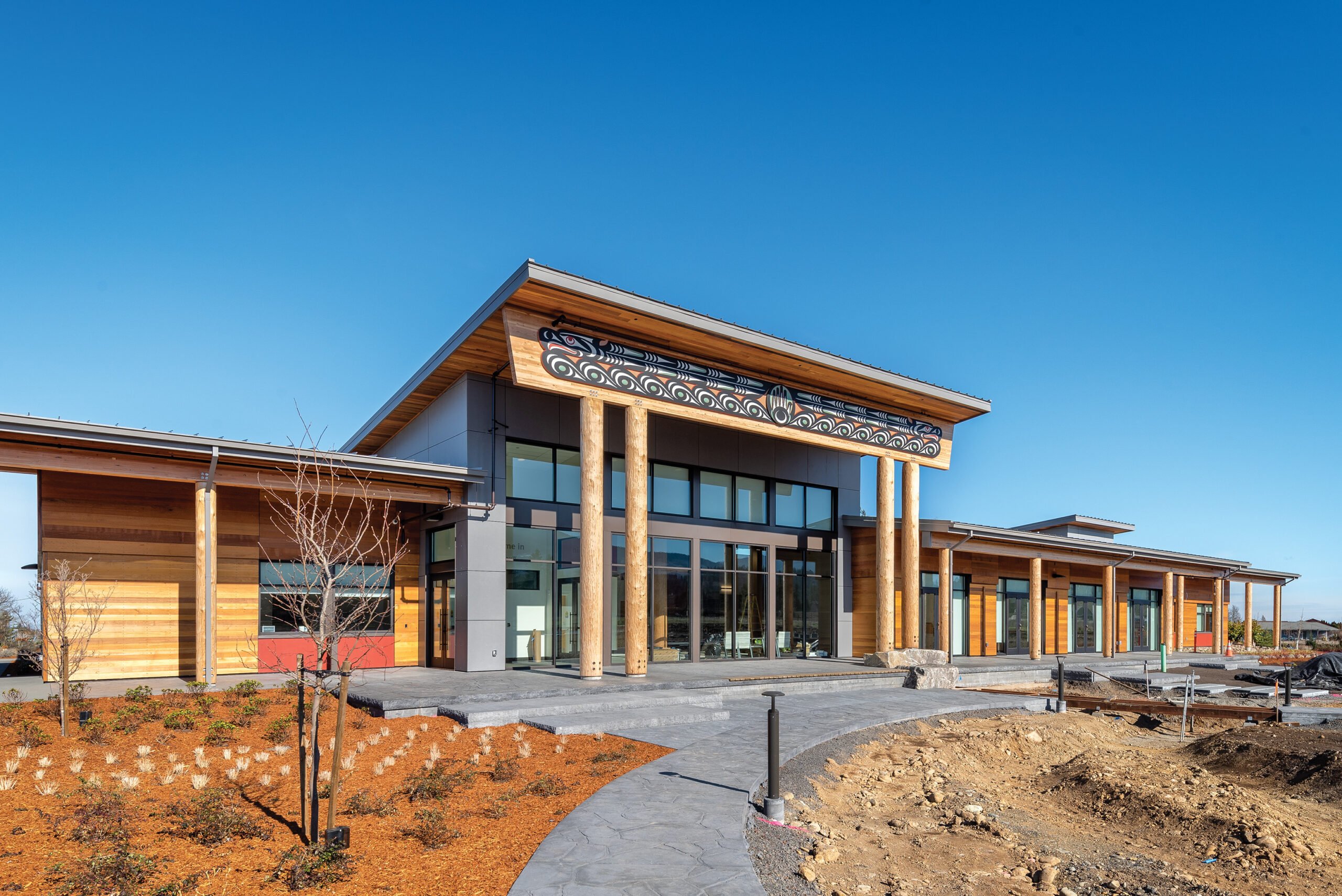 February 15, 2023
Community Spirit Guides Jamestown S'Klallam Tribe's Healing Clinic
You have to study the past if you want to define the future. And before completing an award-winning $14 million integrated care clinic last year for the Jamestown S'Klallam Tribe, Bremerton, Washington–based architecture firm Rice Fergus Miller (RFM) cultivated a 20-year history of working with the tribe's leaders, including on the design of their resort and casino.
The tribe's new Jamestown Healing Clinic in the city of Sequim, in the shadow of Olympic National Park, was a project with higher stakes. The 17,500-square-foot clinic treats members of the surrounding community for opioid use disorders, in addition to providing primary care, dental, and behavioral health services.
Before design began in 2019, RFM held meetings with tribal officials and the facility's medical staff. That way, multiple perspectives guided conversations. "We looked at it from the patient point of view and kind of put ourselves in those shoes, in terms of what their experience had been in the past and dealing with their substance use disorder and how a building like this could positively impact their recovery," explains Gena Lee, an interior designer for the firm.
Meanwhile, like other Pacific Northwest Indigenous tribes, the Jamestown S'Klallam Tribe takes steps to balance its history and traditions with both opportunities and challenges of the surrounding society. The clinic's services and design were also subject to that approach.
The tribe and firm turned to tribal elder Elaine Grinnell for guidance. "She's kind of the keeper of all of their traditional stories," Lee says. "She started telling stories that she had learned over her lifetime." Two narratives in particular influenced the design: One told of how removing a stone from a stream can change its course. The other was about a journey during which a canoe was lost in the fog, and the people onshore sang a traditional song that helped guide it back to shore.
---
More from Metropolis
---
The new building expresses that spirit of a community coming together to guide those in need. The stories are manifested in curvilinear pathways that emulate the nearby Dungeness River, where headwaters flow from the flank of 7,639-foot Mount Mystery, a sacred area for the tribe.
The massing is informed by the tribe's traditional low, long dwellings made of Western red cedar, which was also used for siding and support columns along the building's facade. Freshly cut cedar's natural burnt sienna hue is also an accent color throughout. Like a theater's marquee, a five-foot-tall carving (created by Bud Turner, the tribe's lead carver) dominates the entry.
For RFM associate principal Blake Webber, "we saw it as a strong analogy for the power of one positive interaction in someone's journey for recovery."
Would you like to comment on this article? Send your thoughts to: [email protected]