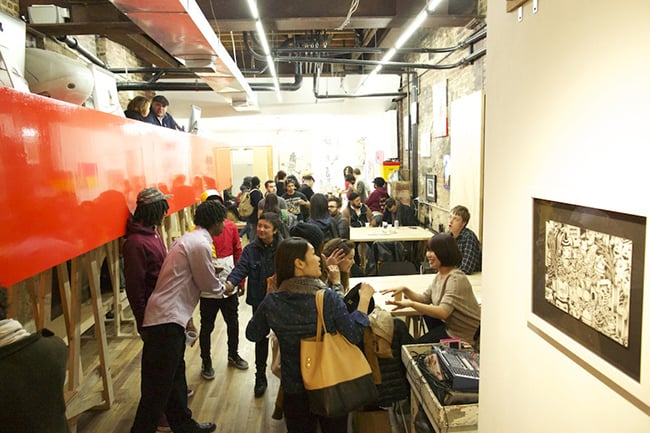 November 12, 2013
Con Artist Collective Opens New Gallery and Co-Working Space
A creative community takes expansion into their own hands
As Brian Shevlin, founder of Con Artist Collective, and Con Artist members were considering possibilities and sketching designs for an eventual expansion from their basement flat into the storefront above, news arrived that the space would be available much sooner than they expected.  This kicked the planning phase into high gear, intensifying Shevlin's relationship with the local hardware store and focusing the diverse talents of Con Artist members. The collective's first act in the new space was to hang a neon "Yaay" in the window, a popular and well-liked piece from their earlier space, and a hint to passers-by in the know that change was coming. The next step was to prepare the storefront gallery for the artists by hanging a curtain of raw canvas, behind which the work of transforming the remnants of a beauty salon into a collaborative workspace soon began. With most of the construction on the upper level now finished, the collective celebrated a soft opening, complete with pig roast, in late October and opened their renovated space for public viewing on the first day of November.
Courtesy Con Artist
---
More from Metropolis
---
Beyond the gallery and the display case of books, zines, printed tees, and other original member work for sale, the multi-use space expands into a large open hall, it's sense of depth amplified by a bright red loft that extends to a row of lockers and a staircase to the patio in back, and to the painting studio below. The loft supports computer stations above and harbors quiet benches below. Members' work hangs on brick walls throughout. Along the opposite wall, high tables on rollers are available for individual users or groups, or fold up to create more floor space. In the rear sits a rolling cork-lined cube for meetings, recording or additional dust-free drying space. "One of my favorite words has always been modular," says Shevlin, who organized his first collective 15 years ago. "We like when things can change and become something else." Multi-functionality is one key to meet the spatial needs of diverse creative people and the range of work they produce. Access to equipment and a sense of community are others.
Courtesy Con Artist
Garner Oh and Tamara Petrovic, partners at 0 to 1, and Shevlin worked collaboratively throughout the design process, with personal experience and input from collective members defining the project. "We worked in the previous Con Artist space, so we mingled a lot with the artists and began to understand their processes and workspace needs," says Oh of 0 to 1. "A shared vision was our greatest asset." But, with the broad range of needs, limited budget, and collective members volunteering to help with the construction, new considerations came into play. "We were very conscious of [this]," he explains, "which guided us to rethink simple and easy-to-work-with materials: 2×4's, plywood, cork." 0 to 1 continues to work on additional designs, including storage systems and mobile easels that incorporate drying racks.
Courtesy Con Artist
Shevlin's experience with the dynamics of artist groups and collectives, from the fresh-out-of-school warehouse venture to a private club in New York's Meatpacking District, continues to inform his work at Con Artist. He's quick to point out the value of community, and contextualize various studies of group dynamics in the lives of artists and creative communities.  "We decided to make it a priority," he says, "so to facilitate community, we have socials every sixteen days. We do shows all over the place, events, anything and everything that might get the artists in the room together. That's one thing that really defines us." Unlike a typical co-working space, members frequently collaborate. And the sense of belonging behind these activities is further encouraged through a selection process whereby new members are voted in. When I asked Garner Oh about the benefits of a collective membership, he too mentioned the group aspect first: "Being a part of a collective, we find sharing ideas and inspiring one another to be most valuable. And, on a very practical level, sharing skills and resources."
Courtesy Con Artist
The resources Oh mentions—the availability of equipment and space—are other important factors for a successful collective and an individual's creative work. Towards the end of our tour, Shevlin traces a diagram on a nearby wall with a series of steps representing the familiar path of art education, its built-in community, and access to available resources and equipment. In terms of these conditions, an artist reaches a pinnacle, is most equipped, just prior to leaving school, when his or her situation radically shifts.  In some sense, all artist collectives and organizations seek to recreate aspects of such an environment. New York may have a large population of creative people, but only the most successful can afford their own studio, which, in turn, makes finding a community and collaborative work more difficult. Con Artist takes on this dual problem by encouraging locals to join. Those who can become part of the community are the best fit. They also offer a growing list of amenities, including 24-hour access, easels, paper making equipment, a 4-color silk screen press, light boxes, design and film software, a photo studio, free Wi-Fi, and, of course, a collaborative community with opportunities to show and sell work.
Courtesy Con Artist
This week, the gallery is showing new work by Michael Sharp. Early readers will be able to catch the show's closing party this Wednesday, November 13th. For information about upcoming shows and the Con Artist Collective Sale, see here. Creative locals interested in joining are encouraged to contact the collective for a tour.
Courtesy Con Artist
Finn Ferris is an editorial associate and blogger for Metropolis magazine. He is a researcher, teaching assistant, and graduate student in the inaugural Design Studies program at Parsons The New School for Design in New York.