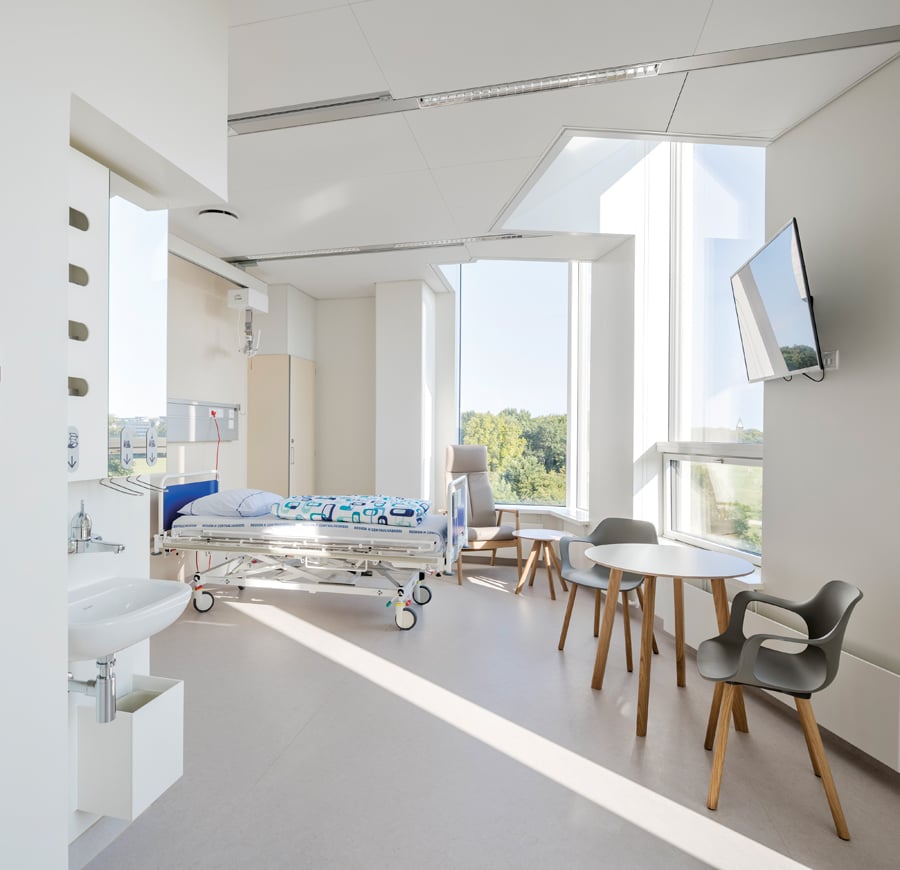 February 11, 2021
A Danish Hospital Gets a Light-Filled Addition
Replete with light and art, the North Wing of the Rigshospitalet medical complex offers a vision for the future of health care.
With the design of the new North Wing, Copenhagen's largest hospital, Rigshospitalet, represents the future of health care: a balance of patient care, flexibility, and functionality. Containing more than 200 patient rooms, 33 operating rooms, an intensive care unit, and various outpatient clinics spread across roughly 580,000 square feet, the addition sits within the existing campus, which includes some cold concrete relics from 1970.
The design, which is the result of a close collaboration between local firms LINK arkitektur and 3XN along with engineers from Sweco, is a more welcoming counterpart to the original hospital built in 1910. The architects chose to clad it in natural Jura Gelb stone, the same robust material used on another Rigshospitalet structure completed by 3XN in 2015: an administration building and patient hotel, which provides accommodation for patients who are awaiting or recuperating from treatment. Both recent buildings were designed to be approachable and inviting to patients, but they also had to uphold a high standard of efficiency in one of the top hospitals in Denmark.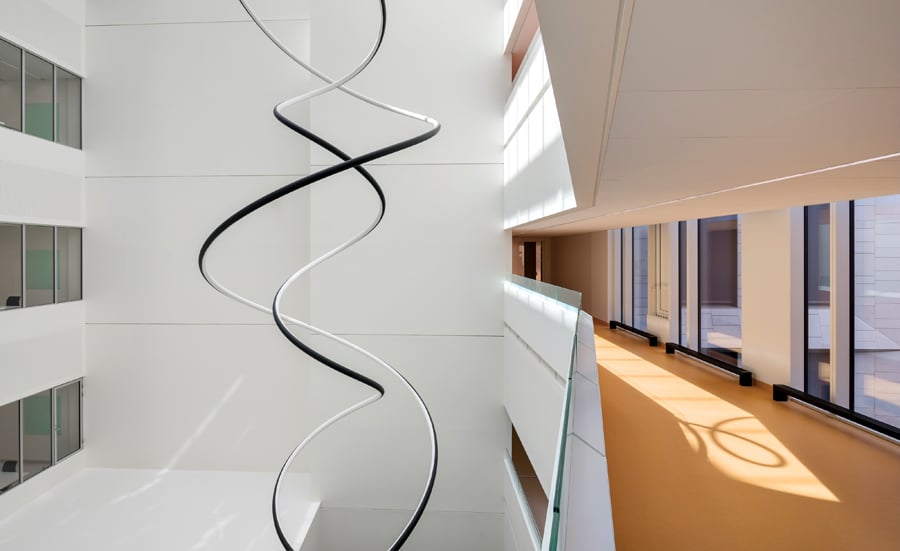 Located at the edge of the Nørrebro district, facing the Blegdamsvej thorough-fare and the public green space Fælledparken, the North Wing hunkers low, approaching passersby in a humane and friendly manner despite its heft. "Naturally, we took advantage of the location with direct exposure to the park and the Copenhagen skyline and ensured that all hospital beds have views to either of the two," remarks Kim Herforth Nielsen, 3XN founder and creative director. Even if just walking past it, people can relate to the entrance at eye level, "respectfully lowering down towards the classic Copenhagen-style residential buildings across the road," he adds. From that interface with the surround-ing urban space, the zigzagged structure organically rises upward to a scale dictated by the needs of a large hospital—about 120 feet tall and 770 feet long.
---
More from Metropolis
---
The new building's ground floor holds the main reception, common areas such as a restaurant, and the diagnostic center. The first and second floors are allocated to surgery rooms, including both outpatient and intensive care units. Conference rooms, meeting facilities, and office and administrative zones are located on the third floor, which serves as a transitional space dividing the treatment functions on the lower floors and bed wards above. Each level has its own dedicated color scheme, making for a dynamic design approach and ensuring user-friendly navigation. For Nielsen, architecture is both art and rocket science, especially in the case of hospitals. "It is an amalgamation of science, expressions, aesthetics, technology, and satisfaction of human needs," he says. "To add to this, hospitals are obviously complex structures, to say the least—a concise combination of form and function, of societal need and cultural nuance." This rationale led to the soothing geometric shape of the North Wing, which is com-posed of a series of folded, V-shaped structures tied together by a transversal link. Inspired by the lines on a cardiogram graph, the architects conceived the zigzaglike plan to separate various quiet zones and patient rooms from the main arterial route, which weaves through the entire wing. According to Stig Vesterager Gothelf, partner in charge of the project at 3XN, the corridor is the heart of the build-ing, a central walkway allowing staff to circulate easily. Optimizing efficiency and functionality while fostering peace and quiet, it also provides optimal conditions for recovery for each patient, with rooms that are easily accessible but located off route.
In addition to tall windows that catch and diffuse light to almost every corner of the interior, art is used to contribute to a feeling of lightness. The hospital commissioned three major site-specific installations by renowned Danish artists not only to piece together the disparate rooms but also to strengthen their individual identities and act as landmarks and wayfinding tools. The dynamic formations of Danish-Icelandic artist Olafur Eliasson's gigantic mobile soften what is a traditionally sterile and steely environment and can be viewed from different angles and levels of the hospital. Erik A. Frandsen's staircase, made up of millions of colorful mosaics, links the ground floor to the seventh. Colorful kaleidoscopic wall paintings by artist Malene Landgreen add to this sense of connectivity: Orange, blue, and pink hues dominate and guide the eye as one walks up the stairs. It's a significant investment in something that may seem ancillary to health care, but the art installations act as critical pieces of the healing puzzle of the North Wing's architecture. "We have created a long-lasting, flexible hospital that can adapt according to future operational needs," says Nielsen, "while at the same time designing a hospital with a strong expression, conveying openness, transparency, safety, and humanism."
You may also enjoy "In Seattle, Miller Hull Establishes a Global Hub for Population Health Research"
Would you like to comment on this article? Send your thoughts to: [email protected]
---
Register here for Metropolis's Think Tank Thursdays and hear what leading firms across North America are thinking and working on today.