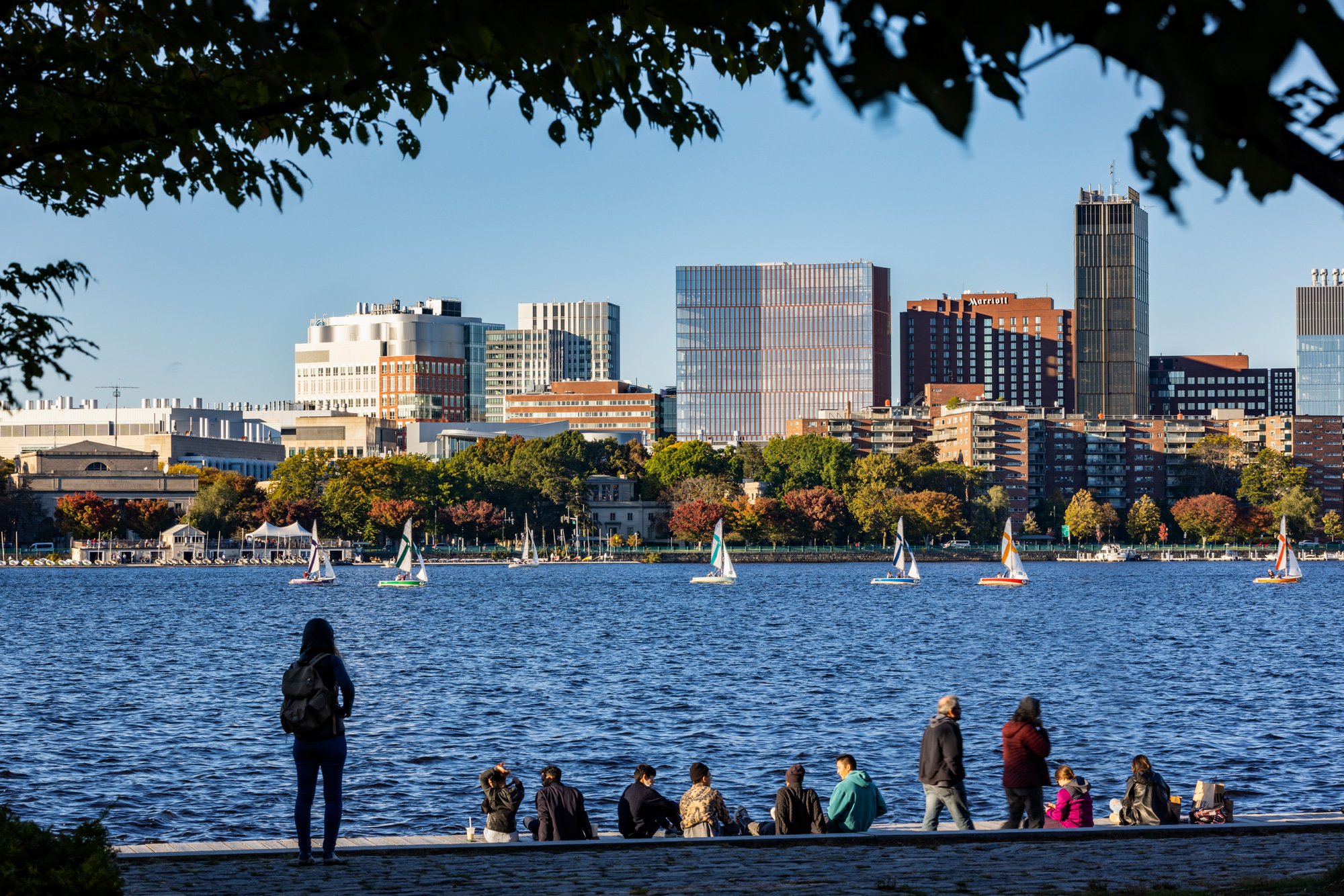 July 29, 2022
Creating a Gleaming New Gateway at MIT
New York-based architects Marion Weiss and Michael Manfredi were keen on doing just that. They are architects of 314 Main Street, a mixed-use MIT project at the northeast perimeter of the campus, right as it reaches Kendall Square, a hotbed of pharmaceutical and biotechnology activity.
---
More from Metropolis
---
"It's a great opportunity to be part of the MIT ensemble," Weiss says. "It is office space for a curated group of companies, each with some affiliation to the institute. The building is truly a hinge between MIT and Kendall Square." The property is still being leased, but aircraft giant Boeing has a presence there, not surprising given MIT's well-known aeronautics program. IBM has also taken space.
Echoing the architects' sentiments about the tenant base is their client Ben Lavery, a director of real estate at MITIMCo, the institute's investment management arm:
"MIT's mission has long been about conveying academic research and knowledge into industry," Lavery says. "In this project MIT is both landlord and developer, and we build for profit to enrich the institute's endowment."
Compared to much of Weiss/Manfredi's current gravity-defying work, 314 Main Street is conservative, even staid. It comprises a 4-story plinth that will house the new MIT Museum, slated to open this fall with design by Boston-based Höweler + Yoon, and the MIT Press Bookstore, already in operation. Above is a 13-story tower shaped in plan like a bowtie. It gently cantilevers over the plinth and features a "pleated" façade which breaks down the mass and makes it seem a smaller building than it actually is—a whopping 450,000 square feet.
"This building didn't want to be a chest-beating bit of architecture showing off," Manfredi says. "If it were too busy it wouldn't be a good urban citizen."
"It's an urban chameleon," Weiss pipes in. "The pleating gives it a dynamic presence; it looks different from varying angles."
At first blush, the burnt orange-shaded building looks like it's clad in Corten steel. But that's a mirage—the curtain wall is actually comprised of Kynar-coated aluminum, fritted glass, and acid-etched glass. These dematerialize the tower by alternately reflecting the sky and adjacent structures. The architects deftly caused the façade to become more open—that is with more glass—as it reaches the tower's corners. Etched shadow boxes give the curtain wall a depth and visual complexity it would not otherwise have.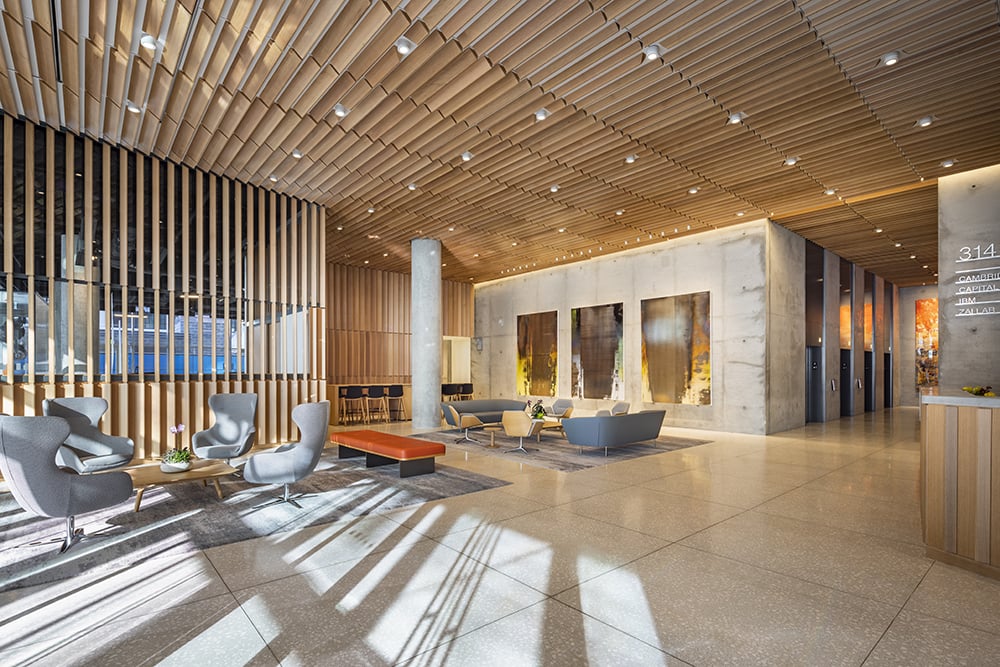 Weiss/Manfredi's design for the building's lobby has a distinct Scandinavian Modern feel. Lightly colored white oak fins adorn the walls and ceiling, mixed with Venetian terrazzo flooring and brightly colored artwork curated especially for the space.
Architects love to throw out the term "gateway," but this building, along with a few new adjacent structures, truly are a gateway to MIT. Located just one block down Main Street from 314, MIT Site 4, a new 28-story, 454-unit graduate student housing building with its own daring cantilevers, designed by Nader Tehrani's Boston-based firm NADAAA, opened in February. The structure also includes retail, office space and a childcare center, a 200-seat forum for public events, and the new MIT Admissions Office. Perkins&Will served as architect of record for both it and the Weiss/Manfredi 314 Main Street building. Completing this urban assemblage will be a new Kendall/MIT station for the MBTA Red Line, also by NADAAA, and currently under construction.
Weiss added that Hashim Sarkis, dean of MIT's School of Architecture + Planning, served in an advisory role for both 314 Main Street and NADAAA's new graduate dorm. "Hashim is very much an urban designer and was mindful of the urbanistic impact these buildings would have," Weiss says. "He was very involved."
But it was the local community she and Manfredi were most interested in.
"The direction from the City of Cambridge was to make the Main Street 'storefront' of the building as open and welcoming as possible to the surrounding buildings and residents," Weiss said. "With the museum and bookstore right there, Cambridge officials were insistent that it be transparent at street level."
Would you like to comment on this article? Send your thoughts to: [email protected]