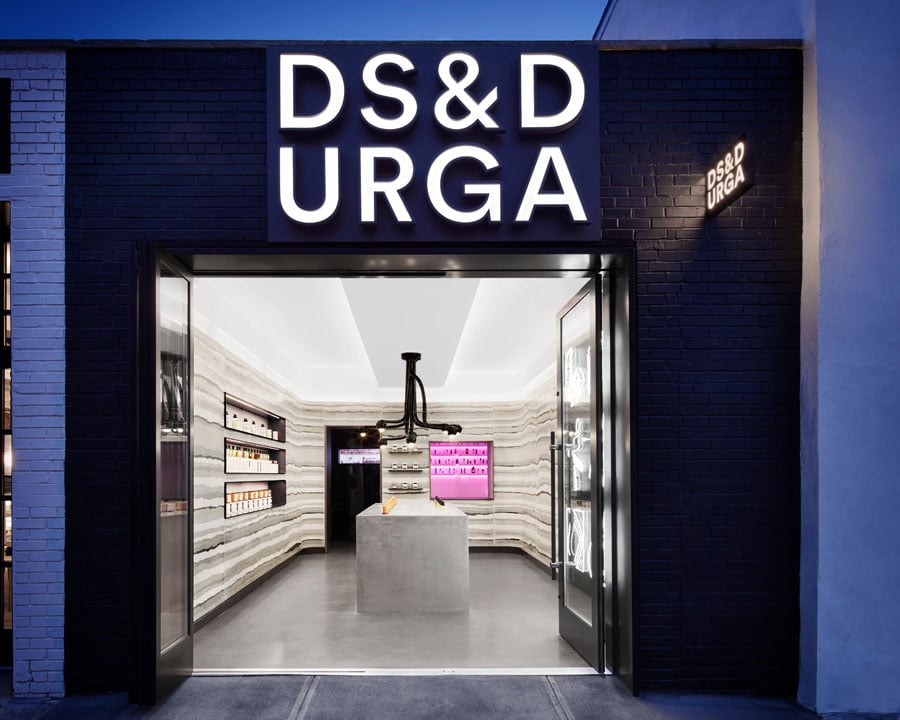 March 12, 2021
D.S. & Durga Opens a Concrete-Clad Perfume House in Brooklyn
Designed by co-founder Kavi Moltz, Krista Ninivaggi of K & Co, and Pliskin Architecture the company's second location showcases the brand's identity through a material palette as intriguing as its aromatic vision.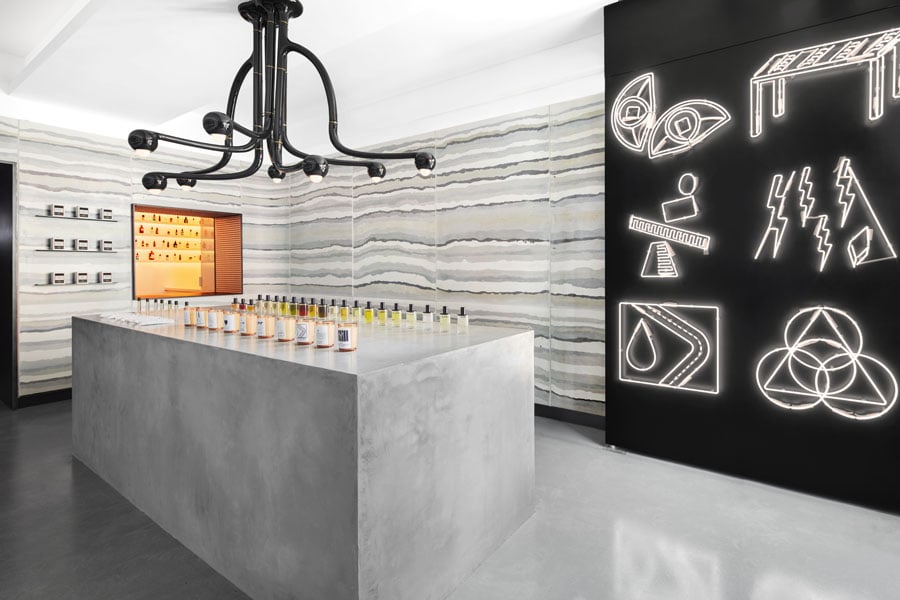 ---
Creatives, cofounders, and partners David and Kavi Moltz—D.S. & Durga, respectively—know that fragrance is an invisible architecture with the power to construct space through aroma. Opening a second retail space offered them the opportunity to explore their brand's identity as a further abstraction of the flagship's original concept and distillation of their ethos.
The roughly 600-square-foot Brooklyn shop is a complex blend of Kavi's brand knowledge, K&Co's interior design expertise, and Pliskin Architecture's construction prowess.
Guests first sample D.S. & Durga's essence from an austere material palette. An otherwise unassuming black brick facade is punctured with glass and steel to reveal a concrete concoction whose top notes are visually sharp, glossy, and reflective. The entrance can be opened to allow the shop's colorful light, sound, and smell to pervade the storefront.
---
More from Metropolis
---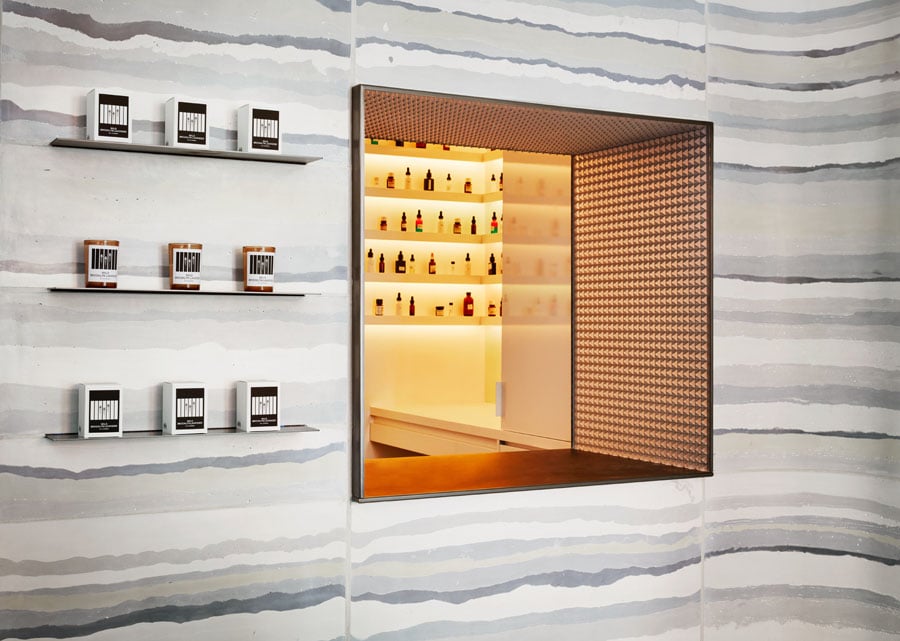 ---
Fragrances find themselves presented in a moment of playful tension with a product display in the heart of the space. Products line a brutalist plinth made from cast-in-place concrete, which stands in stark contrast to a neotenic custom ceramic light fixture, by ENTLER Studio, suspended above. The brand's underlying clean, punk rock aesthetic is especially apparent in the spiked studs used to cover the shelf backs.
Beyond the store's novel elements is a robust design language from rich material expression. "Concrete was definitely a big element but played a slightly different role as it evolved from where we had started," says Krista Ninivaggi of K&Co. The original design was for the sprawling feature wall to be made of rammed earth. "It brought up the question, what's that going to smell like inside the store? And David was really excited that there might be a smell in addition to the perfume." After rigorous prototyping and material tests, they found concrete would best articulate West Coast aesthetics with East Coast materials in a quiet nod to David's storytelling.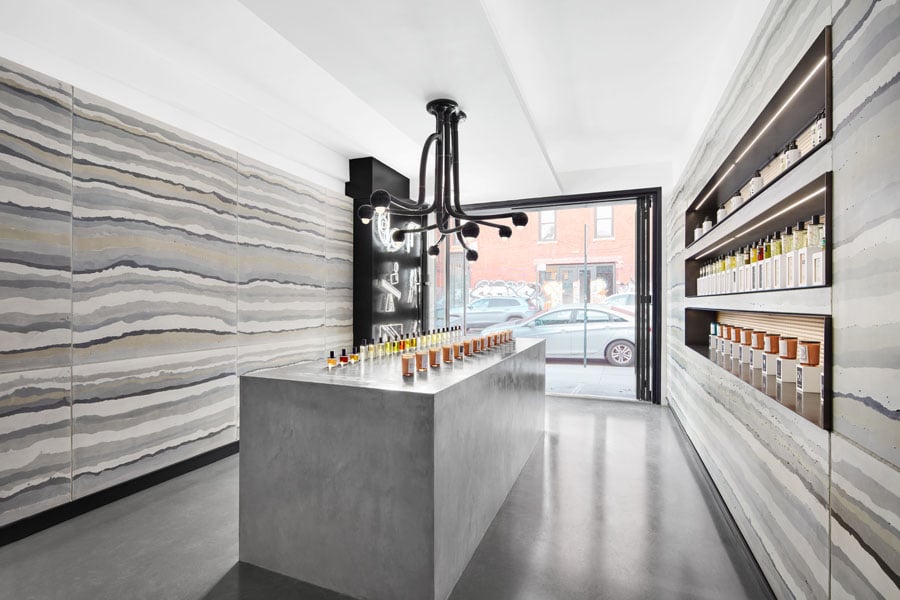 ---
They tapped the ingenuity of Oso Industries, a design studio challenging traditional applications of architectural concrete for design. Together they developed a concept to dye and pour concrete cladding that maintained the organic, multi-chromatic effect of rammed earth while adhering to New York City codes and methods of construction. Much like perfume, the panels—about one inch thick once fixed—create an illusion of space and structure that does not exist. The striation creates lines of continuation that pull focus to the brand's most iconic reference point, a voyeuristic peephole to the perfumer's scent library and desk. This futuristic apothecary features lighting that can change color to conjure the mood based on fragrance.
Barak Pliskin of Pliskin Architecture summarized their shared mantra that brought them through challenges from material investigation to completing construction at the onset of COVID-19. "We can create a space that comes together just like we promised the client, within their budget, and essentially their personality. This space is very much theirs."
You may also enjoy "Radnor's New Experiential Showroom Models a Space for Living"
Would you like to comment on this article? Send your thoughts to: [email protected]
---
Register here for Metropolis's Think Tank Thursdays and hear what leading firms across North America are thinking and working on today.