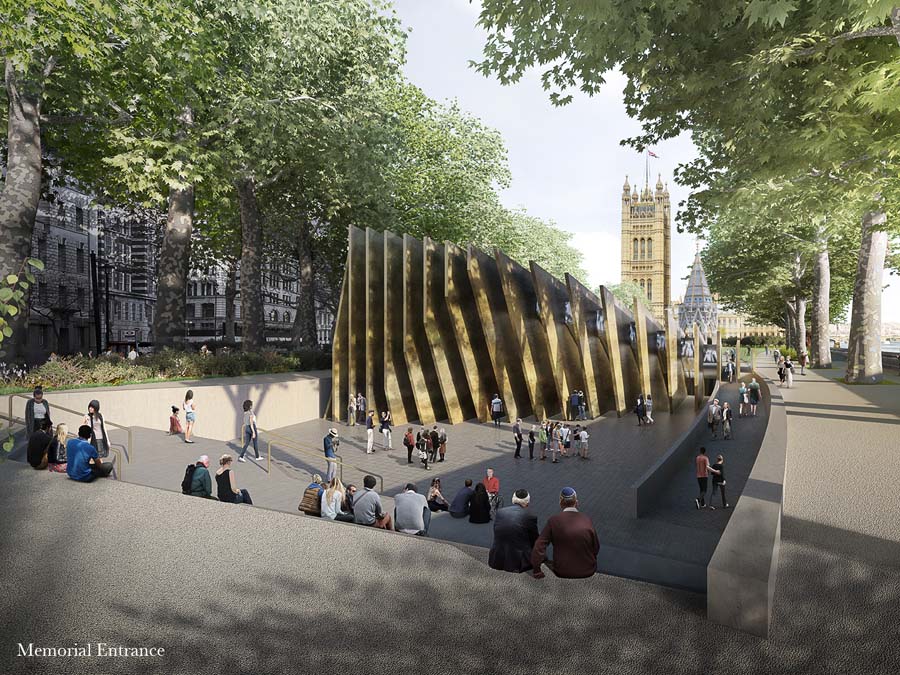 October 24, 2017
David Adjaye and Ron Arad to Design New UK Holocaust Memorial and Learning Center
The elegant competition-winning Holocaust Memorial and Learning Centre, to be built alongside the Houses of Parliament in London, will be a "living place."
"At the time of arrival it was always dark," said Holocaust survivor and London resident Susan Pollack in 2014, describing her internment at the Auschwitz. The darkness endured for nearly a year, before she was liberated by the British army in 1945. Though the physical recovery was swift, the emotional recovery she said, speaking at an event hosted by then-prime minister David Cameron, "takes a lifetime. And nor do I want to let it go."  
At that reception more than three years ago, Cameron pledged to take on the "sacred task" of commemorating the lives the more than six million Jews killed in the Holocaust as well as preserving the narratives of the living. Today marks a crucial step in that endeavor with the unveiling of a design for a new Holocaust memorial and learning center designed by London-based architects David Adjaye and Ron Arad.
The announcement, made this morning at a press conference at the Victoria & Albert Museum in London, is the conclusion of a high-profile, year-long international design competition.  Adjaye and Arad were selected from an applicant pool of nearly 100 prospective design teams, beating out proposals by Zaha Hadid Architects, Foster + Partners, and Studio Libeskind.  The $65 million (£50 million) project, will anchor a site in Victoria Tower Gardens, adjacent to London's Houses of Parliament.
---
More from Metropolis
---
In their proposal, Adjaye and Arad burrow a series of 23 vertical bronze sheets, layered like pages in a book, into a recessed public plaza. Each of the 22 voids between these fins represents each of the countries in which Jewish communities were obliterated during the Holocaust. The architects sought to underscore the individual's journey through the memorial by compelling visitors to pass between these narrowly-spaced sheets before accessing an airy underground central chamber. This transitional space leads to the Learning Center which will house a "Hall of Testimonies" and a "Contemplation Court," consisting of towering bronze panels. When viewed from the opposite end of the park, the memorial will virtually dissolve into the surrounding landscape, designed by Gustafson Porter + Bowman.
The goal, according to the architects, was to immerse visitors in the story of the Holocaust, both past and present. "We wanted to create a living place, not just a monument to something of the past," said Adjaye in a statement. "We wanted to orchestrate an experience that reminds us of the fragility and constant strife for a more equitable world."
The memorial stemmed from Cameron's Holocaust Commission report, issued in 2015. In its findings, the Commission acknowledged the inadequacy of the UK's existing 1980s-era memorial in Hyde Park, an underwhelming intervention consisting of two boulders surrounded by a ring of silver birch trees. A new, more prominent monument, according to the resulting brief, orchestrated by competition organizer Malcolm Reading Consultants, would create an "emotionally powerful place for reflection and learning."
Ten design teams out of 92 competition entries were invited to submit designs. The shortlist featured a formidable assemblage of ten of the world's most renowned architects and designers. Those teams, in addition to Adjaye and Arad, included Allied Works, Zaha Hadid Architects with Anish Kapoor, Caruso St. John Architects with Marcus Taylor and Rachel Whiteread, Foster + Partners with Michal Rovner, John McAslan + Partners with MASS Design Group, Lahdelma & Mahlamäki Architects and David Morley Architects, and Studio Libeskind with Haptic Architects. The jury awarded honorable mentions to the teams of Heneghan Peng architects and Sven Anderson, as well as Diamond Schmitt Architects.
The 13-member interdisciplinary jury, chaired by British television executive Peter Bazalgette, included London Mayor Sadiq Khan as well as the UK's chief rabbi, media figures, and two museum directors (notably Alice Greenwald, the president of the 9/11 Memorial and Museum). Paul Williams of local firm Stanton Williams Architects was the sole architect on the design jury.   
The appointment of Adjaye and Arad, according to Bazalgette, was unanimous. "Their ability to use architecture to create an emotionally powerful experience, their understanding of the complexity of the Holocaust and their desire to create a living place as well as a respectful memorial to the past and its surroundings, will combine to create a new national landmark for generations to come."
The Holocaust Memorial and Learning Centre is yet another high-profile project for Adjaye's firm, which was a part of the team behind the critically acclaimed National Museum of African American History and Culture in Washington, D.C., and is currently working on prominent New York projects including the Studio Museum in Harlem, and a new spy museum, opening in December.  
The memorial design will undergo further development and discussion among Holocaust survivors, scholars, local residents, and other key stakeholders. Pending approvals, the monument is expected to be completed by 2021.  
"We are deeply honored to have been given the opportunity to tell these stories to the nation through a National Memorial and Learning Centre," said Adjaye. "It is critical these highly important and emotive historical touchpoints are explored, so that future generations are able to experience, learn, reflect, and act."
Adjaye Associates from Malcolm Reading Consultants on Vimeo.