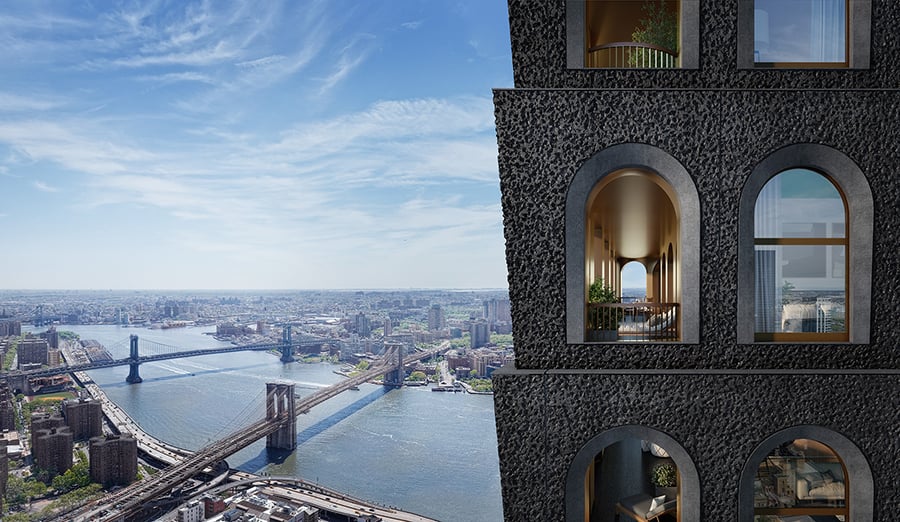 July 10, 2018
A Closer Look at David Adjaye's First Skyscraper, Now Rising in Lower Manhattan
For 130 William Street, located in New York's Financial District, Adjaye drew from the neighborhood's historic fabric, while looking to the future of high rise living.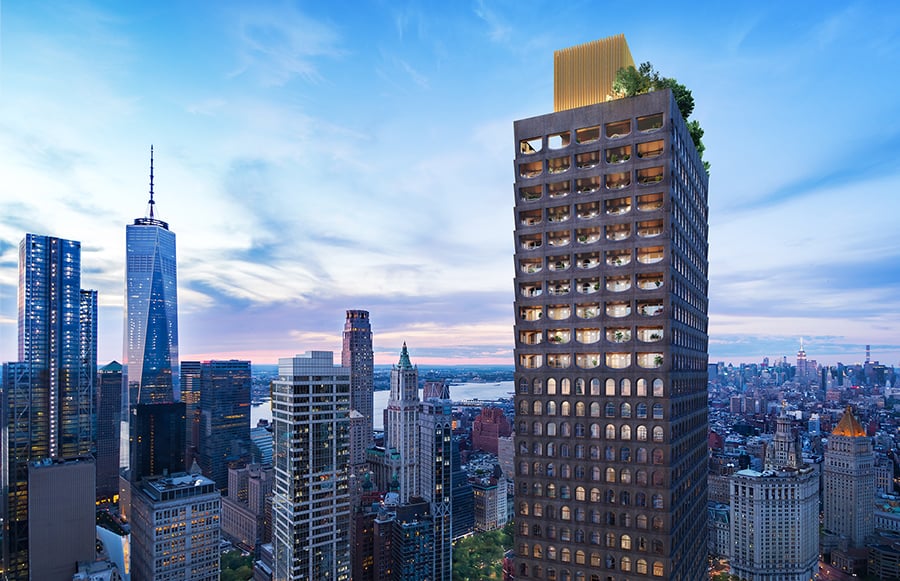 Manhattan's first significant introduction to David Adjaye began at the island's uppermost reaches with Harlem's Sugar Hill Housing Development. Though the building, completed in 2014, was designed to house some of New York's most underserved, the British architect approached the typology with characteristic flair: dramatic cantilevers, serrated edges, and dark concrete cladding imprinted with abstract roses.
Now, Adjaye has his sights set on the opposite end of Manhattan, for what would seem to be Sugar Hill's programmatic inverse: a 66-story luxury residential tower currently rising in the Financial District—the architect's first-ever skyscraper. And as with his past projects, which range from a Smithsonian Museum to furniture, no detail was overlooked.
"Making a tower in a tower city—New York—is a big thing," said Adjaye at a building preview last month, "One wants to make that first move well."
---
More from Metropolis
---
Located at 130 William Street, the tower, developed by Lightstone, nods to both its high-rise neighbors (the Woolworth Building is five blocks away) and the area's history.  "William Street is literally one of the first streets of Manhattan—there was something compelling about that to me," said Adjaye. "I was like, 'Well, what would be the DNA of that first architecture? Probably structural arches.'"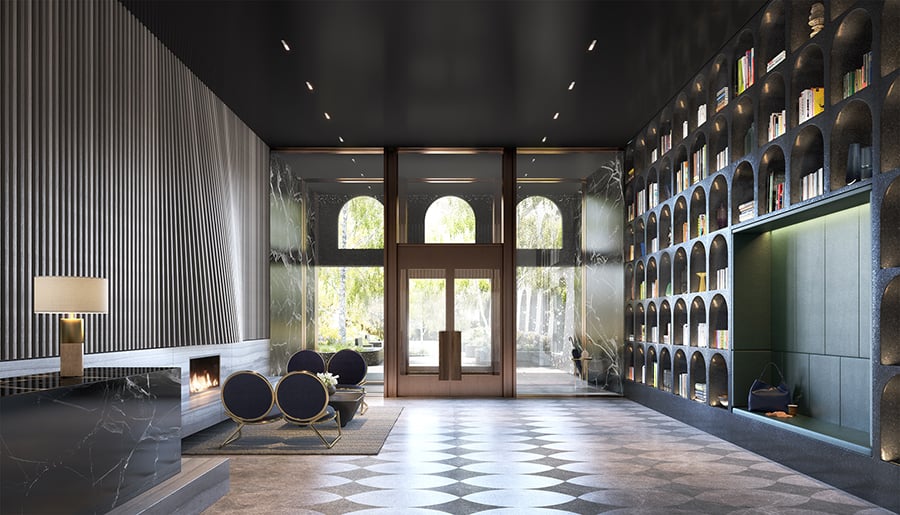 Adjaye extrapolated that logic to all 800 feet of 130 William's exterior. The building's hand-cast concrete facade is made up entirely of arches. At the building's top portions, this arch pattern (each featuring bronze detailing) inverts. The tower's rooftop mechanicals will be concealed with a bronze metal mesh, evoking the gold tops its 19th Century neighbors. Like Sugar Hill, the crater-like texture of the facade's gray panels was designed to change with the interplay of light and shadow. "It's almost as if its something coming into focus," Adjaye explained.
In describing the building's interiors at the preview, Adjaye frequently used terms like "refresh," "rejuvenate," "respite," and "retreat." Indeed, the building was created to provide a tranquil interlude within its bustling environs. This calmness will begin from the moment you step onto the building's site, said Adjaye, who framed a public courtyard with two arching walls. Inside the lobby, the architect selected an inky palette of dark marble and polished stone. The tower's plentiful amenity spaces, which include a spa and a light-filled basketball court, evoke mausoleums or chapels.
"I didn't want the architecture to disappear once you stepped inside," the architect said.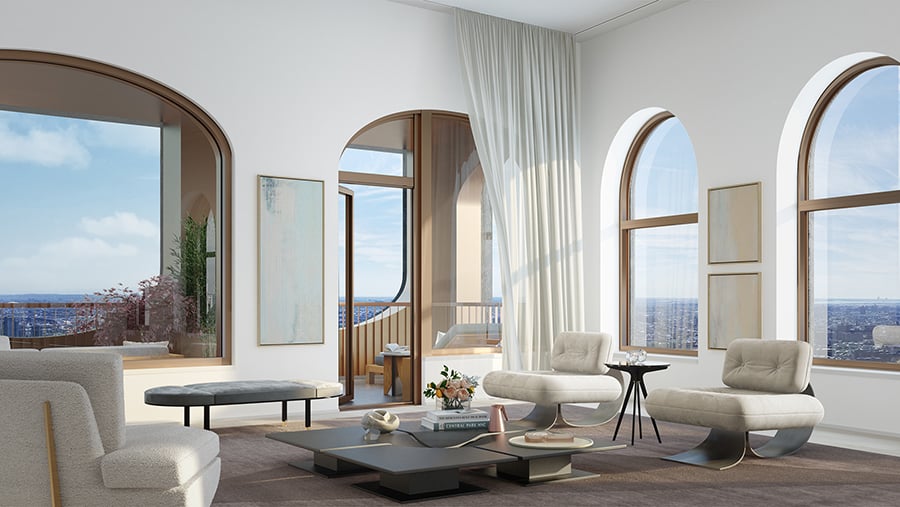 Similarly, no detail was overlooked in the design of 130 William's 244 residences ("I was very opinionated about what I liked," Adjaye joked). The bathrooms, for instance, will be clad in grooved, light gray marble (not unlike the Sugar Hill cladding) and will feature custom, Adjaye-designed bronze fixtures (designers stay tuned: he is seeking a commercial manufacturer). The kitchens, meanwhile, feature Cardosa stone countertops from Tuscany and matte stained oak. The showstopping condominium apartments are located on the buildings top ten floors, where the arched facade transforms into loggias that that wrap the building. (At present, prices range from $650,000 for a studio, to $5.4 million for a four-bedroom.)
Adjaye sees the tower as a necessary antidote to the spate of anonymous high rises cropping up across the city. Indeed, in promotional materials, the building is described as a "A tower designed not only to be seen, but to be felt." But ultimately, the architect wants the building to speak to and expand upon its context. "In my work I am interested in the way you can go really close to narrative and then veer away from it," said Adjaye. "I hope it speaks to the past, but also to a future."
You might also like, "A '90s-Era Mexico City Residence is Reimagined as a Stunning Retreat."