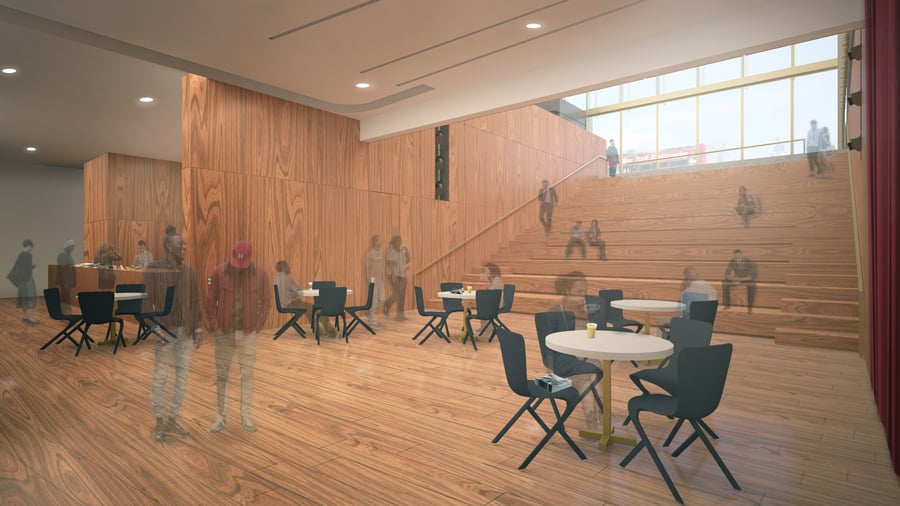 September 27, 2017
New Details Revealed for David Adjaye's Studio Museum Design
Architect David Adjaye discussed his plans for the new 82,000-square-foot Studio Museum building that will rise on Harlem's 125th Street.
Founded in 1968, when black artists were excluded from large museums and art canon, The Studio Museum was given an ambitious mission: to cultivate new generations of artists through exhibitions and a studio residency program while hosting public arts and community programming. And while the Museum strives to be "the nexus for artists of African descent, locally, nationally, and internationally, and or work that has been inspired and influenced by black culture," its physical home has limited its efforts. That, however, will soon be changing, thanks to a design by New York and London–based Adjaye Associates.
The journey toward a purpose-built building has been long. The Studio Museum started in a rented loft on 5th Avenue just north of 125th Street. Then, in 1979, it moved into its current home: an old bank building (located at 144 West 125th Street) that was converted by architect J. Max Bond Jr. While there have been minor additions since, the museum has "outgrown" the building, according to The Studio Museum's director and chief curator, Thelma Golden. Among its many drawbacks, the current building has to be shut down several times per year while new exhibitions are installed.
The Museum has campaigned to raise $175 million to meet construction costs, maintain a new operating budget, and build its endowment. It's close to reaching that goal: New York City government is contributing $53.8 million, with an additional $9 million expected, while other individuals and philanthropic sources and providing $62 million. With the completion of both the "quiet phase" of fundraising and design development stage of the new building, The Studio Museum is aiming to break ground in late fall 2018.
---
More from Metropolis
---
Speaking of the Adjaye design at a press luncheon, Golden said that an early, core concern was whether the new building would be "contributing successfully to the heart of this neighborhood." She identified three factors for Adjaye to consider in his design: the street/streetlife, the stage/performing arts, and the idea of sanctuary. "She unleashed our creativity" when thinking about this design, commented Adjaye.
The 125th Street facade features a series of rectangles that frame and express different internal programming. For instance, low-set "children's windows" are located right above the main lobby and illuminate the education center. Above that are industrial loft–style clerestory windows for the Museum's artist-in-residence studios. The frames themselves are matte cast concrete while the large infill panels will be dark, textured terrazzo. According to Adjaye, these matte concrete "framing devices" and dark terrazzo will evoke the masonry and classical geometry of Harlem's architecture. Moreover, the facade's niches (which will hold large artworks) aim to create a "counterpoint" to the large, bulky commercial buildings appearing on the rapidly-developing 125th Street. Adjaye seemed to have the area's growing skyline in mind, as he said the building's top "corona" (which is windowless and will house the museum's mechanical equipment) will match the height of the street's future building elevations.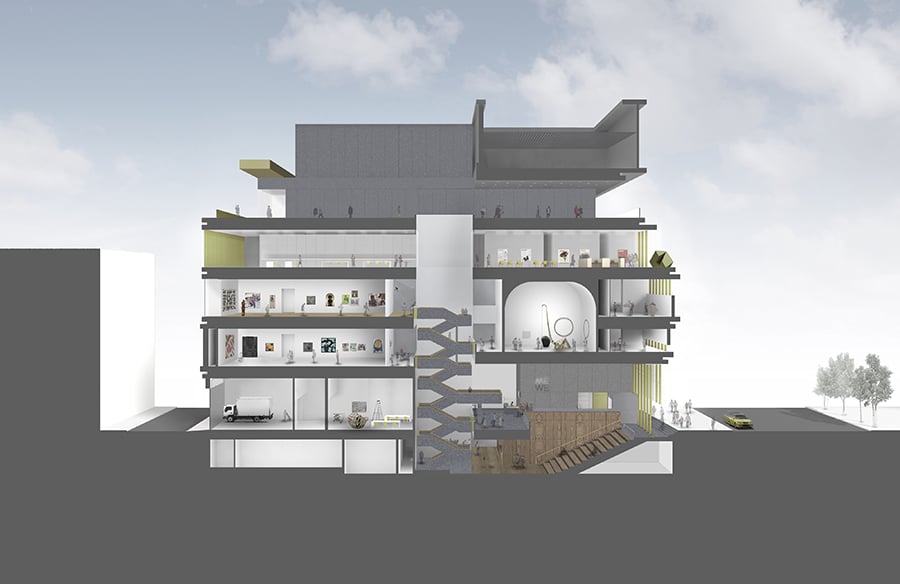 On the ground level at 125th street, a series of pivoting doors open the museum's public lobby to the street. It's "a porous, not closed, institution with windows to world," said Adjaye. Visitors will be greeted by a large, stepped auditorium that will double as a cafe, lecture hall, and performance space. Farther into the lobby, a grand staircase will connect to the galleries. Speaking of the stair, Adjaye called it a "vertical passeggiata" and described how "to see people rising…multiple levels" was also a key feature of J. Max Bond Jr.'s 1979 design. A roof terrace will span the entire block-length of the museum, from 125th Street to its 124th Street. Visitors will have "unprecedented views in both directions," Adjaye remarked. And with new galleries, including one double-height barrel-vaulted space, visitors will finally have "experiences of wonder and awe with great works of art," added Golden.
You may also enjoy "For Zeitz MOCAA, Heatherwick Studio Carved a Vast Atrium Into the Heart of a Former Grain Silo."