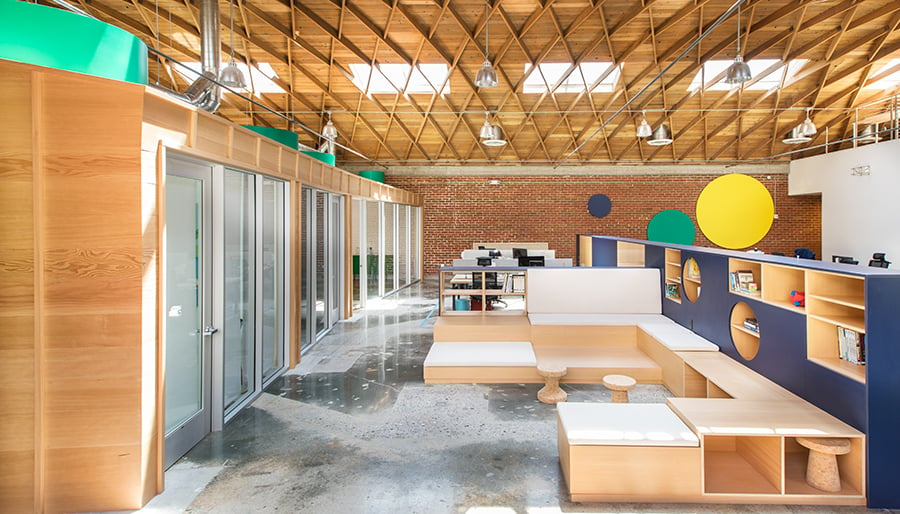 October 24, 2018
Design, Bitches Transforms Two Warehouses Into a Versatile STEM Tutoring Facility and Community Center
The center—commissioned by 9 Dots, which operates a range of after-school and summer programs—has hosted teacher-training seminars, community workshops, and local non-profits.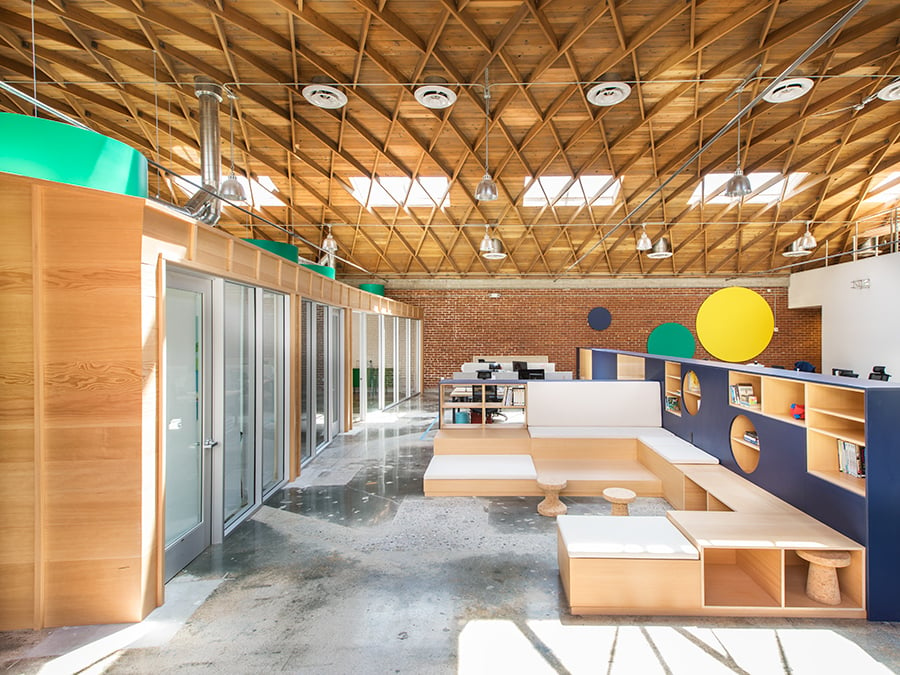 ---
Despite the name, Design, Bitches is capable of subtlety. The multidisciplinary architecture practice, co-founded in 2010 by SCI-Arc grads Rebecca Rudolph and Catherine Johnson, has worked to transform a number of industrial buildings in Los Angeles, though these have been mainly interior interventions; their shocks of color and playful geometric patterns rarely carry over to the exterior. At the Millwick Event Space in downtown L.A.'s arts district, the duo revamped a former cold-storage industrial depository into the city's chicest wedding venue. Through the use of suspended lighting, green paint, and glass, the pair turned another mundane warehouse along Venice's unsightly Lincoln Blvd into Superba Food + Bread, the hottest brunch joint on the Westside.
Their latest project, a community center and STEM tutoring facility on Hollywood's Highland Avenue, adopts this same template. For their first foray into education design, Rudolph and Johnson converted two warehouses using just plywood and coats of paint. Yet, these spare materials are creatively deployed as partitions that carve up the hangar-like spaces into zones according to age. "We were working with 9 Dots' co-founder on a project at his house," recalls Rudolph. The co-founder "tapped us knowing we could create a multifunctional space that was warm and inviting, and worked for kids and adults."
Catering to the area's underprivileged children, 9 Dots serves as a critical learning supplement for both students and teachers. (The organization's name alludes to a classic critical thinking math puzzle.) Since opening, the space has hosted after-school programs, teacher-training seminars, a summer school, and community workshops, all while functioning as a meeting space for L.A. nonprofits. The versatile venue has served its multiple functions seamlessly.
---
More from Metropolis
---
The complex's 11,000-square-foot bowstring truss–supported main structure houses classrooms, a makerspace, library, kitchen, and teachers' offices, while a 7,000-square-foot vaulted auxiliary building contains a student lounge, flexible workspaces, and more offices. Freestanding plywood partitions and Douglas fir built-ins (which echo the timber ceiling structure) sit atop polished concrete floors. The effect is stunning. Daylight filters through the light monitors embedded among the wooden rafters. The exposed ducts, beams, and masonry walls keep the look industrial.
Design, Bitches' work is heavy on playfulness but not at the expense of functionality. At 9 Dots, for example, the student lounge is outfitted with custom furniture that cleverly incorporates reading nooks and supply storage. Large circular apertures frame bookshelves. The flex-space's multicolored furniture is highly reconfigurable; wheeled tables and chairs allow kids to easily push the pieces together, pull them apart, or move them across the room, depending on the needs of the different activities.
And brightly painted yellow and green cylinders atop the private offices serve as light-wells and funky design elements. "There are essentially smaller buildings within the larger space," explains Rudolph. "It was really important to us to maintain that feeling of openness. We worked a lot with physical models to proportion the volumes."
It's a space designed for children where adults feel just as comfortable—whimsical without being cloying. "The colors on the adult side are a little bit darker and richer than the colors on the kid's side," says Rudolph.
9 Dots' design passively manages the chaos of youth education, Rudolph explains. "The biggest challenges were maintaining the sense of openness and achieving a balance of having enough sound attenuation for all the things going on while fitting everything in." 9 Dots is an extraordinary balancing act that proves that Design, Bitches' work isn't just the vanguard of their field, but is also bettering L.A.
You may also enjoy "Back to School: 7 New Schools and Academic Buildings We Love."