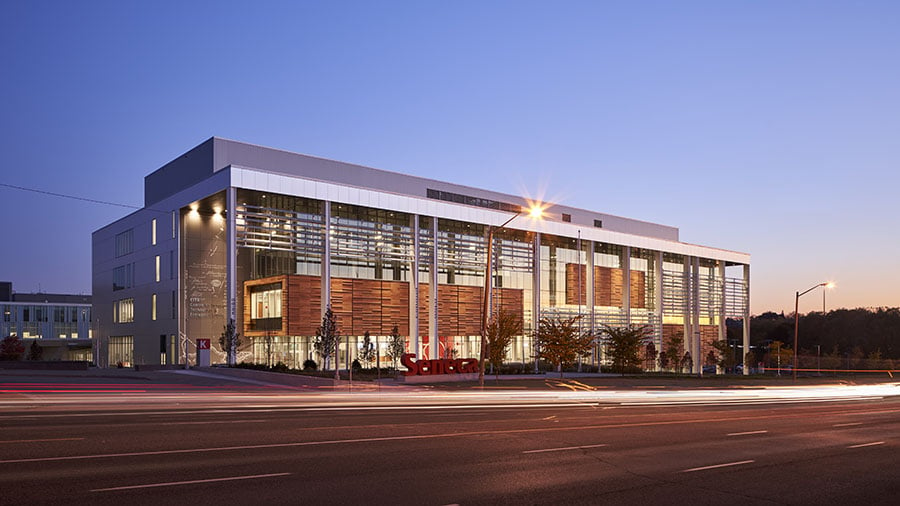 July 27, 2020
Design of One Canadian Community College Addresses Its Cultural Mission
Perkins and Will incorporates graphics and symbols into a new campus hub to reflect the heritage of indigenous students and staff.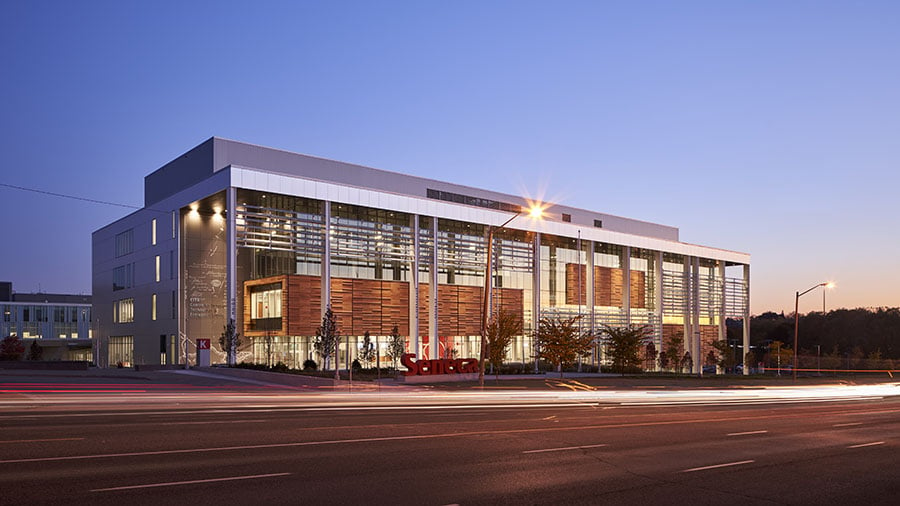 ---
Toronto's Finch Avenue is a thoroughfare that carries commuters out of the city's downtown into the suburbs with hardly a traffic light to curb the flow. Until recently, many drivers may not have realized they were whizzing past the Newnham Campus of Seneca College, Ontario's largest community college. That changed last fall with the opening of CITE, the Centre for Innovation, Technology and Entrepreneurship, designed by the Toronto office of Perkins and Will. With its brushed aluminum cladding, I-beam columns, and five stories of clear glazing, the building makes an immediate impression even from the window of a passing car.
"Two years ago, this was all dirt," says the project's lead architect, Andrew Frontini, during a socially distanced tour of the exterior and the surrounding campus, which the architects landscaped with multitiered walkways and meadowlike gardens. (The plantings handily double as a gray-water filtration system.) The 274,000-square-foot, LEED Platinum–targeted center provides up to 3,000 students with incubator spaces, lounge areas, and the latest tools in robotics, mechanics, and 3D scanning and fabrication, while administrative offices occupy the top floors where employees can also gain entry to two rooftop gardens. Local firm Quinn Design Associates collaborated with Perkins and Will on the impressive staircase that leads to an outdoor class-room featuring double-height stadium seating generously shaded by trees.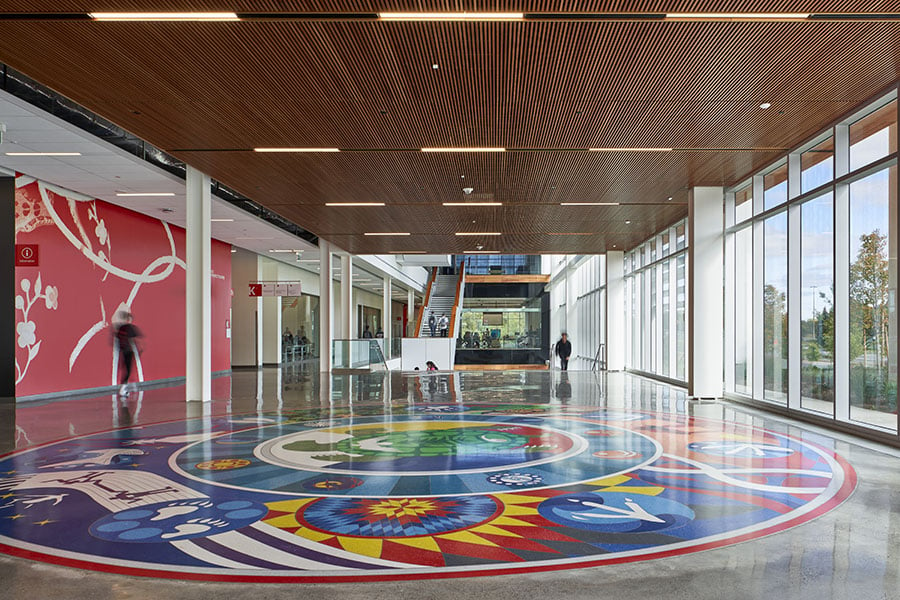 But CITE's design had to be more than functional. It also needed to fulfill a critical mandate for the college: a commitment to indigenous education and cultural awareness. Working in conjunction with community groups and dean of students and indigenous education Mark Solomon, a member of the Henvey Inlet First Nation, Perkins and Will engaged native stakeholders in the design process to find ways to integrate the history of Canada's First Nations into a contemporary building. In the wake of those conversations, an original plan for 12 exterior columns, for instance, shifted to 13, to represent the 13 moons in the lunar-cycle traditions of several groups of indigenous people in North America. Terra-cotta cladding, meanwhile, was selected to reference birch-bark scrolls once used to record native people's genealogies and traditions. Frontini also considered local plants to be a source of indigenous inspiration, so instead of leveling the site, he had the team set the building's elevation to follow the landscape's topographical slope. One overt gesture to native heritage inside is a terrazzo medallion set into the main floor of the atrium. Created by native Neskantaga artist Joseph Sagaj, the "Circle of Indigenous Knowledge" is 32 feet in diameter and features symbols of tribes that hail from the Great Lakes region to the Arctic. It is a natural gathering spot and, pre-COVID, was one of the college's most popular places for assemblies.
---
More from Metropolis
---
But unlike that exuberant medallion, other architectural features are subtle. Visually, these moves read as a series of symbiotic connections between spaces built to house state-of-the-art technological exploration and those designed to reflect the Indigenous Education Protocol (a program developed to address a call to action by Canada's Truth and Reconciliation Commission). Graphic wayfinding developed by Bruce Mau Design is based on imagery from two worlds. At one end of the building, a wall features an abstract map of the internet; at the other end, near class-rooms, is a wall covered in a blown-up image of a drum circle during a powwow. While the visuals differ, they share a unifying graphic style and color scheme. The point is that a walk through the building might encourage visitors to find correlations: The powwow, which brings people together socially through song and dance, could also be viewed as "the internet" of an earlier time. Indeed, both support the same thing: the human need to connect.