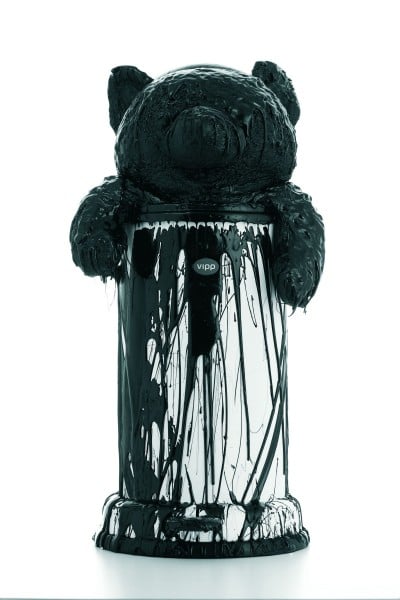 September 4, 2008
Designer Trash Talk
A celebrity-filled fundraising event that's not rubbish.
Vipp, the Danish company made famous by its stainless-steel-and-rubber waste bins, is celebrating the opening of its New York trade showroom with another shapely Denmark import—model Helena Christensen. The two great Danes joined forces and created a roster of celebrities and designers to take part in a fundraising event. But this is no $10,000-plate charity dinner. Each celebrity on the list has created a unique version of the classic Vipp pedal bin (Christensen even contributed three designs).
Since many breeds of the creative jet set are represented, what follows is an extremely small sampling of the contributors:
---
More from Metropolis
---
The music scene—Bono (of course), Q-Tip, Michael Stipe
The artists—Dominic Wilcox, Jenny Holzer, and Mattia Biagi
The media-friendly designers—Karim Rashid, Todd Oldham, Simon Doonan
Mattia Biagi
"My creations translate my thoughts and feelings into tar objects. In my last production I touch all the different pollution forms. So, the Vipp bin came out as the perfect object to represent the relation between human beings and their own "pollution" in our modern society."
Dominic Wilcox
"Opening the lid to the bin by pressing the lever with your foot is a clever and simple idea. However, what if something else happened when you opened the lid? When the lid is opened on this Xylophone Vipp Bin, a small metal ball is released and travels down a 'helterskelter' set of xylophone steps. Each time the ball hits a 'step', a note is played."
 Dale Chihuly's reinvisioned pedal bin
Tomáš Gabzdil Libertiny
"I see beauty in repetitive processes which inherently bring value and meaning. I wanted to decorate the trash bin as prosaically as possible. The VIPP bin is made of stainless steel so I decided to add (weld) rings of the same material around its body thus making the décor united with the material."
 Jason Miller's glowing creation
It's a nice touch that Frederic Fekkai is also a contributor—though his own branding is a bit on the obvious side—the pedal bin originated in 1939 when Marie Nielsen, the wife of Vipp's founder, asked her husband to create a waste bin for her hair dressing salon.
The bins are on view to the public at The Conran Shop through September 17. Place your pre-bids on these designer receptacles (starting bids begin in the $500—$750 range) and receive an invite to an exclusive auction where you can secure your favorite celebs' trash treasure.
The VIPP Charity Auction benefits The Food Bank for New York City and Chernobyl Children's Project International.