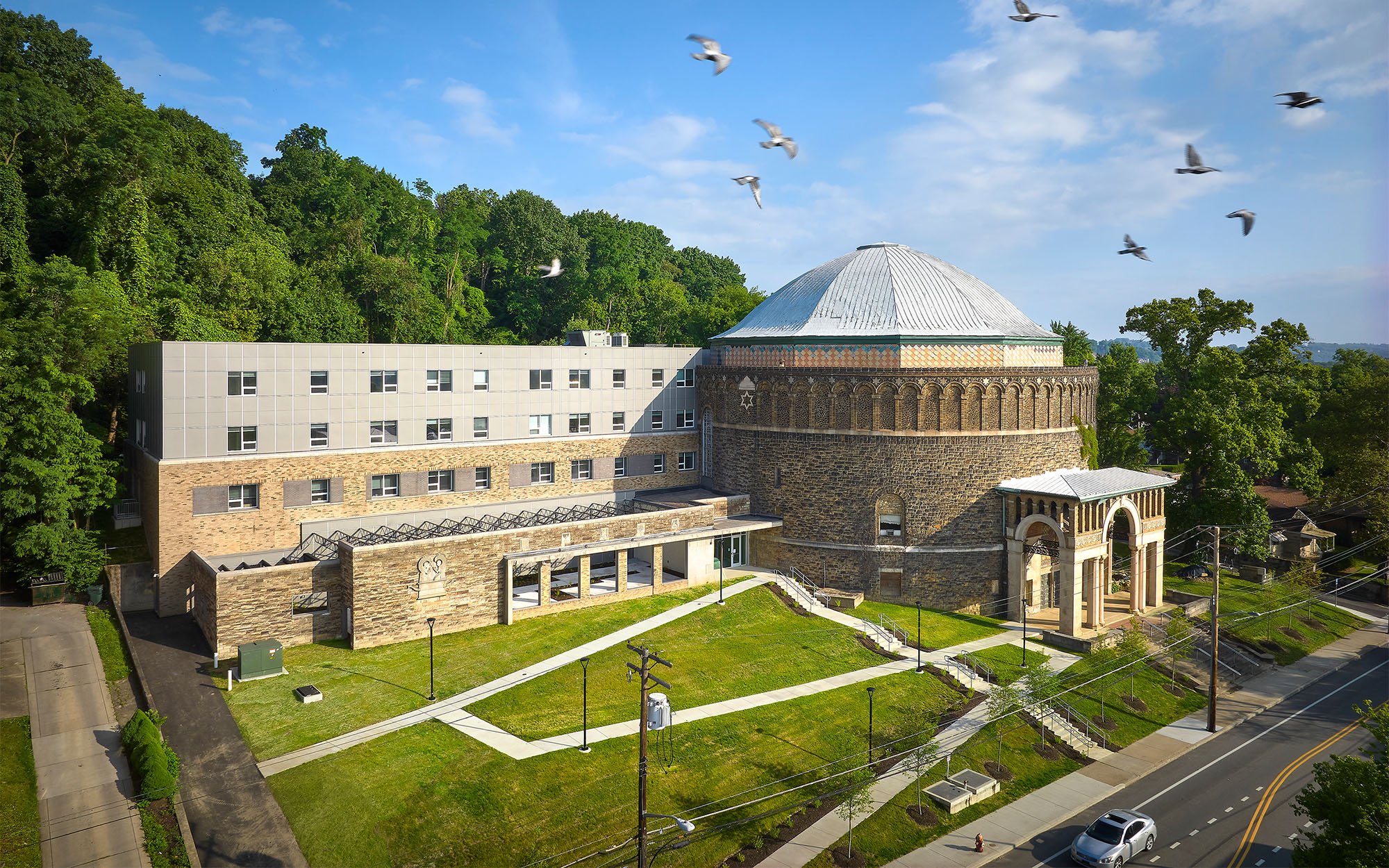 October 12, 2023
Historic B'nai Israel Synagogue Gets a New Life as Affordable Housing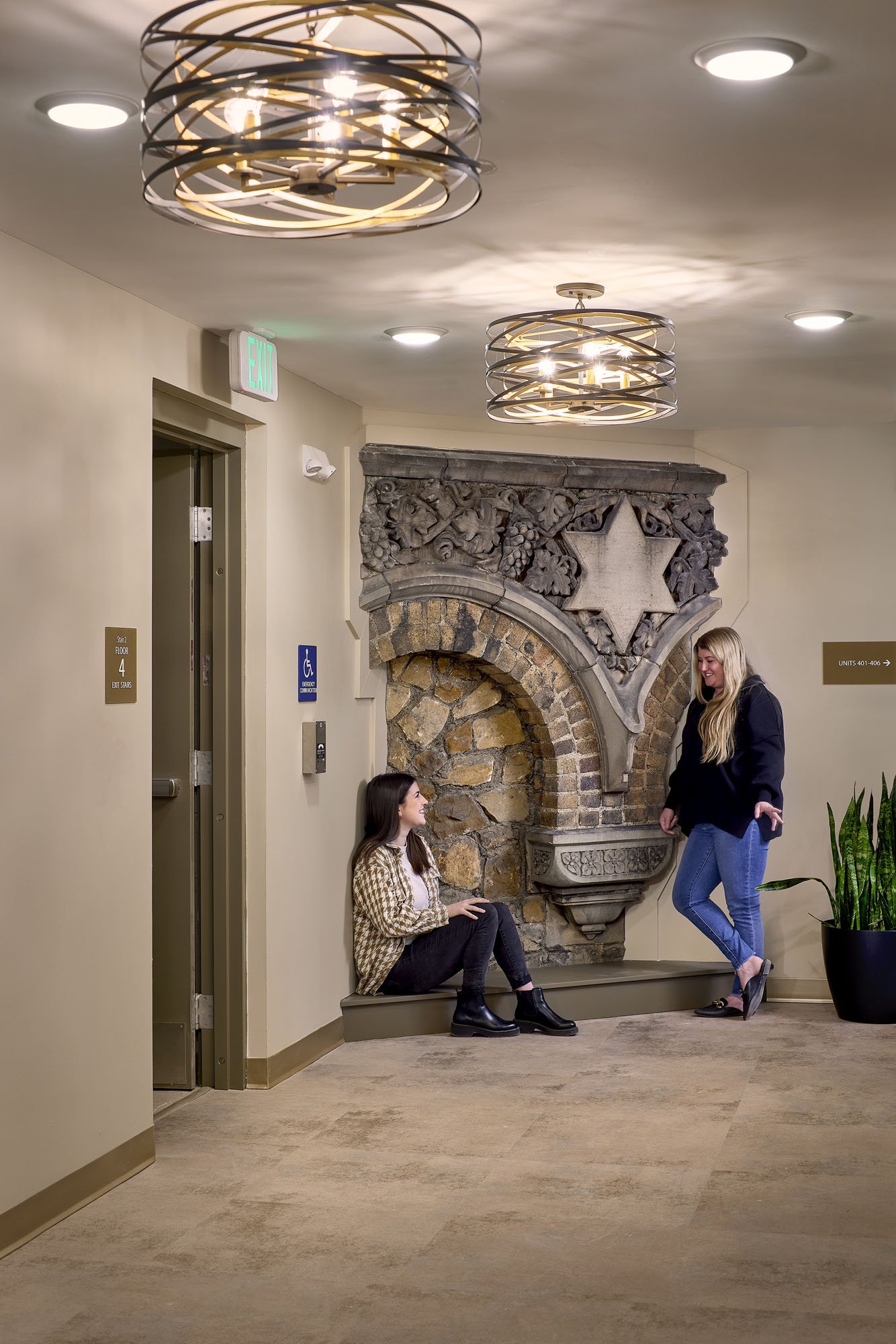 A handsome midcentury school was completed in 1953 adjacent to the synagogue by some of the original talents, the firm of Sharove, Rosenberg, and Friedman, with a facade largely of brick and striking stone bas-reliefs: a large Ark of the Covenant and smaller pieces including a menorah, burning bush, and more.
---
More from Metropolis
---
The property was purchased by the Urban League of Greater Pittsburgh charter school in 2001, which utilized the school structure until 2015. It was sold in 2021 to Catalyst Communities LLC (since merged with Boston-based Beacon Communities) which aimed to build housing. If the city is affordable by the standards of most it's seen quite real climbs in housing costs in the last decade. The site is on the border of the city's burgeoning East Liberty neighborhood, which has seen substantial market-rate construction. It's just a few blocks from Whole Floods, but across the block from boarded-up apartments. The Carina Apartments are an effort to bolster the area's vital affordable housing stock, a project supported by funds obtained through the Pennsylvania Housing Finance Authority from the city's Urban Redevelopment and Housing authorities.
The trouble was figuring out a means to make this project work on a site that like many in Pittsburgh consists mainly of slopes—propositions from a builder's perspective that range from difficult to impossible. Chip Desmone, CEO at Desmone Architects explains, "The project had gone through a couple of different attempts to bring it to fruition and no one could seem to find a way to make it work." Demolition of the school was an active prospect.
Desmone Architects sought to thread the needle of preservation while executing a financially viable project.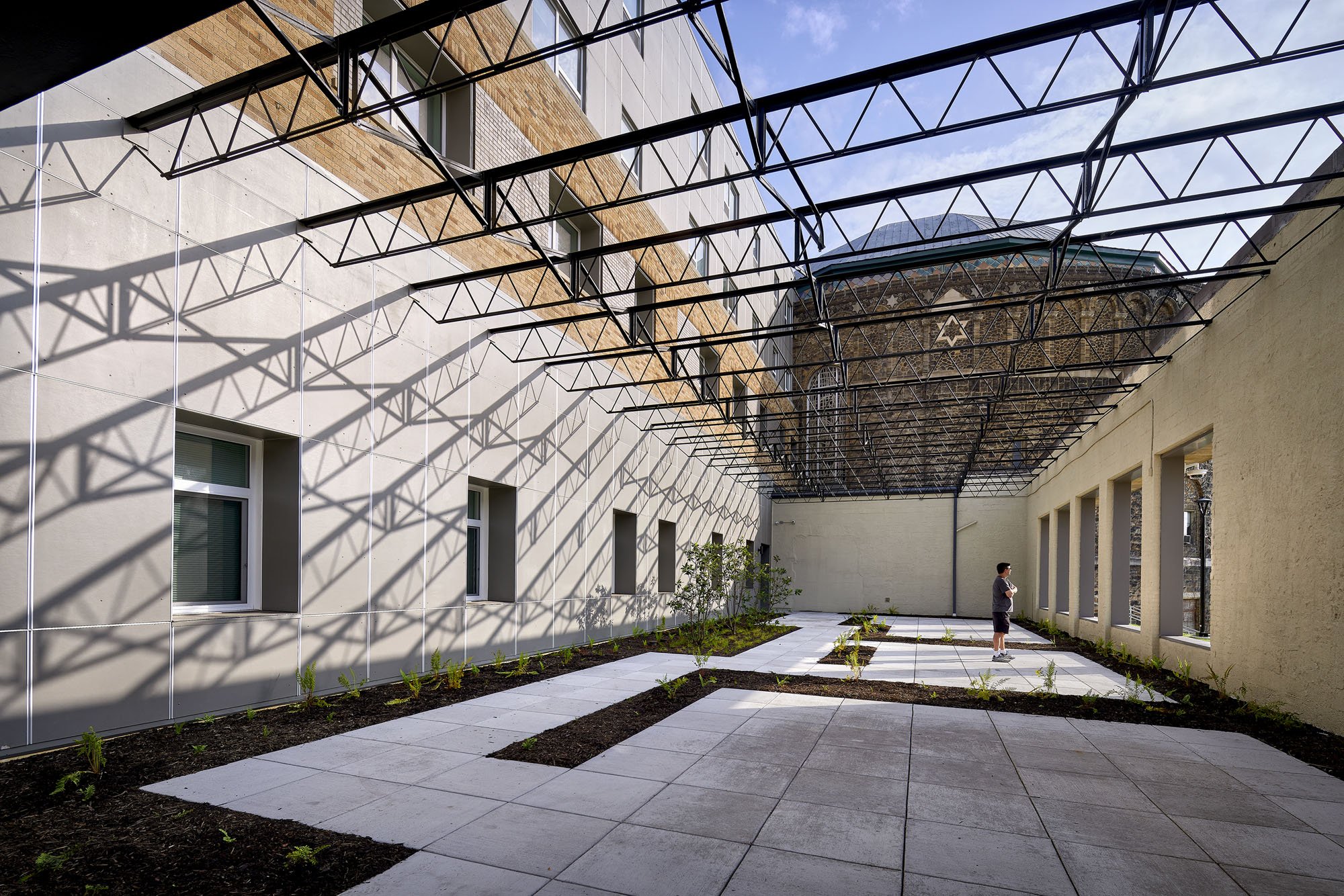 They determined to work within the school's footprint, which required going up. Desmone explained their aim as, "saving as much of the building as we could, because it's a really well done exterior, but designing essentially a new passive house building within the existing structure."
The building's design was eccentric, largely a response to a steep site with multiple access points, with split levels on the main floor (and still) and ramps for internal circulation.
It was also rather deep, not an ideal footprint for delivering light to apartments, with a one-story entrance portion and a two-story main volume behind. They hit upon a better solution, of recessing the apartment volume within the school's footprint, flush with original walls on three sides but retracted in the front. Desmone explains, "The original dimensions didn't allow for us to use that entire footprint as residential housing—the apartments would have been too deep—which is why we pulled that wall back and made that a courtyard." The existing wall also would have been troublesome to repurpose for their goal of a Passive House–suitable perimeter.
Exterior walls were generally in good shape, and just required some cleaning and repointing. Some bricks were removed from the rear of the building and repurposed to patch other areas, but the vast majority remains original.
Most of the exterior remains the same, with windows and doors removed to provide the front court. Other large classroom windows were partially bricked in—although in black brick, as they wished to retain the imprint of its original form. Stained glass windows in a former chapel were also removed—residents generally want to be able to actuallyy see through their windows—but have been backlit and placed in hallways on the ground floor.
Fairly substantial interior demolition was required, in part to accommodate a deeper foundation and two additional stories, fronted in fiber cement panels. The second floor slab was retained, with new structure being built atop that.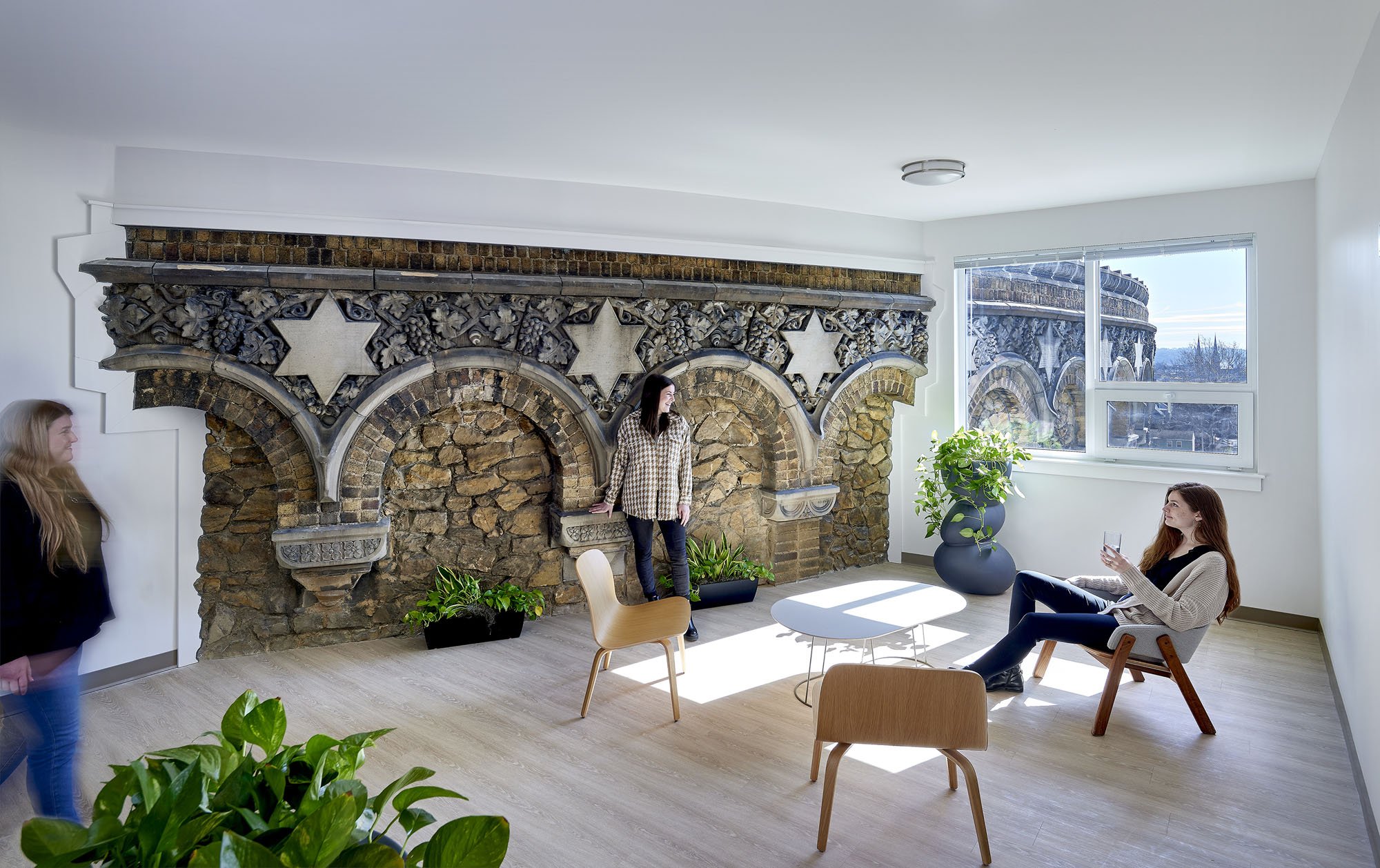 The units, which include one-, two-, and three-bedroom apartments are capacious, with large living rooms and abundant closet space. Mechanical closets are located between units providing easy maintenance access from hallways. Nothing about these interiors suggest cut-rate construction.
A few units contain a particularly magical detail; the expansion of the building required building partly around the existing synagogue volume, grazing its stone, and they left these original curves peeking out. How many living rooms contain a synagogue corner? Not a lot.
This was a happy accident of the design process. Rebeccca Lowe, an Associate at Desmone recounts, "Initially we weren't going to show all of that stone on the interior; it was actually designed to be covered. As we got into construction we realized we had the opportunity to make this a very nice feature. That's the fun thing with existing buildings—you learn as you go and some of the cool design happens after you start doing it."
They didn't quite meet Passive House requirements, but made it most of the way there, with floors fully and walls partially insulated and windows double or triple glazed; the fixes required to get to certification would have been overly costly and likely required covering up the stonework details, but they did their best.
They preserved open space outside, adding ADA accessible ramps coming up and existing green space. The courtyard is intended for use for a future greenhouse and garden space.
Desmone notes, "When you're working with an existing building you have to come up against a unique set of challenges and have to come up with unique solutions that you don't typically get as a response to design when you're doing a brand new building on a flat site"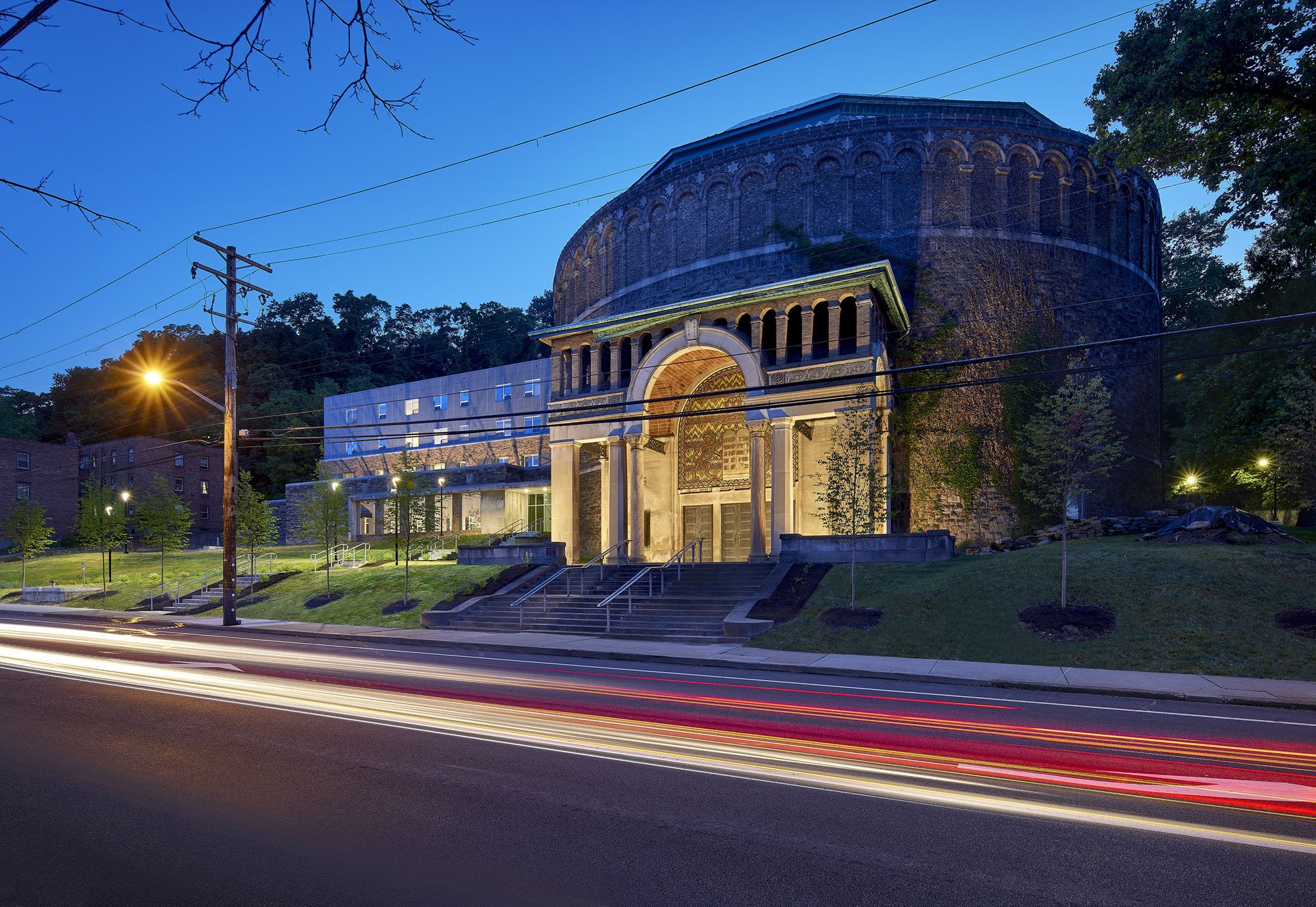 Would you like to comment on this article? Send your thoughts to: [email protected]