December 13, 2018
J'Adore OMA! Shohei Shigematsu Designs Exhibition for Dior Retrospective in Denver
For Dior: From Paris to the World, Shigematsu and his team draw from the famed fashion house's history while employing a high-impact material palette.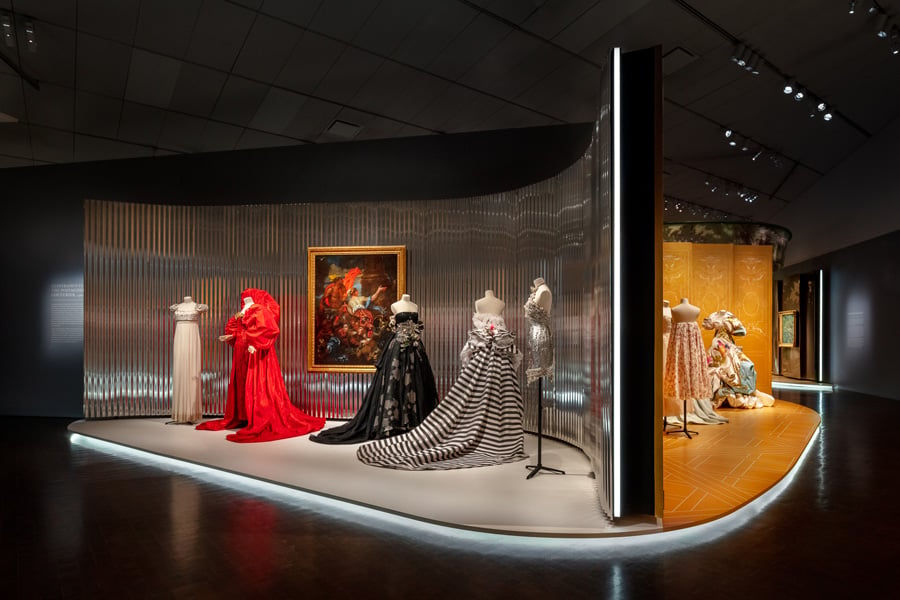 "After women, flowers are the most divine creations," Christian Dior once quipped. But perhaps the aphorism could be inverted: Deeply superstitious, the French couturier constantly kept a stem of lily of the valley in his pocket for luck, and even sewed sprigs into the hems of his first collection in 1947. For the next 70 years, flowers continued to rule the House of Dior, from blossoms meticulously appliquéd on gowns by les petite mains, to runways bursting with thousands of electric blue delphiniums.
It's fitting, then, that petals and gardens quietly underpin the design of the house's first U.S. retrospective, now on view at the Denver Art Museum. But the motif, left in the hands of OMA New York's Shohei Shigematsu, is anything but delicate. Throughout Dior: From Paris to the World the architect and his team rely on tough materials, moody lighting, and sensuous curves to accentuate the elaborate couture on display.
Of course, when it comes to Dior, history is always within arm's reach (visitors enter the show through a mirrored riff on the facade of Dior's 30 Avenue Montaigne in Paris). But it also serves a clever, utilitarian purpose: In order to overcome the shard-like Deconstructivist geometries of the museum's exhibition spaces (completed by Daniel Libeskind in 2006), Shigematsu and his team looked to Dior's beloved gardens in Northern France to create soft, winding pathways throughout the show's various vignettes—from the "New Look" to the house's first female artistic director, Maria Grazia Chiuri.
---
More from Metropolis
---
Some of these vignettes are set against rippling metallic backdrops, which, in spite of their industrial materiality, evoke draping fabric or gleaming silk. Other scenes are reminiscent of period rooms or dress patterns. One particularly striking display features white garments from floor to ceiling, like butterflies mounted on a card.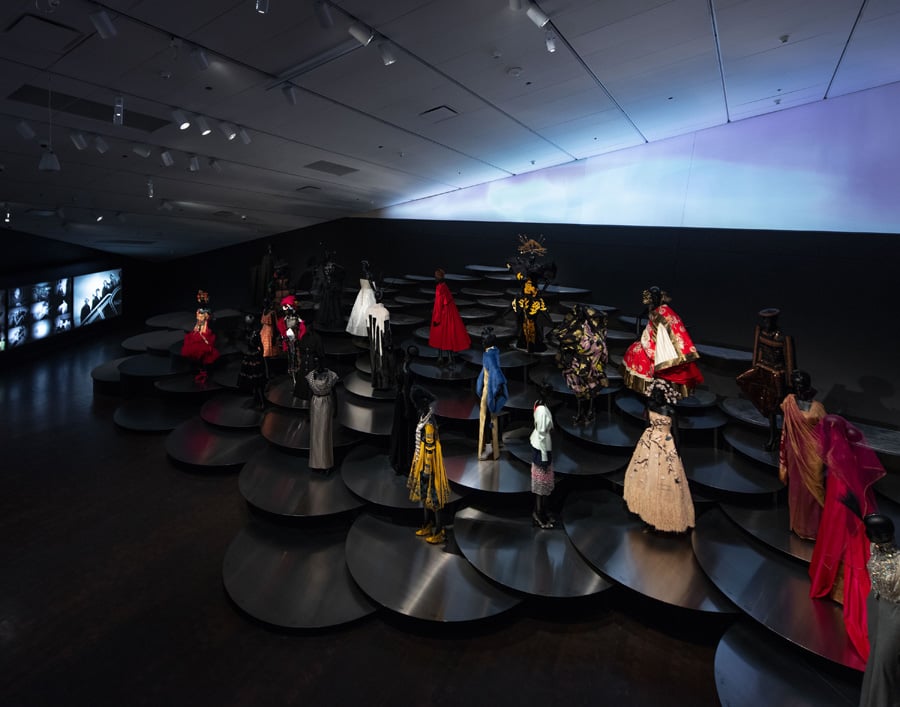 Throughout, Mannequins stand on curved platforms lit from underneath, casting an ethereal glow in the otherwise dim galleries, while projections on the ceiling (in the vein of Shigematsu's design for the Costume Institute's 2016 exhibition Manus x Machina) further animate the space.
The show's defining moment comes in a dazzling display of some two dozen garments designed by Christian Dior, displayed on mannequins standing on a cascading platform of round, black "petals."
"Our aim for Dior's first retrospective in the United States was to communicate the brand's narrative in an accessible and compelling way," says Shigematsu. "By comprehensively tracing its inspirations and ideas and enhancing them through a spatial journey and contrasting materiality."
Dior: From Paris to the World is on view at the Denver Art Museum through March 3, 2019. It will then travel to the Dallas Museum of Art.
You may also enjoy "Top Design Trends of 2018: Look East."