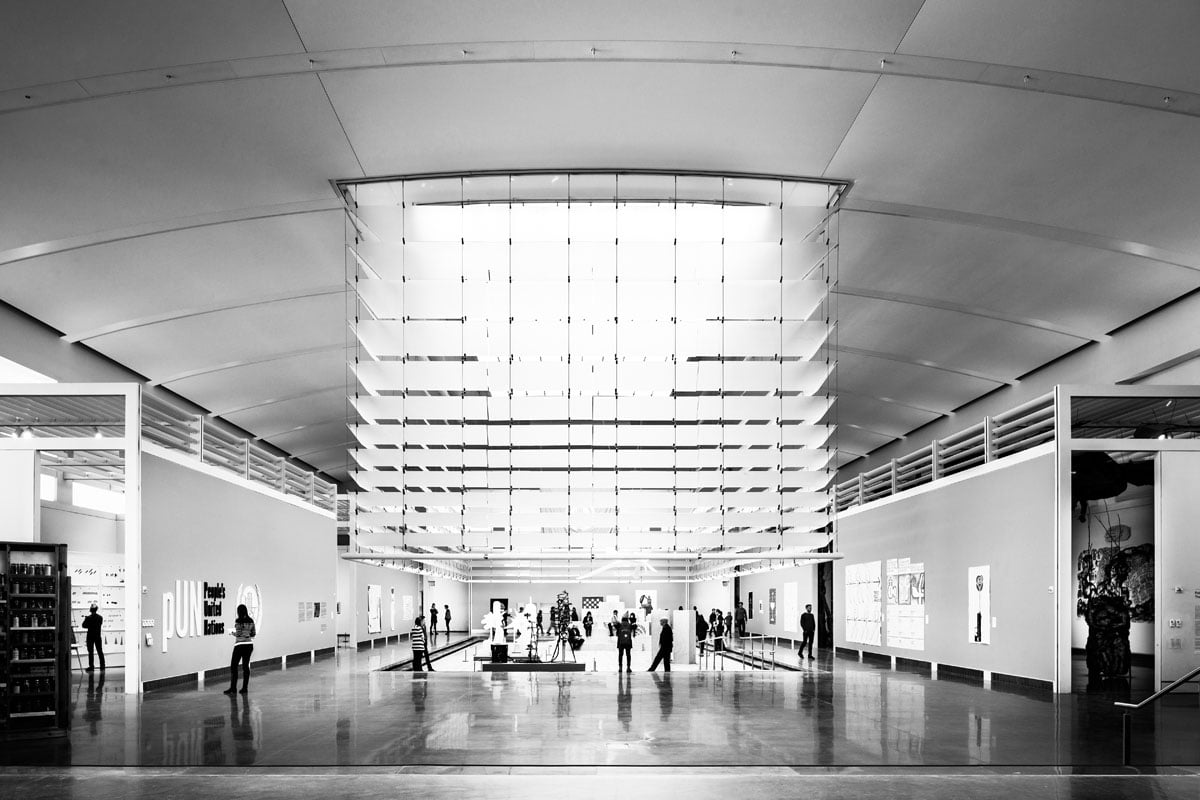 April 7, 2014
"Elements" Explores Grimshaw's Fruitful Engagement With Industrial Design
Grimshaw Architects' long and fruitful engagement with industrial design is celebrated in an exhibition at this month's Milan Furniture Fair.
The lobby of the Queens Museum in Flushing Meadows, New York. At this month's Milan Furniture Fair, Grimshaw Architects collaborated on an exhibition with Poltrona Frau.
All images courtesy Grimshaw unless otherwise noted
---
More from Metropolis
---
---
Shortly after he joined Grimshaw Architects, Andrew Whalley was tasked with putting together an exhibition at the Royal Institute of British Architects (RIBA) in London. Titled Product + Process, the 1988 show was decidedly counter-current—a parade of pragmatic, largely industrial structures Grimshaw realized in the UK in the face of surging postmodern fervor. Featured projects included the transparent building the then 15-person firm designed to house the Financial Times' London printing facilities, and a flexible, easily reconfigurable factory Grimshaw built for Herman Miller in Bath. But it wasn't the selection of projects that caught the public eye. "We asked our clients to take apart pieces of their buildings, and then rebuild them for the exhibition," says Whalley, now deputy chairman of Grimshaw. "This wasn't a typical show of architectural drawings and models."
Grimshaw's nuts-and-bolts display at RIBA eventually led to several major public commissions, including the Waterloo International Terminal—the London terminus of the new Eurostar Chunnel train. Today, the firm designs airports, museums, concert halls, and even biospheres, with 350 people employed in offices in New York, London, Melbourne, Sydney, and Doha, Qatar. Yet Grimshaw remains loyal to its brick-and-mortar roots, a fealty evident at Elements, an exhibit staged by Grimshaw and Poltrona Frau in Milan during this month's Milan Furniture Fair. "The purpose of this exhibit is to highlight the link between smaller pieces of industrial design and our larger architectural process," says Whalley, who once taught design innovation at the Royal College of Art. "Within these small components, you can often see the concepts that drive bigger buildings."
The show included an augmented-reality app—first introduced on the cover of Metropolis in October 2012—that brings 2-D images to life. Download the app here. Grimshaw visualized the concept for a new generation of wind turbines in 2010. Scan the image of the Aerogenerator X with your Elements app and watch the blades of the turbine rotate.
Photograph David Sundberg, Esto, altered by Grimshaw for augmented-reality application
---
Housed in a former bell foundry in Milan's central Isola district, Elements is an edgy assemblage of nineteenth-century industry and twentieth-century imagery—a stark brick shell speckled with light tables, design elements, and scale models in wheeled flight cases, and an ingenious cell phone app that generates dynamic 3-D models of Grimshaw projects. The app was originally developed for an October 2012 Metropolis article about the city of the future, for which Grimshaw contributed a speculative twenty-first-century transit hub drawn from its broad experience and best practices. With the help of augmented-reality technology developed by Urbasee, Metropolis and Grimshaw created a cover for the issue featuring a futuristic train station that "popped up" when viewed through a smart phone loaded with the Urbasee app (download it here). A later, more robust iteration of that technology is employed at Elements.
Grimshaw is the fourth architectural firm invited into the Milan spotlight by Poltrona Frau. In previous years, the Milanese seating manufacturer presented works by Oscar Niemeyer, Daniel Libeskind, and, last year, Zaha Hadid. This year's show documents Grimshaw's evolution from industrial design to complex urban buildings, and showcases the seating projects the designer has realized with Poltrona Frau. "Of course we like to present the products we create together with our design partners," says Kurt Wallner, Poltrona Frau's worldwide managing director for contract division. "But we also were the first company in the world to invite world-class architects to design a chair for a specific project. We want to show people that we really live this relationship with architects."
Grimshaw and Poltrona Frau first teamed up on a seating project for the Experimental Media and Performing Arts Center (EMPAC), a facility that Grimshaw built in 2008 at Rensselaer Polytechnic Institute in Troy, New York. The end product—a sleek curved maple seat with leather cladding—offers the same acoustic response whether EMPAC's 1,200-seat concert hall is full, half full, or empty. "The EMPAC chair sticks out from any other chair we have developed," says Wallner, an Austrian-born engineer who came to Poltrona Frau from Daimler. "Because Grimshaw comes from an industrial design background, we have a unique and different way of working together. We spent a lot of time on this chair. But working together, we were able to design a seat in perfect symbiosis with the venue."
Grimshaw's design for the Patricia and Phillip Frost Museum of Science in Miami. The planetarium is seen in the foreground.
---
More recently, Grimshaw and Poltrona Frau joined forces to design seating for the 250-seat planetarium at the Patricia and Phillip Frost Museum of Science in Miami. Slated for completion later this year, the Grimshaw-designed museum will be a "living building," a partly open-air structure that will house science and history galleries, an aquarium, and a wildlife center populated with south Florida's flora and fauna. For the exterior, Grimshaw drew heavily on fluid dynamics to obtain a shell form that seems smoothed by the breeze wafting in from the ocean. The firm drew on its industrial design bones to help Poltrona Frau produce a custom chair that wouldn't strain the client's budget. "I personally designed the chair for Poltrona Frau," says Casimir Zdanius, head of the industrial design unit in Grimshaw's New York office. "We were competing with several bidders who wanted to use off-the-shelf seating. Because of our knowledge of manufacturing and procurement processes, we were able to create economies of scale and produce a chair specifically for this auditorium without going beyond the client's price point."
Elements also features two of the firm's newest projects: the recently completed renovation of the Queens Museum, and the Fulton Center in Lower Manhattan. For the transit station, a rare stand-alone Manhattan subway building scheduled to open later this year, the firm relied on digital models to chart the sun's movements throughout the day, then employed artists to fashion a perforated aluminum skin that bathes the lower levels in sunlight, and affords passengers a view of the sky above.
The planetarium at the Patricia and Phillip Frost Museum of Science, in Miami.
The 250-seat planetarium chairs were done in collaboration with Poltrona Frau.
---
At the Queens Museum, an adaptive reuse of a structure originally built for the 1939 World's Fair, Grimshaw expanded the interior to fill its full 88,000-square-foot shell. The firm also helped integrate it with the Flushing Meadows Corona Park in which it stands. "The mission statement at Queens was transparency," says Zdanius, who, in addition to incorporating stairways and circulation elements, also created a glass-and-steel-rod device to diffuse the direct sunlight streaming through the museum's large roof-gallery skylights. "We want people to step into the museum but still feel connected to the park outside. To do this, we needed outside light. But we also had to protect the artworks on display from that same light."
While the exhibition—like Grimshaw's activity—spans the full arc of the architecture and design spectrum, the show has a large selection of transportation projects, a sector where Grimshaw was able to apply its industrial expertise and expand its lexicon. "Our first forays into transport  were challenging," Whalley recalls. "People hadn't built rail stations in several generations. Many elements didn't exist: signage, wayfinding. We had to design them from first principles." Grimshaw's marriage of industry and ingenuity survives and thrives at Crossrail—also represented in one of the flight cases at Elements. Crossrail is a high-speed rail connector cutting east to west beneath Central London. Grimshaw designed the station platforms along the entire line, with smooth, curved interiors lined with glass-reinforced cement to create a sense of effortless flow through an edgeless space. Elements also features models for a new passenger terminal at Pulkovo Airport in Saint Petersburg, Russia, and an exhibition center and an aviation headquarters in the Middle East. All models are made of the same materials as the full-size buildings—and are similarly assembled. All feature custom  elements that Grimshaw designs and helps fabricate.
"It is true that we're known more for architecture today than we are for industrial design," says Whalley, who, along with firm founder Sir Nicholas Grimshaw, believes that spending time in factories and with manufacturers is just as important as spending time sitting at the design board. "But industrial design is still the DNA of our architecture. And, in many ways, this exhibit is a piece of industrial design."
The firm worked as part of a large team to design a new terminal and airport city for Pulkovo Airport in Saint Petersburg, Russia. The new terminal roof and envelope are designed to accommodate the city's climate extremes.