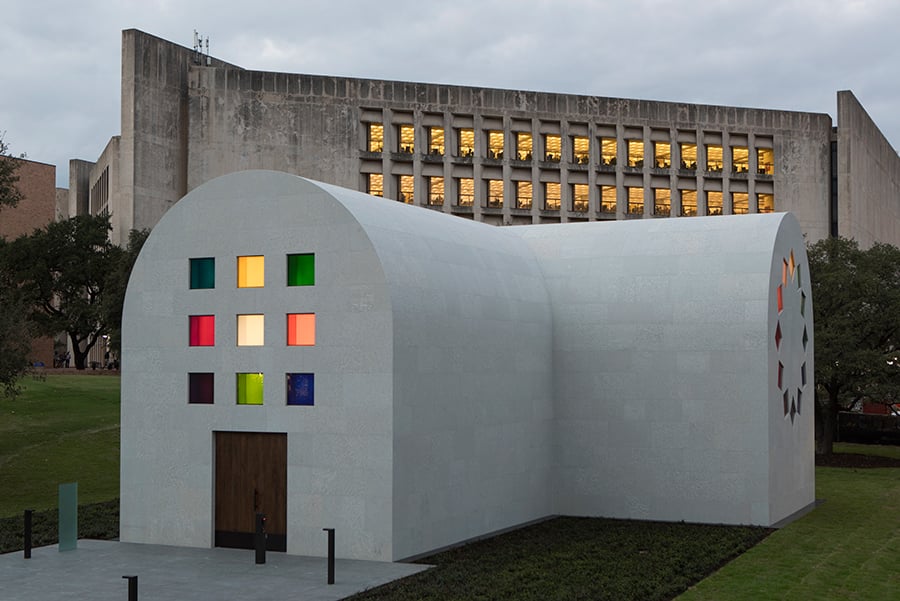 February 16, 2018
Ellsworth Kelly's Last Artwork Was a Building
Titled Austin, the structure features colored windows that shine a variegated spectrum on a granite-floored interior.
---
Ellsworth Kelly died in December 2015 at the age of 92, less than a year after he announced a gift of one of his most lasting creative contributions: plans for the artist's only building, which had been sitting in his New York studio since 1986.
Titled Austin, this 2,715-square-foot work on the grounds of the Blanton Museum of Art on the University of Texas at Austin campus would be his final—and perhaps greatest—effort, an immersive space whose artistic value matches that of the marble panels and sculpture within. Unlike the Rothko Chapel in Houston, in Austin the artist and architect are one, says Carter E. Foster, the Blanton's deputy director for curatorial affairs.
The cruciform stone structure is sited north of the museum's other two buildings in a grassy space, and features 12 skinny, rectangular-paneled colored windows on the west side of the building resembling the loading symbol on a smartphone. The other faces feature luminous windows of different colors and orientations, bringing a spectrum of light to the granite-floored interior galleries. A totemic redwood sculpture greets guests walking through the door.
---
More from Metropolis
---
Kelly's love of bird-watching and his many years spent designing camouflage and inflatable tanks in the World War II deception unit the Ghost Army provided the artist with a deep understanding of shadow, line, and color, Foster explains: "He had an unbelievable ability to perceive things. The exact angle of how two lines meet. The exact radius of a curve. He could perceive differences in color that I can't see."
You may also enjoy "New Exhibition Will Highlight Modernist Designer and Artist Richard Filipowski."