May 21, 2019
WTARCH's Elysian Fields Project Embraces L.A.'s Eclecticism
The structure features four completely different frontages that together channel the exuberant urban cacophony that Angelenos love and others don't always understand.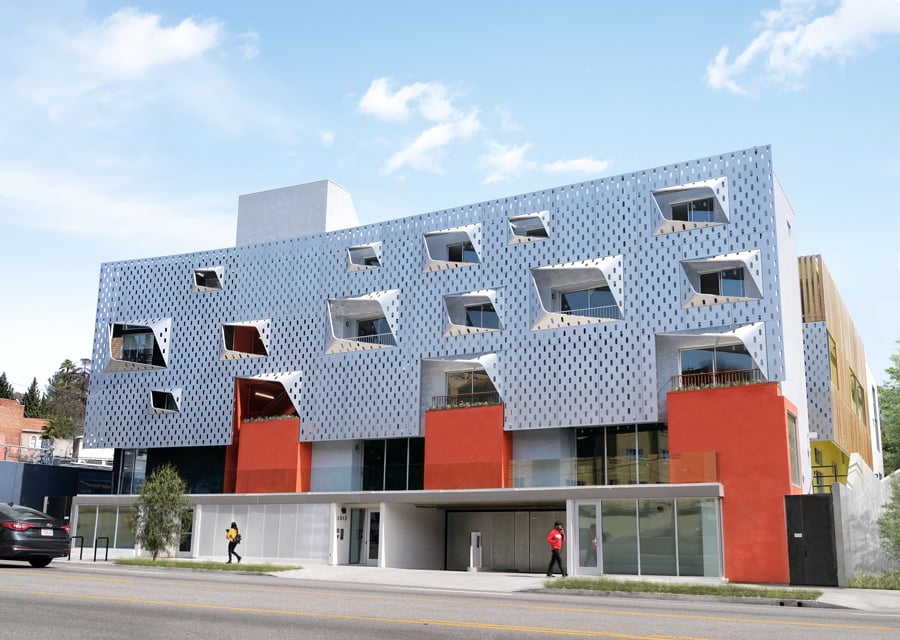 ---
Despite Los Angeles's reputation as a haven for single-family housing, multifamily buildings are increasingly cropping up, especially along the city's busy, often-chaotic thoroughfares. Given their scale, a central challenge for such developments is fitting them into their frequently awkward spatial contexts.
But at Elysian Fields—a new 27-unit apartment building squeezed somewhat poetically between an auto body shop and Shepard Fairey's Subliminal Projects gallery—L.A. firm Warren Techentin Architecture (WTARCH) strategically doubled down on local eclecticism.
The structure, organized around a small courtyard and wedged between Sunset Boulevard to the west and a gentle hillside to the east, is best defined by four completely different frontages. Together they break down the building's mass and channel the exuberant urban cacophony that Angelenos love and others don't always understand.
---
More from Metropolis
---
"We made an effort to look at the forms and materials of the neighborhood," says WTARCH principal Warren Techentin, who likens the project—with its murals, bright palette, and multiple textures—to a village composed of four separate buildings.
---
Elysian's Sunset-facing facade is clad with a CNC-cut, perforated aluminum screen—inspired by nearby auto repair shops and built by local fabricator Arktura—that curves gently with the road. It serves to shade the building from the harsh sun, and flares out to expose large sliding windows. The north facade is painted black and punctuated with pink cruciform patterns that echo the shape of its split-level lower units. And on the south, a cedar screen and yellow paint reference nearby storefronts, while the east facade, which faces the morning sun, is—true to L.A.—all white.
The apartments inside are equally diverse and designed to draw a varied demographic—ranging from 580-square-foot micro-units to 1,375-square-foot three-bedroom lofts. No two units are exactly alike, but all boast extra-large windows and some form of double-height space. Several embrace the inside-outside California lifestyle, offering balconies, patios, and flower boxes. WTARCH chose cool white walls, minimal decoration, and oak floors to give Elysian's residents (which so far include fashion designers, a graphic designer, a set decorator, and a small-business owner) a level of customizability.
"When we presented the building, people here really got it," recalls Techentin. "They saw it as in keeping with the neighborhood's modern and eclectic character." He adds: "It's about understanding the city at a larger scale and seeing a way for that urban logic to fit into a building. I've lived in this neighborhood for 20 years. Maybe it just seeped in."
You may also enjoy "The Refreshingly Simple and Deceptively Complex Architecture of SO-IL."
Would you like to comment on this article? Send your thoughts to: [email protected]