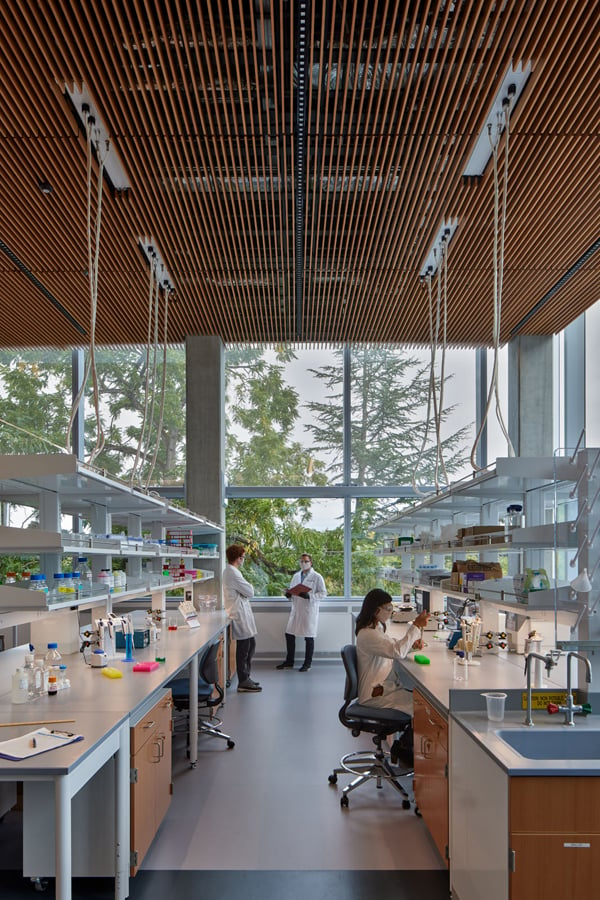 February 16, 2021
Ennead Architects Designs a New Science Campus for the University of Oregon
The University of Oregon's Phil and Penny Knight Campus for Accelerating Scientific Impact encourages innovation through teamwork and transparency.
Looking across busy Franklin Boulevard from the University of Oregon's historic campus in Eugene to its striking new Phil and Penny Knight Campus for Accelerating Scientific Impact, two architectural features immediately stand out, both functional yet offering unmistakable symbolism. A double-skin facade with triangular shading panels made of fritted glass, bringing light into a well-sealed envelope, acts as a kind of contemporary quilt: a unified whole from many pieces. A sky-bridge also connects this 160,000-square-foot facility the main campus, its column-free span seeming to defy gravity.
And that's what this project is all about: bringing brilliant minds together to make a leap.
"We wanted this to be a different icon, that wasn't staid brick campus-oriented but sort of promised a bright future," says Todd Schliemann, a partner with New York's Ennead Architects, which designed the building with Portland's Bora Architecture & Interiors. "Which is what their mission is all about."
---
More from Metropolis
---
The project was made possible thanks to a $500 million gift from athletic apparel giant Nike's co-founder, Phil Knight, who competed as a member of Oregon's track program in the 1960s and has helped underwrite several high-budget athletic-department facilities here, including nearby Matthew Knight Arena and the new Hayward Field (the latter of which will host next year's track and field world championships). Knight and his wife Penny have also devoted much of their fortune to funding the construction of new science facilities in Portland at Oregon Health & Science University.
Like its name indicates, the Knight Campus is meant to accelerate the timeline between discovery and deployment of scientific innovations, all by encouraging interaction and collaboration across disciplines.
First intended as a long, linear structure, the design instead evolved into two L-shaped wings facing each other, which created a courtyard in between. The architects left the ground floor open to the public, with easy access to the adjacent Mill Race, a former industrial waterway that the project helped restore and make available to the public. Above the courtyard, an overhanging roof made with an EFTE-clad canopy extends over an outdoor seating area.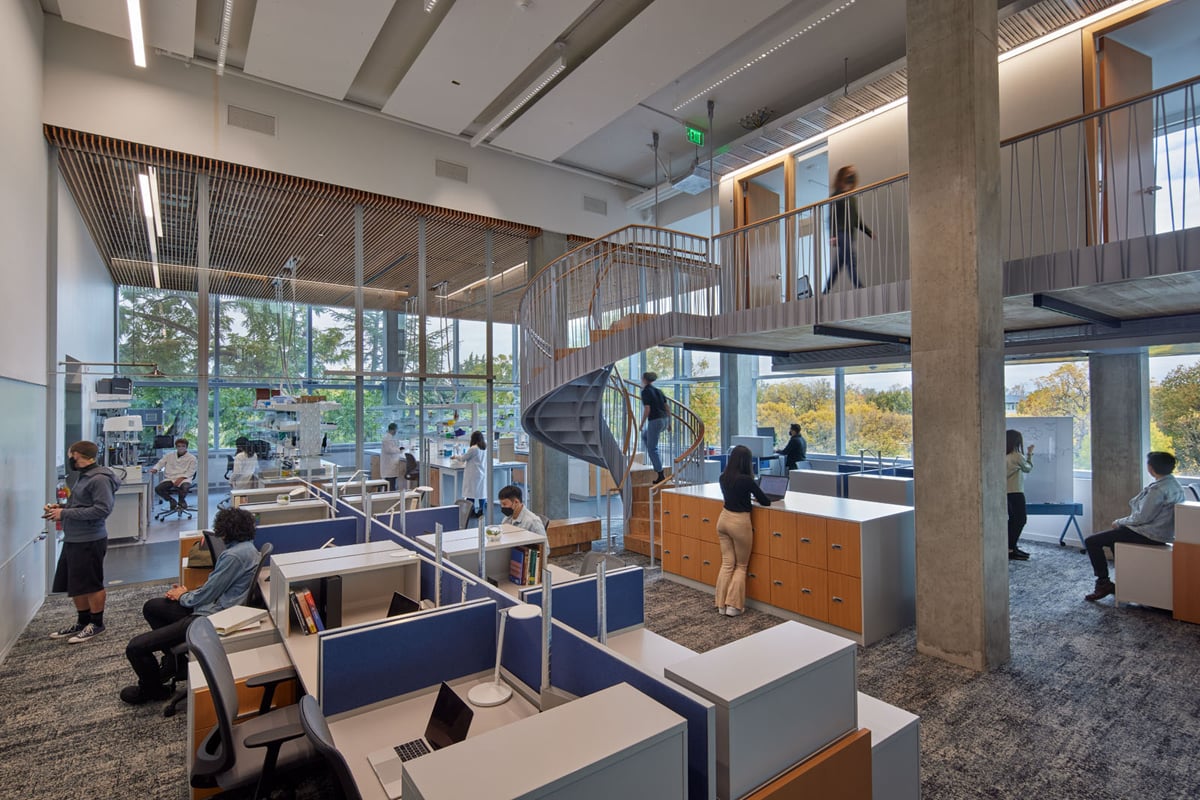 Upper floors in the Knight Campus's two towers are devoted to interdisciplinary research neighborhoods that bring traditional laboratory research and the burgeoning field of computational research together. Inside the labs, bays are shared rather than given private dominion to individual researchers. In these double-height spaces, overhanging mezzanines contain offices for faculty, fostering a sense that this is one combined hive of activity.
"You'll get a text on the second floor from someone on the fourth floor going, 'Hey, stay there: I need to talk to you," says Darin Dehle, director of design and construction for the University of Oregon.
In addition to its labs and support spaces as well as classrooms, the Knight Campus also includes spaces where startup companies rent research space, all part of the mission of accelerating the pace at which innovative ideas get to market. "The researchers and grad students often have one foot in the real world while they're learning," Schliemann says. "The idea is it isn't an ivory castle, where you get spit out into the real world and have to intern for ten years before you can be effective."
The project was designed to meet LEED Gold certification, which starts with the double-skin facade, which aids natural ventilation. "The space in between the layers creates a natural cavity for convection," says Schliemann. "You can make a glass wall without the detrimental effects." Laboratory benches are also separated from researchers' write-up desks by an interior glass wall, reducing the volume of space that needs frequent air changes.
The Knight Campus is also the first laboratory buildings in the United States to be built partially with mass timber (sourced from a producer in southern Oregon, D.R. Johnson), including for administrative spaces surrounding the laboratories. "It makes a lot of sense, not only from the carbon sequestering point of view," Dehle says. "We definitely took advantage of the aesthetic. It warms the space up."
Ultimately inviting aesthetics and state-of-the-art science facilities—form and function—are part of the same goal: bringing the best minds together. "The idea of what it looked like was more than a pretty glass thing," Schliemann says. "It was fostering inspiration."
You may also enjoy "Woods Bagot Designs a State-of-the-Art Training Facility in Melbourne"
Would you like to comment on this article? Send your thoughts to: [email protected]
---
Register here for Metropolis's Think Tank Thursdays and hear what leading firms across North America are thinking and working on today.