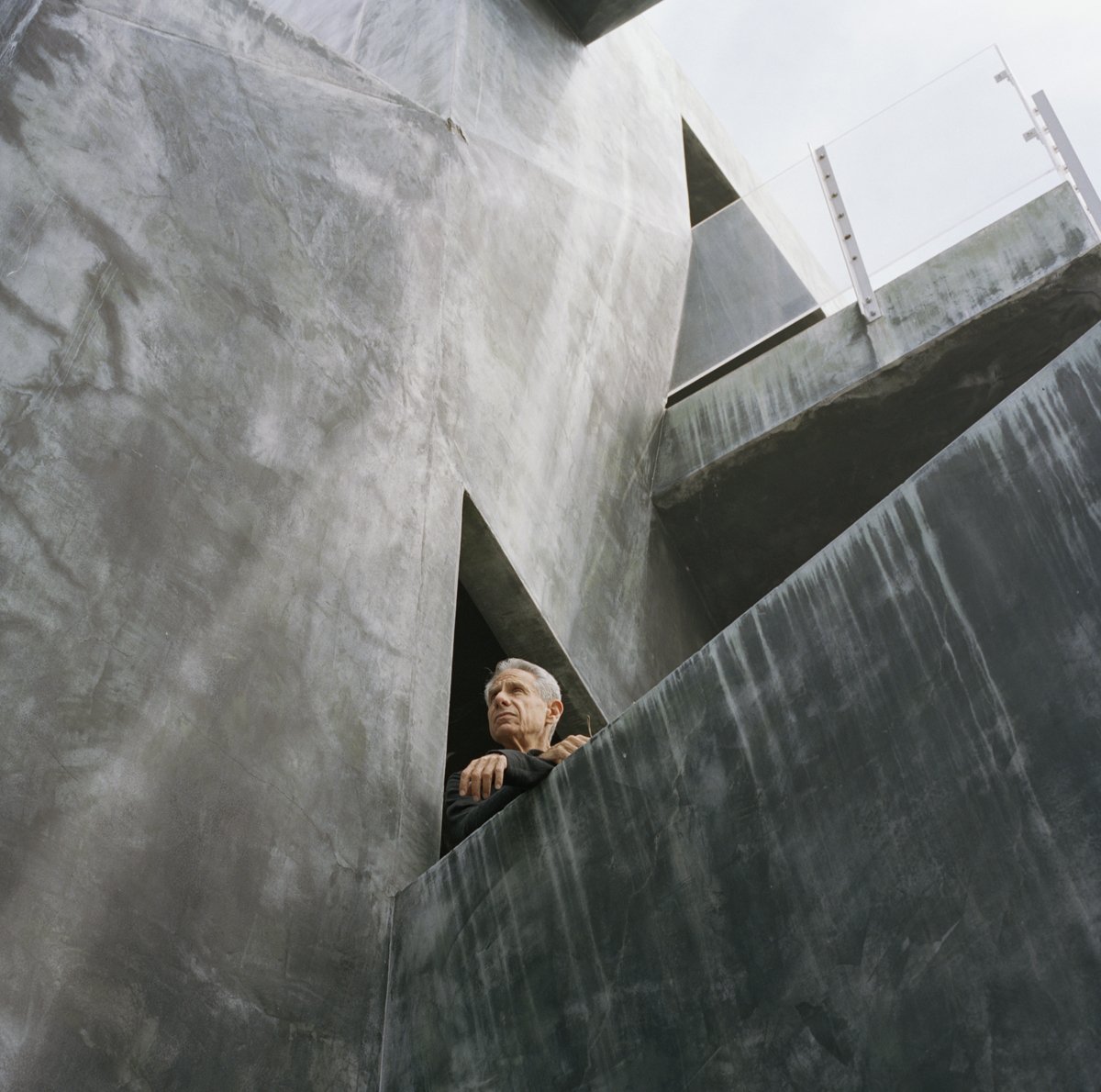 January 7, 2014
Eric Owen Moss, the Architect Behind Culver City's Rebirth
The architect's 27-year-long collaboration with Frederick and Laurie Samitaur Smith has transformed a once-derelict area into a thriving urban community.
Eric Owen Moss, the chief architect behind Hayden Tract, a decades-long urban project in Culver City, just west of Los Angeles.
Portrait by Ye Rin Mok
The Los Angeles architect Eric Owen Moss, who directs the Southern California Institute of Architecture and once was called a "jeweler of junk" by Philip Johnson, thanks to his talent for twisting workaday materials into eye-catching forms, has one of the nimblest and most easily distracted minds I know. He is a whirling Rolodex of cultural references, equal parts deep insight and ADD; in conversation, his tangents have tangents. And yet, over the course of 25 years, he has worked with remarkable consistency and dedication to transform one particular pocket of Southern California. Along with a husband-and-wife team of developers, Frederick and Laurie Samitaur Smith, Moss has turned a section of Culver City, a small city wedged between Los Angeles and Santa Monica, from a declining warehouse district into a thriving beehive of architectural experimentation that doubles as an enclave for creative-class companies in advertising, digital media, and the arts.
This singular relationship between architect and clients began in 1986 when Frederick Smith, who had begun buying up low-slung commercial buildings in a part of Culver City called Hayden Tract, went to collect a rent check from Moss, an architect then in his early forties who was leasing office space from him. Smith was looking for an architect to help him redesign some of his warehouses. He had already made a circuit of what he calls "most of the best-known architects in town" and found that they barely gave him the time of day—and certainly were not interested in the kind of freewheeling intellectual back-and-forth he wanted to carry on with them as a prelude to actual design work.
---
More from Metropolis
---
When he walked into Moss's office, he saw a copy of T.S. Eliot's wartime poems Four Quartets on the desk and guessed that here might be a kindred spirit—"an architect," as Smith puts it, "with a brain."
"If a client goes to an architect and tells him, 'I'm really interested in time and space,' usually that's not a discussion that goes anywhere," Frederick Smith told me. "But Eric was different. We had long conversations. And ultimately we developed a plan."
The plan was as follows: To think of the scattered properties that the Samitaur Smiths owned as points on a continuum, or "pearls on a string," as Frederick Smith puts it, and to develop them one by one as office space for creative tenants and as catalysts for a larger reinvention of Culver City. It was a huge, quixotic goal given the state of the area back then. "It was 98 percent vacant," Laurie Smith says. "Very heavy crime, drugs, big houses of prostitution. We wanted to come to the rescue of the neighborhood and change the whole economy while also introducing culture and art."
The 100-meter-long building is home to the Los Angeles offices of advertisement giant Ogilvy & Mather.
Architectural photography courtesy Tom Bonner
PROJECT: STEALTH
LOCATION: CULVER CITY
YEAR: 2001
The effort also went very much against the grain of architectural history in Southern California, where experimental designs have generally taken place in the residential sphere. Moss and the Samitaur Smiths, by contrast, hoped to burrow deeply into an overlooked and built-out industrial neighborhood and transform it from the inside out. Instead of reinventing the American house—as Rudolph Schindler and Richard Neutra and the Case Study architects had, with Julius Shulman trailing behind with his camera—Moss aimed to remake the idea of the American workplace.
"For us, architecture is the largest art form," Laurie Smith says. "And we thought, we'll put in these absolutely very different-looking buildings. And you can hate them or love them, but they're going to attract your attention, and let you know that change is afoot."
They started with a few warehouse conversions. Typically, Moss would not only make the buildings usable as office space for design companies or ad agencies but also tear them open at the corners or along the roof, only to re-seal them with glass or leave their trusses exposed. Materials and forms were not so much layered as thrust together, with brick walls jammed in next to expanses of stucco; elsewhere, glass seemed to melt over steel-framed supports below. There were echoes of early Frank Gehry and the artist Gordon Matta-Clark. Yet there was no mistaking a Culver City building that had received the Moss touch: It looked newly strange and adventurous, like a teenager who for the first time in her life has swapped her parent-approved haircut for something more expressive.
The developers, Frederick and Laurie Samitaur Smith, on the terrace of Stealth.
Portrait by Ye Rin Mok
Early on, Moss started giving his Culver City designs nicknames, as if to soften or humanize their aggressive forms. A long, low-slung warehouse, battle-gray like a gunship, became Stealth; now, it is home to the West Coast headquarters of the big ad firm Ogilvy & Mather. Buildings known as Umbrella and Slice have followed.
Over time, as Hayden Tract began to fill up with new tenants, word began to get out both in Southern California and nationally that Moss and his clients were doing innovative work. The buildings began to fill up with just the sort of tenants the Samitaur Smiths had hoped for: movie production firms, dance companies. The New York Times architecture critic Herbert Muschamp toured Culver City with Moss in 1993, and then became a regular visitor, calling the architect's work in transforming the area "an exhilarating display of rearrangement, juggling, and experimentation with architectural form."
Perhaps most remarkable of all was the way not just architecture but urbanism became malleable in the hands of Moss and the Samitaur Smiths. The idea of isolated and newly redesigned buildings as catalysts for a rebirth in Culver City worked so well that the basic character of Hayden Tract seemed to shift: walking its streets, you had a sense of evolution happening, of opportunities opening up. By the time I arrived in Los Angeles a decade ago, Culver City's reputation had morphed entirely. I knew it from my first weeks here as a place of creativity, full of design firms; Moss and his clients had buried the old Culver City for good.
PROJECT: WAFFLE
LOCATION: CULVER CITY
YEAR: 2014
There are ways in which the Hayden Tract model is very much sui generis, making it nearly impossible to export and try somewhere else. Moss's architecture is hardly the kind to be copied easily, even as it fits snugly with the Samitaur Smiths' vision and with the odd urbanism of Culver City. But the success of their experiment does suggest quite powerfully how spread-out, horizontal cities have one advantage over denser and more vertical ones: their overlooked corners are more easily remade, provided there are figures like the Samitaur Smiths and Moss to provide the spark. Changing a handful of buildings can have a startling effect. In a city filled with towers, remaking office space would happen inside buildings, as an interior project, and be far less visible and powerful.
"There is a  real fluidity to the urbanism of a city like L.A.," Moss says. "It would be very  hard to try this in New York, Chicago, or even San Francisco. But this city is much less stratified."
Hayden Tract is now edged with new rows of restaurants with well-known chefs and art galleries designed by Los Angeles architects a generation younger than Moss. And the Samitaur Smiths continue to plug away. Two new Moss projects are under construction: a ground-up conference center with an undulating steel-and-glass facade called Waffle, and Pterodactyl a suite of offices rising from the top of a parking garage. A Moss-designed office tower called the (W)rapper, at 230 feet high unusually tall by the standards of the area, is planned for a site just over the border into the city of Los Angeles.
Early on, Moss started giving his Culver City designs nicknames, as if to soften or humanize their aggressive forms.
"The Smiths galvanized it all," Moss says. "They made it a place to go. They owned some stuff and bought more and now everybody's piling in."
From the start, in ways good and bad, the new Hayden Tract was designed as a sort of private urbanism. Though the buildings remade by Moss were examples of extroverted architecture, as a district, as a piece of the city, the project turned inward on itself. It remained thoroughly unknown to many Angelenos. The attitude of the Samitaur Smiths, according to Moss, has always been, "We don't want city money, we don't want city input, we don't want city support—all we want is, leave us alone."
"We were a private effort," Frederick Smith says, with some defiance. "We borrowed money and had to pay it back. And compared to other urban renewals, we couldn't rely on subsidy. The government was not going to help. We had to struggle to figure out." Now that experimental urbanism is entering a dramatically new phase. In 2011 a new light rail route, the Expo Line, was built from downtown Los Angeles to Culver City; a second phase, all the way to the beach in Santa Monica, will open in 2015, finally bringing L.A.'s West Side onto the transit grid. The train line is part of a massive expansion of public transportation in Southern California, much of it paid for by a sales tax increase approved by L.A. County voters in 2008. It is emblematic of a region re-engaging the public realm and trying to reverse several decades of obsession with the single-family house and the private car.
PROJECT: SAMITAUR TOWER
LOCATION: CULVER CITY
YEAR: 2010
In the short term, the extension of the Expo Line west to Santa Monica will likely be a boon for the Samitaur Smiths, bringing a whole new pool of tenants and employees within a 20-minute train ride of Hayden Tract. In broader terms, it promises to set the stage for a fascinating clash of philosophies: the private, market-driven approach of the Samitaur Smiths coming face-to-face with L.A.'s newly expanding public realm. Already, the arrival of the train has changed Moss's Hayden Tract architecture: he designed an open-air art tower for the Samitaur Smiths right along the train tracks, a sort of vertical folly in weathered steel that is lined with screens that can show projected artwork and video. It is the first of Moss's Hayden Tract buildings to lift up its head and take a look at the wider city and region.
The next step will be to add some public spaces—or at least coffee shops and other retail outlets open to the public—to the mix inside Hayden Tract, to accommodate the new visitors carried in by the train. What those visitors will find when they arrive is an experiment in the power of architecture to remake a place from the inside out. Both the Samitaur Smiths and Moss continue to notice new details and characteristics of the neighborhood, inspiring them to try further experiments there. Their steadfast commitment, over nearly three decades, to this sliver of the L.A. megalopolis continues to pay dividends.
Surely you remember the famous lines near the end of Eliot's Four Quartets, right? The book Moss was reading the day Frederick Smith stopped in to pick up the rent? "We shall not cease from exploration," Eliot wrote. "And the end of all our exploring/ Will be to arrive where we started/ And know the place for the first time."