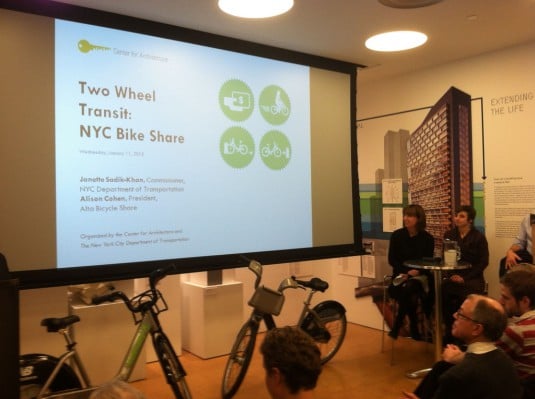 January 16, 2012
New Exhibit Garners Excitement for New York City's Bike Share
I'm excited! I want Bike Share! 72% of New Yorkers agree with me according to Quinnipiac University. This week at the Center for Architecture, an exhibit opened showcasing the new Bike Share system coming to New York City in July, with 10,000 bikes at 600 hubs across Manhattan and North West Brooklyn.We all want to […]
I'm excited! I want Bike Share! 72% of New Yorkers agree with me according to Quinnipiac University. This week at the Center for Architecture, an exhibit opened showcasing the new Bike Share system coming to New York City in July, with 10,000 bikes at 600 hubs across Manhattan and North West Brooklyn.
We all want to live next door to a bike share station, according to Department of Transportation (DOT) Commissioner Janette Sadik-Khan, with over 70,000 requests for hub locations. These suggestions have been recorded online and at meetings with the community, with over 50 public meetings and 23 demonstration sites/open houses, you could argue this is a very community focused initiative.
---
More from Metropolis
---
And last week's exhibition opening was no exception, "People come in droves," Sadik-Khan said to her audience, a small army of people crammed into the front exhibition space at the Center for Architecture. This was only one of many community engagement experiences and Sadik-Khan describes the atmosphere of these meetings as being an attitude of "What took you so long?" as opposed to the usual "Why are you here?"
Argued by some as the future of urban mobility, with 500 miles of bike lanes already in place, DOT hopes to "extend our transit system" with Bike Share, resulting in more transit options, shorter trip times, and one of the most affordable transit options.
With an anticipated membership of less than $100 for a year long membership makes Bike Share the most cost effectives means of transit, "outside walking and the Staten Island Ferry," according to Sadik-Khan. There also are plans to create an affordability plan, since a credit card is necessary to unlock the bike from the hub, there are plans to have banks and/or organizations back individuals so that they may access the system.
Why the credit card? "Accountability," according to Alison Cohen, president of Alta Bicycle Share, the organization working with the city to start our Bike Share system. Having started bike shares in Montreal, DC, Boston, Paris, and London, Alta is well prepared to bring it to New York City. With a system that is solar powered, wirelessly connected, GPS tracked, and with a hub installation taking about an hour, Alta is bringing a product well tested to New Yorkers.
Affordability being a main point, its important to note that the system will be paid 100% by the private sector, with sponsors yet to be announced. Alta being the equipment operator, it is expected to hire 200 employees for hub installation, maintenance, and cleaning snow off bike seats.
The system itself is very interesting, and you should experience the "chunky" bikes, with "nice wracks", and read about how the share systems works by going to the exhibit which is running through February 4th or to the NYC Bike Share website, http://nycitybikeshare.com or http://nyc.gov/bikeshare.
My experience with the exhibit was interesting. The bikes look nice, and I would agree with Sadik-Khan, they are not "speed racers". A little heavy, and with 3 gears, they will get you around, though I will dread crossing a bridge on one. The bikes look like they can take quite a beating, and with most of the cable and gear equipment incased in what looks like graphite, according to the conversations with bike people at the exhibit, it also might be difficult to maintain. Good thing we won't have to!
These "chunky" bikes are part of the health and safety side of the program. Safety being a huge issue, the rules of the road will be heavily engrained into the program, as well as education on helmets, coupons for helmets, strong agreements for people to sign for the use of the bikes, and head lights that turn on whenever the bike is not in the hub. There also is a lot of interest in the city for how this will influence public health, with data collection through the GPS tracking being a big part of how often New Yorkers are out burning calories.
There will be some challenges for the system though. First, the desire to improve the transit system by placing bike hubs closer to other transit systems, while makes sense from an efficiency perspective, does less for those who suffer from transit inequity, a lack of transit access. Another issue, families, could prove to be a problem. Bike Share has an agreement that only 1 person can be on a bike at a time, so no toddler back packs or being pulled along in carts, and there is an age limit on the bikes. Sorry Moms and Dads.
One of the most exciting points about the system is the GPS data! Tracking the bikes, their routes, the use rates, times, and real time availability of the data to 3rd parties, means we will have some interesting smart phone apps and websites coming. And Sadik-Khan mentioned that there are plans for a real time bike availability App to be available from the start, enabling users to know where there are bikes available at hubs and where there are hubs with empty spots for you to park.
Ultimately, with another transit option that is cheap, that has extensive community engagement as a part of its development, and that gets people outside and moving; we all will benefit from the lessons learned in other cities while Phase 1 of the New York City Bike Share comes to us this summer. I can't wait for Bike Share!
Ryan A. Cunningham is assistant to the editor in chief at Metropolis Magazine, and a recent graduate of the Pratt Institutes Master of City and Regional Planning program. He has experience with communities across New York City and parts of Upstate New York, and specializes in community engagement, environmental issues, community resiliency and urban policy.