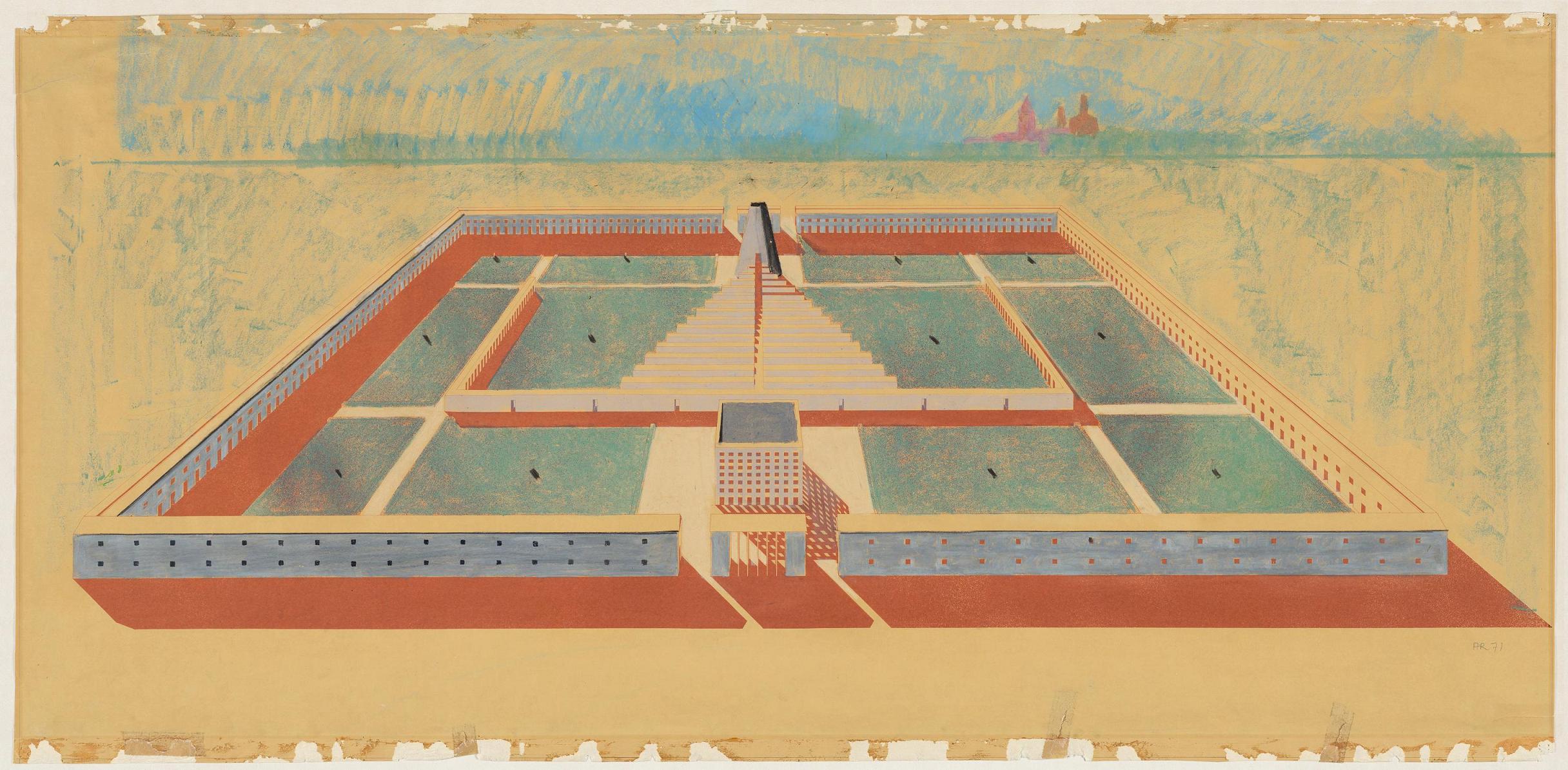 May 1, 2009
Exhibition Review: In Situ: Architecture and Landscape
Title aside, MoMA's latest is all building and little landscape.
Superstudio's The Continuous Monument: On the Rocky Coast, project perspective (1969). Images: courtesy the Museum of Modern Art
Despite its title, a surprising number of the buildings in MoMA's new exhibition In Situ: Architecture and Landscape more or less ignore their surrounding landscapes. The exhibit covers roughly the latter half of the 20th century, encompassing both built and un-built works ranging in scale from individual houses to entire imagined cities. So it includes a few block-y, Modernist behemoths that hit the ground hard, like Superstudio's 1969 vision of a Continuous Monument, a geometric grid-like structure that marches relentlessly across the earth's surface, paying attention to landscape only as an obstacle to be overcome.
But even the less-imposing buildings often ignore their surroundings. Aldo Rossi's 1971 San Cataldo cemetery, in Spain, is compelling and haunting, but uninterested in its setting. Walling itself off from its surroundings, the design is dictated by its own formal geometric logic, and could just as easily occur on any other site. The same is true of Bernard Tschumi's 1983 competition-winning design for the Parc de la Villette, in France, featuring a variety of "follies," each a different deconstruction of a red, 36-foot cube. Laid out in a strict grid, their design and positioning are deliberately independent of their setting—something the exhibit implicitly admits by displaying the drawing and model in a void, with no indication of a landscape.
---
More from Metropolis
---

Rossi's Cemetery of San Cataldo Modena, Italy, aerial perspective (1971). (Crayon and graphite on sepia diazotype)

Tschumi's Parc de la Villette, Paris, Follies and Galleries Isometrics (1986), in
gouache and color ink on a gelatin silver photograph
When the buildings in In Situ do relate to their settings, it's sometimes a very one-sided relationship: the landscape enhances the experience of being in the building, but the building does not enhance the landscape. Since many of the exhibit's buildings are private homes designed to be experienced by only a handful of people, that's a very asymmetric trade. Simon Ungers and Tom Kinslow's 1992 T-House provides its owner with a wide, rustic vista from a 44-foot-long library cantilevered over a bedroom, but the house sticks out in the landscape like a squat, evil-looking geometric skull. As the curators say, it "imposes on the rural site and profits from the serene surroundings." And Diller and Scofidio's celebrated Slow House may be shaped like a banana rather than a block, but its focus is still on mediating the owner's views of the landscape from within the structure, not on how the structure contributes to the broader landscape.
Nevertheless, there are some beautifully contextual pieces in In Situ. The stepped roof of the Chikatsu-Asuka Historical Museum, designed by Tadao Ando in 1994, echoes the thrust of the hills that surround it, and its walls curl outward into the landscape. Peter Eisenman's City of Culture of Galicia, still under construction outside San Compostela, Spain, is a complex of libraries, theaters and museums that extend the site's topography seamlessly into their undulating forms. Even geometric shapes find ways to harmonize with nature by remaining low to the ground, using natural materials, and opting for asymmetry, as in Frank Lloyd Wright's houses or Edward Larrabee Barnes's 1962 Haystack Mountain School, in Deer Isle, Maine.

A wood-and-acrylic model of Ando's Chikatsa-Asuka Historical Museum
But one thing bothered me even about the beautiful pieces in the show. The introduction to In Situ notes that "the challenges of a threatened environment and rapidly expanding cities have fostered a revised understanding of landscape." Yet while low-rise, widely-spaced structures may echo the quiet beauty of nature, their low-density approach is hardly a solution to the detrimental sprawl alluded to by the curators. So is visual harmony with the landscape at odds with actual harmony?  It's a troubling question, and one on which In Situ is silent.
In Situ: Architecture and Landscape is on view at the Museum of Modern Art until January 18, 2010.