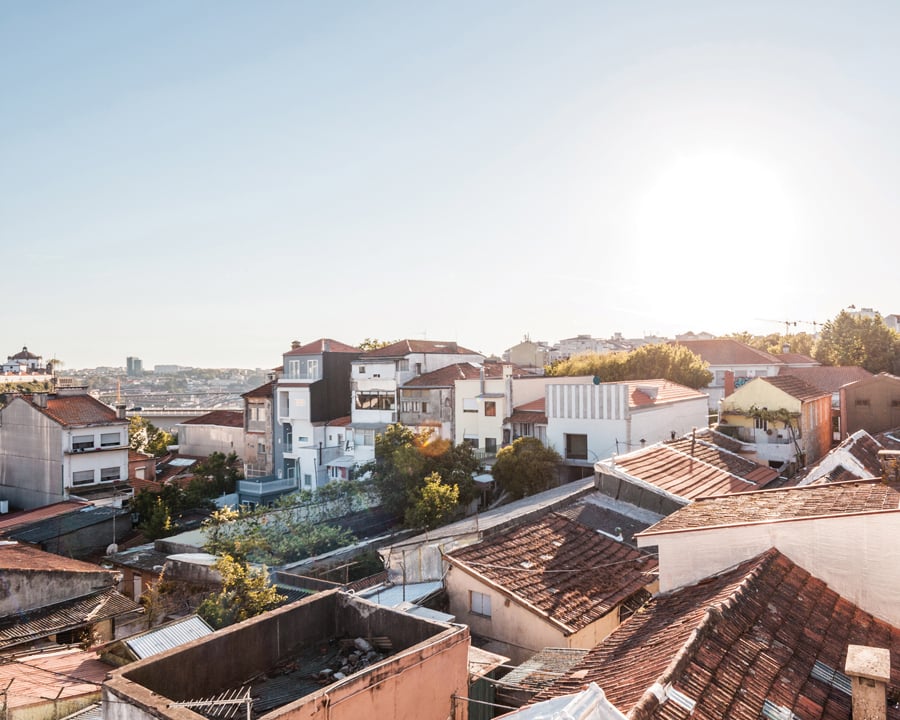 August 5, 2020
Bridging Spatial and Budgetary Limitations, a New House in Portugal Celebrates the Fragmentary
Local studio Fala Atelier developed a highly logical and legible design for the house, despite its ample "kinks, diagonals, and curves."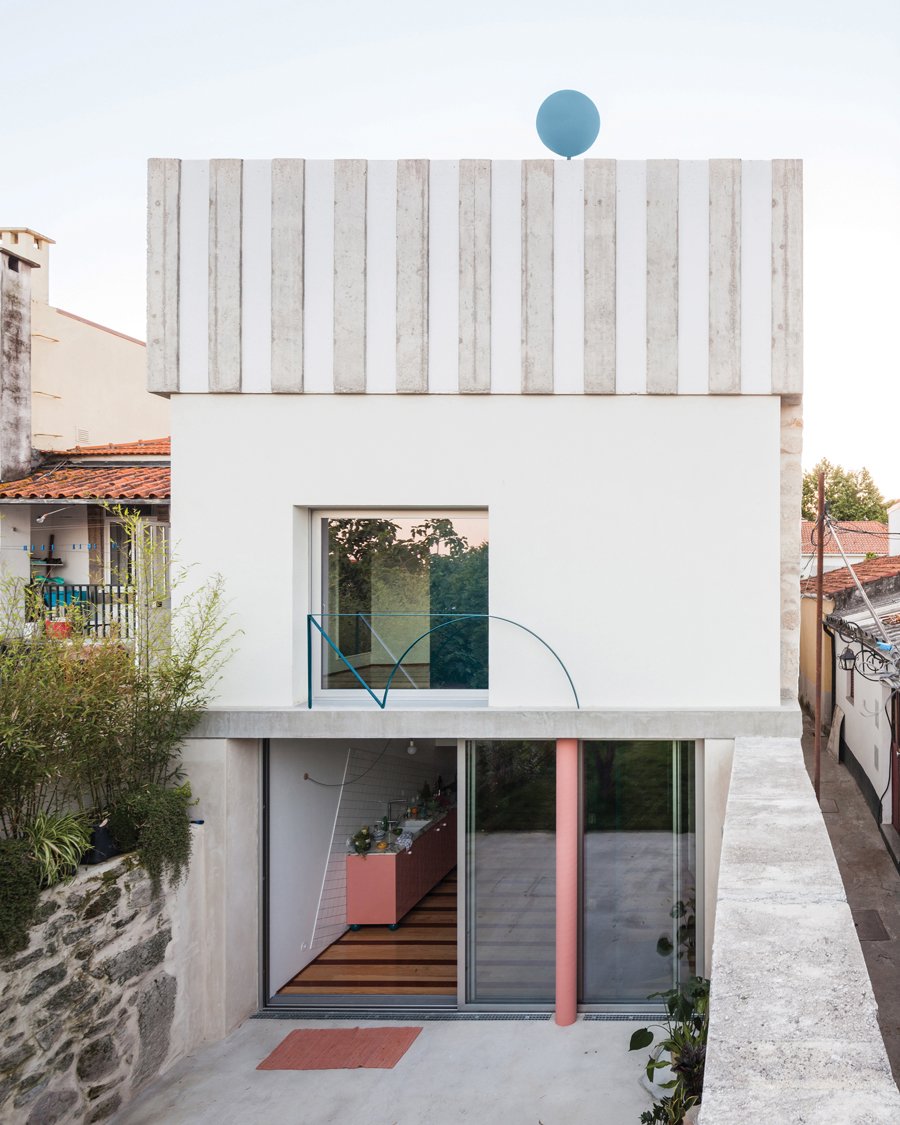 For the Porto, Portugal–based Fala Atelier, fiscal restraint paves the way for creativity. Filipe Magalhães, cofounder of the nine-person self-professed "naive architecture practice," says that although Fala's work may "seem like a design manifesto," it's often just the natural result of a tight budget. Such is the case with a recent gut renovation of a 15-foot wide, two-story home in the Porto neighborhood Fontaínhas.
Encountering an interior in a "terrible state"—the core was composed of rotting wood—the firm needed to develop a completely new plan for the home. Inside, each floor represents a different spatial concept. The ground floor was conceived as an uninterrupted living space defined by a single curved wall that starts in one corner and extends out into the lush, south-facing garden designed by landscape architect Pomo. Magalhães describes the plan as a "one liner," joking, "we like to say that it's the only room in the world that has only one corner."
He describes the second floor as the perfect opposite: "If the ground floor is literally just one line, the top level is a series of lines. There's a lot of small movements, kinks, diagonals, and curves that all together make a weirdly efficient plan." Despite the kinks, everything feels very logical for the small family that occupies the house; there are three bedrooms, two bathrooms, a staircase, "skylights where you need them," and ample room for circulation despite the lot's narrowness. And the kids who live there love having a pink hallway and a green ceiling.
---
More from Metropolis
---
"The construction was very simple," Magalhães explains. "It's the most traditional materials you can use in Portugal—the cheapest kind of prestressed concrete slab, plaster, and brick. We could not even afford wood." So, the firm alternated planks with lacquered MDF, resulting in a striped pattern on floors throughout the two levels. While humble materials might signal a shoestring operation, they also illustrate an absence of hierarchy in the single-family homes across Fala's portfolio. "We like to mix high and low architecture," says Magalhães. And as the team pivots to bridge spatial and budgetary limitations, many of its projects become celebrations of fragments—whether it's a column, a pattern, or a blue door. "In the end, it is no more important for us to design a big facade than to design a small moment of a project."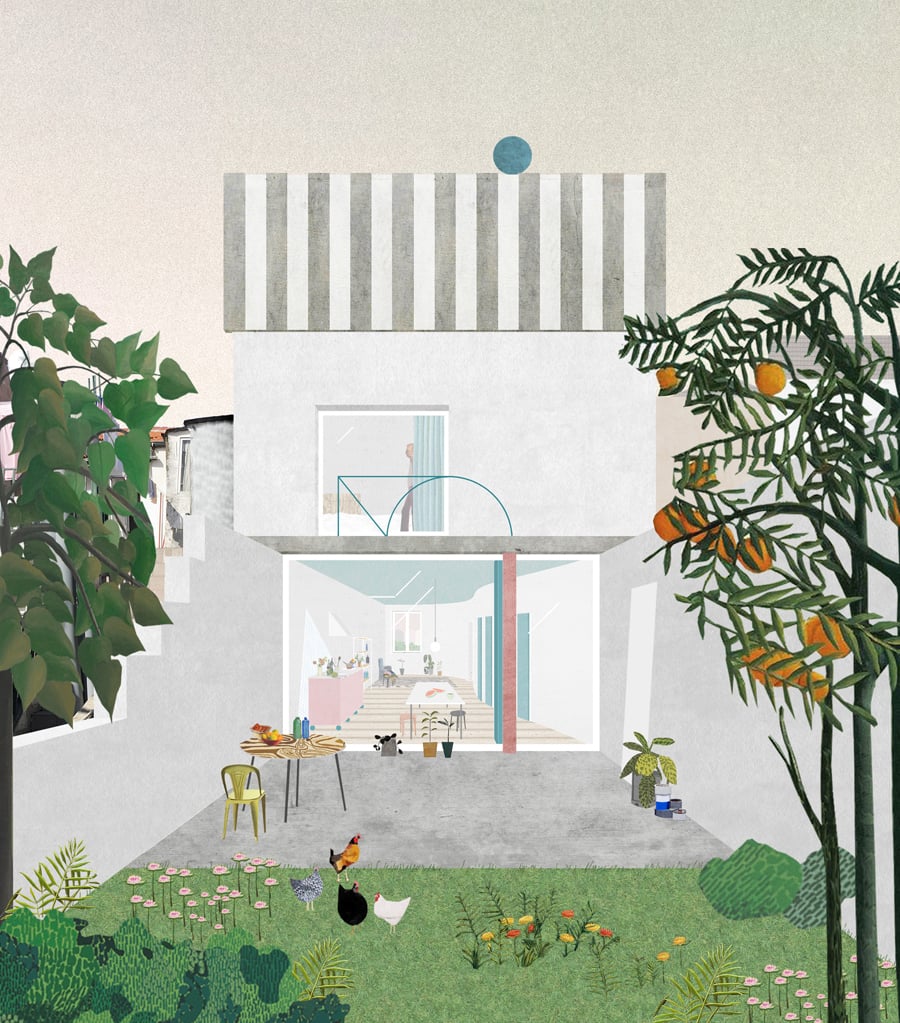 While the studio has become widely known for its use of collage, it is not closed in on any specific tool, and Magalhães notes that no tool is an end product in itself. "We use collage as a self-referential tool for us to understand the project, as a communication tool for the clients, and as a kind of an experiment of sorts," he says. Collage and the photograph operate in a sort of limbo, he continues, pointing out that they always take photographs after the building is complete, but prior to occupation—so most of the furniture and plants are actually property of the office.
Both media give a sense of scale and illustrate an "ideal scenario" of the space. "When you look at the collage, it is exactly what it is going to be, but not exactly how it's going to be perceived," Magalhães explains. "Collage is a poetic clarity… It's like the dream of the project coming true."
You may also enjoy "The LADG's Highland Park Ranch-House Redux."
Would you like to comment on this article? Send your thoughts to: [email protected]