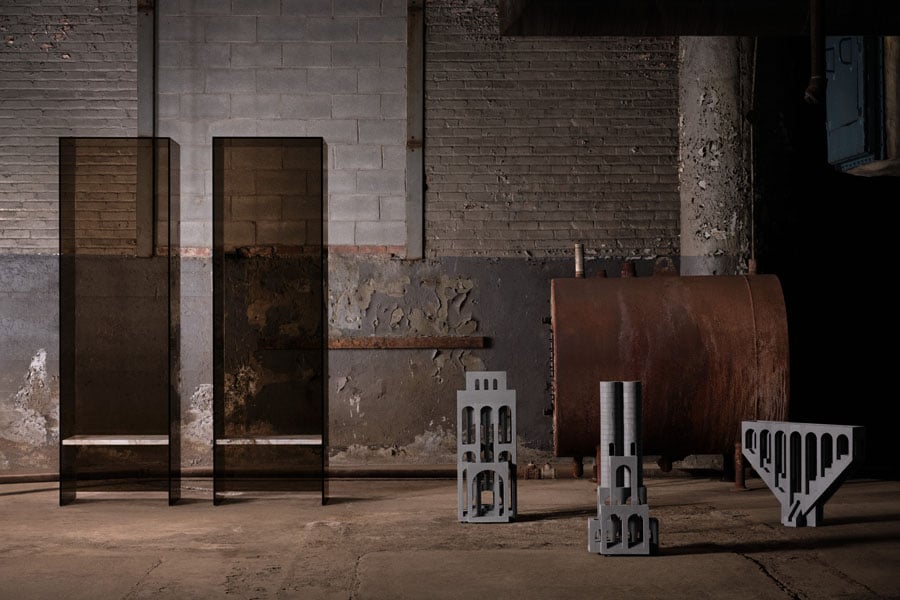 April 27, 2021
Post-Apocalyptic Hope Springs from Montreal Design Collaboration
FICTIONS, an immersive virtual exhibition put on by the Canadian Creators Collective, invites viewers to question the lines between art and design through an imagined future of the northern city.
---
The inaugural initiative by Montreal's Collectif des Créateurs Canadiens (CCC), FICTIONS brings together a range of established and up-and-coming local designers and artists in a unique, sensory virtual exhibition. Set in a nondescript, post-apocalyptic space somewhere in the heart of the city, thirteen pieces from eight Canadian designers wait patiently for viewers to examine their elegance—and question their utility.
Curated by Nicolas Bellavance-Lecompte, a contemporary curator, design specialist, architect, and Montreal native, FICTIONS "explores Montreal's new creative wave of making objects protagonists of stories." Commissioned for the exhibition, Montreal-based writer and film director Daniel Canty's text A Line of Light, unpacks the show and its ties to the city's idiosyncratic features. In it, he introduces the concept of "Montreality" and writes: "Walking through its patchwork streets, one is witness to a general stylistic disorder: grafted to the multiplexes inherited from a working-class century are boxlike condos, while, here and there, an 'architect's house' and the occasional subsidized housing further unravel the weft. The program is a blur, forever jittery, always approximate."
---
The immersive showcase blurs the lines between art and design, familiar and unfamiliar, bringing together a unique cast of multidisciplinary artists around central themes of location-specific, apocalyptic wonder: How do you design for a future that is unknowable? What will design look like in the future of Montreal?
---
More from Metropolis
---
"The desire is that people will take away a sense of hope," says Quinlan Osborne of Claste Collection, one of the designers featured in the show. "Hope in general, but also hope for the future of design, and in particular Canadian design," which he describes as a resilient and inventive community "that has persevered and found inspiration in the shadows."
Selecting from four different camera angles (a roving POV, an overhead surveillance-style POV, a ground-level detail POV, and a visitor POV), FICTIONS viewers can peer into a world where familiar shapes, objects, and scenes are mutated and transformed by the visions of each individual designer.
---
"It's not just about watching—you actually have to build your own visit, like a choose-your-own-adventure kind of experience," says Laurence Gélinas, executive editor of the CCC. "By providing different points of view, we're able to catch more detail and show the beauty and texture of materiality alongside an overall view."
In striking contrast to current social distancing measures, viewers are invited to play with ideas of proximity and control, distance and invasion. Both ominous and hope-inspiring, the exhibit's offerings are set against a haunting minimalist soundscape by intimate, narrative composer Philippe Brault, whose influences for this project included Philip Glass, Laurie Anderson, Daniel L'opalin, and Kraftwerk.
The cinematic assemblage evokes questions about who the user of a particular object might be, and what purpose these objects might serve. Canty's text calls into question the relationship between the objects, furthering his point that "Montreality" is a state of a cohesive, patchwork character.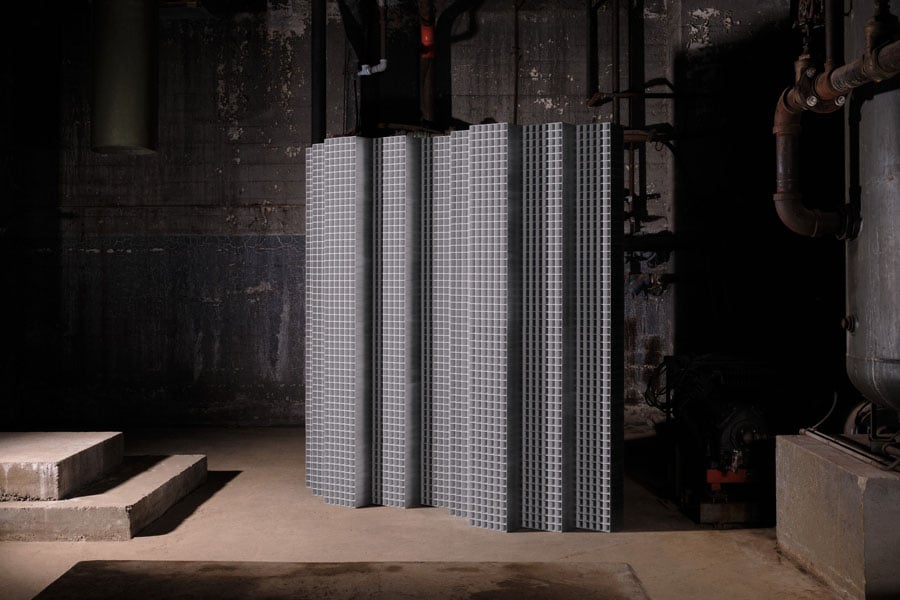 ---
According to curator Bellavance-Lecompte, Montreal's architecture itself provided the initial inspiration for the exhibit: "The city has a very post-industrial nostalgic vibe, a reminiscence of French grandeur, diversity, and political clashes…these are different stories of life, imagination, and ideals." FICTIONS conjures the sparse, industrial settings and sinister, shifting light of sci-fi works both past and present, informed by everything from the 1961 asteroid film Battle of the Worlds and Tarkovsky's Solaris to Kubrick's 2001: A Space Odyssey and Tom Ford's A Single Man.
Gélinas also cites the pandemic world we're slowly becoming accustomed to: "The strong contrast between the outside and inside world seemed like an appealing way of showing the revival of a city after COVID-19. Artists coming out of the dark after a long and quiet break."
The result is an environment that feels both isolated and exposed. "By going underground as it were, the exhibition takes on a sense of community that has poised itself for emergence," says Osborne. "How we choose to emerge from this situation will fundamentally inform what happens next, both from a cultural as well as an artistic perspective. The hope is that FICTIONS presents a starting point for the discussions that need to happen in the design community as part of this transition from what has been to what can be."
Audiences can tune into a live broadcast of FICTIONS online from April 22–30, 2021. Pieces from the exhibit will be sold exclusively on Adorno.