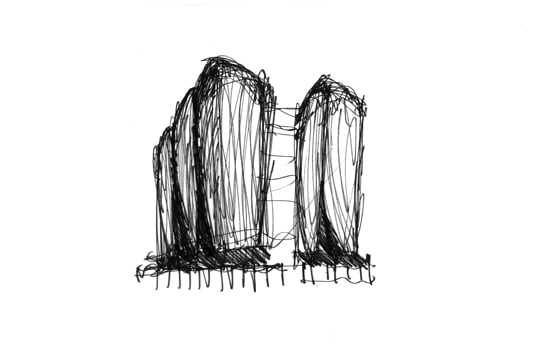 January 13, 2013
Firm Documents Process Behind Competition Design
Mark Ramirez chronicles the evolving design process at Hickok Cole Architects.
Images courtesy Hickok Cole Architects
This is the first in a series of posts that chronicles our evolving design process at Hickok Cole Architects in Georgetown, Washington, DC as we took on the challenge of proposing a vision for the Office Building of the Future. Like all stories, our narrative will be full of plots and twists, success and conflict, all of which culminated in a novel design vision. Our posts will focus on: concept process, design features, and impact.
---
More from Metropolis
---
In today's fast paced world of "just in time design," the three-headed dragon of short deadlines, demanding clients, and tight budgets has a way of trampling innovation. As I look back at the YouTube video of our design proposal, I still wonder what compelled a midsize firm of 80 people, struggling to recover from the recession, to dedicate a considerable investment in time, energy, and resources to develop such a comprehensive vision of the future. The short answer: "to scratch an itch."  We know that the most complex ideas often result from the simplest conversations. In our case, they were the result of dozens of informal discussions on emerging trends and patterns in the marketplace.  Some of our ideas were technical and focused on new envelope systems, anticipated code changes, or advancements in sustainable technologies. Others had sociologic undertones that focused on human interaction, demographic shifts, and changing attitudes about the office environment. They remained fragmentary until the beginning of the year, when a national ideas competition for a vision of the Office Building of the Future was announced by NAIOP, a real estate association.
Office building design represents one of our three core market sectors, along with commercial interiors and multifamily residential work. With the current economic challenges facing a dormant office building market, such as double digit vacancy rates and tenant drive for less space and high capital rates, we decided that it's imperative for us to advance this typology and study ways to position our firm for the next growth cycle. "We have a long-standing tradition of participation in the local NAIOP chapter. The design competition was a good fit and offered us the excuse we needed to jump-start our process," according to Yolanda Cole, Hickok Cole's senior principal. "We could condense and coalesce our disparate and fragmented ideas into a comprehensive, integrated design proposal and then test it against real world constraints."
So we decided to put forth a fully integrated vision, going beyond the typical narrow focus on interior layout and furniture. We called some of our most trusted consultants, Flack & Kurtz for MEP engineering, Thornton Tomassetti for structural, and Simpson Gumpertz & Heger for building enclosure, and enlisted them in the exercise. Our next call was to Steelcase to ask for access to the contract furniture manufacturer's research in work place design. The competition brief was open ended and without the typical design requirements: program, budget, site or density. Our challenge was to ask the right questions and establish our own priorities. We brought together a small group of senior staff to work collaboratively through a series of internal brainstorming sessions. The process began with two basic questions:  first, in today's hyper-connected world, will there even be office buildings in the future? Second, what will shape and drive the design of the office of the future? Our team worked from the smallest scale, the workstation, to the largest scale, the office real estate market.  We resolved to study office building design comprehensively and from the inside out. Through these sessions we explored new transit-oriented developments, issues of workplace design, energy efficiency, structural materials, construction techniques, leading edge technologies, demographics, and a myriad of other forces and market drivers. Three critical issues emerged that we believed will drive the office of the future:
Human Need
Performance (human and building)
Construction and Fabrication
Our initial discussions, I must confess, were often animated, vigorous, and always passionate. The discord revealed how strongly we felt about what we were doing and we sometimes needed to remind ourselves not to take it personally. At the end of the day, we could always go out for a beer. Our firm has a long history of participating in design competitions with more than our fair share of awards and success. While the recognition associated with these "wins" is both alluring and reassuring to us, like all designers, the most productive and tangible result is the energy that such efforts can bring to the firm.
In future posts we will take a closer look at the features of our proposal, as well as the core principles of the design concept. Elba Morales, senior associate and lead designer for the competition, will take us through the design process and how the team successfully created a collaborative environment with both senior and junior level staff members. She will also describe the underlying research that went into the adaptive shading envelope. Mike Hickok, senior principal and champion for this effort will describe components of the concept and the effect that the competition had in the firm as well as the broader implications within the profession and the real estate industry. Our next post will be on vision, concepts, and features.
---
Mark Ramirez, Associate AIA, is associate principal at Hickok Cole Architects in Washington, DC and project director for the firm's Office Building of the Future Competition entry sponsored by NAIOP. Follow us on Twitter @HickokCole.