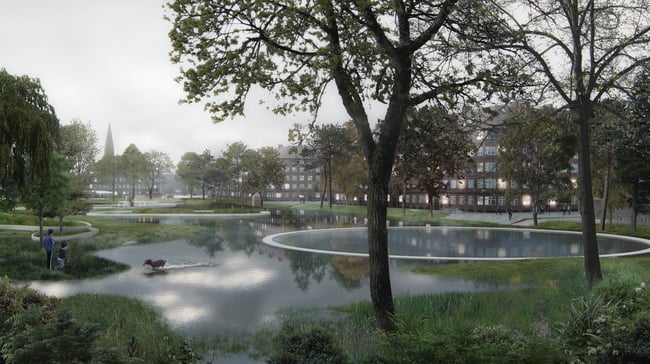 November 18, 2016
For Copenhagen, A Proposal That Turns Flooding to the City's Advantage
SLA architects' award-winning proposal for Copenhagen harnesses rainfall to create scenic public spaces for an underserved neighborhood.
SLA Architects proposal: Soul of Nørrebro
Courtesy SLA/Beauty and the Bit
---
The Soul of Nørrebro, by architectural firm SLA, is a stunning urban proposal that harnesses excessive rainwater and turns it into an asset for the city of Copenhagen. The proposed site is situated in the north end of Copenhagen, along Hans Tavsens Park and the street of Korsgade, in the neighborhood of Nørrebro, which suffers from unusual levels of crime for the city.
Hoping to simultaneously address the real risks of climate change as well as heal some of the social disparity found in Nørrebro, SLA's design features a series of drains and water-collecting basins that would mitigate the damage caused by "cloudbursts" (excessive amounts of heavy rain in short periods of time, which usually causing flooding in the city). The resulting sunken water pools and water purifying systems would nourish proposed urban gardens and greenery. Both the pools and the new public spaces would provide a face-lift to the neighborhood, hopefully contributing to its revitalization.
This two-fold solution is what won over the jurors of the Nordic Built Cities Challenge–one of the most prestigious Architecture Awards in Scandinavia—who selected the entry (out of 145) as the year's winner. Jurors noted how the plan  "leverag[es] utility investment for more holistic, sustainable and resilient results that create both social and technological benefits. The proposal breaks new ground and has development and export potential through a smart application of technical, cultural and social values."
---
More from Metropolis
---
All Photos Courtesy SLA/Beauty and the Bit
Diagram Courtesy of SLA