November 15, 2018
HASSELL Designs Vibrant Interiors for a Seven-Floor London Coworking Office
The new 32,300-square-foot coworking office, operated by Fora, includes a restaurant and cafe at its base.
---
By 2022, it's estimated that globally 5.1 million people's offices will be a coworking space. In Central London, WeWork leased almost 2.6 million square feet of space (where sometimes beer and prosecco are on tap, among other perks) over the last five years, making it the area's largest corporate office supplier. With that in mind, it wouldn't be a stretch to say that the coworking office is the typology of the decade. While most coworking management companies tout their chic, well-designed workspaces, London-based Fora is upping the ante with its new location in Borough, South London.
"It's not just WeWork out there" says Katrina Larkin, cofounder and head of experience at Fora, while talking to Metropolis on the top floor the new Borough coworking space. An impressive view over the Portland Stone spire of St George the Martyr across the street suggests that it's taking more than booze and bubbles to lure companies into London's latest coworking spaces.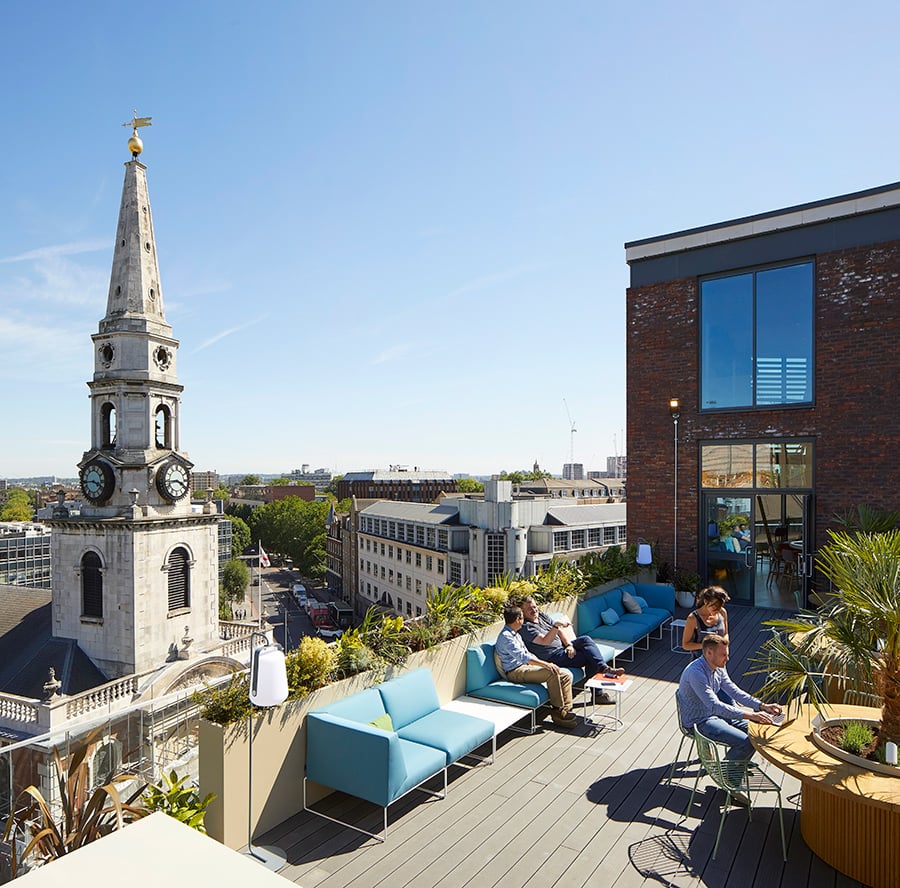 Inhabiting a new building designed by Allies and Morrison ("designed" being a generous term—the building is a generic steel and brick-clad structure), Fora has employed the London arm of architecture firm, HASSELL, for the interior of the new co-working environment, providing 32,300 square feet of space across seven floors.
---
More from Metropolis
---
On the ground floor and open to the public is Borealis: a restaurant and café by JLK Design that blends into the lobby and the rest of the HASSELL-designed interior.
Fora, though, was eager to get the lobby right before thinking about anything else. "To me, a lobby just being a lobby is so dull and boring and wasteful. It's like sitting at a bus stop," adds Larkin. "And for the person there, they're just sitting there waiting for something to happen. Why shouldn't something be happening in that moment? I want them to see theater around them. I want them to pick up books. I want them to feel like that they are temporarily a resident at Fora."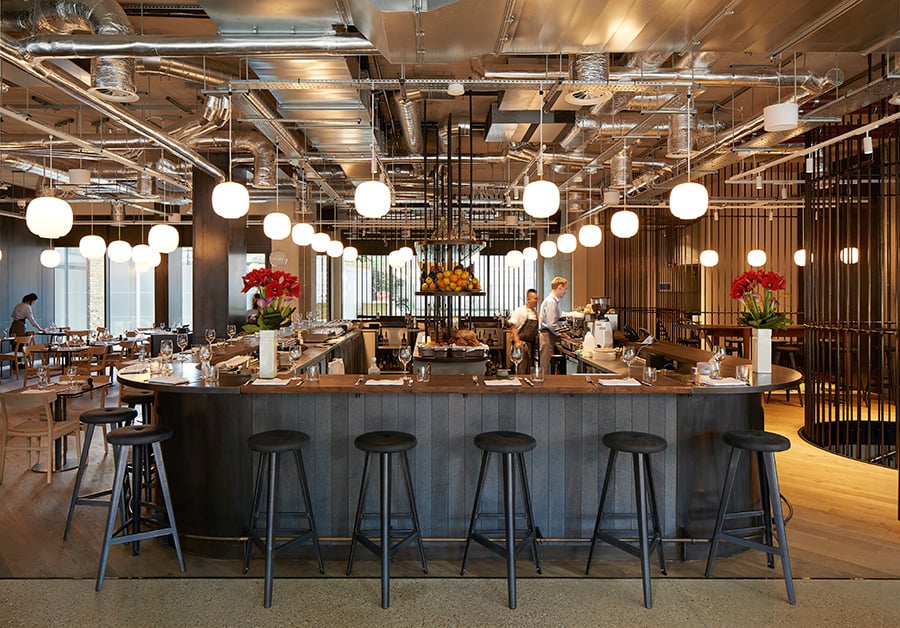 ---
This ethos is applied throughout the seven stories at Fora in Borough. "It was important not to silo spaces," says Felicity Roocke, principal and practice leader of interior design at HASSELL. Many spaces, be it a reading room (where patrons can play records too), café, lobby, or meeting rooms are visually connected. Some meeting rooms and phone booths are private, as is required, but their presence is established easily through circulation paths that traverse the entire office, making tenants aware of everything that's on offer.
Having so much available at once could seem overwhelming, but there is a calmness at Fora. This is achieved mostly by the softness of tactile interior finishes and a muted color palette, aided by the presence of fabrics on the floors and walls which do well to absorb sound and reduce the sense of bustle. Eschewing the typical bare bones finish was a conscious decision, explains Roocke, and as a result, Fora has distinguished itself as a new player in London's coworking market—without having to offer prosecco on tap.
You may also enjoy "Alexander Fehre Designs a Surreal, Postmodern-Inflected Office in Germany."