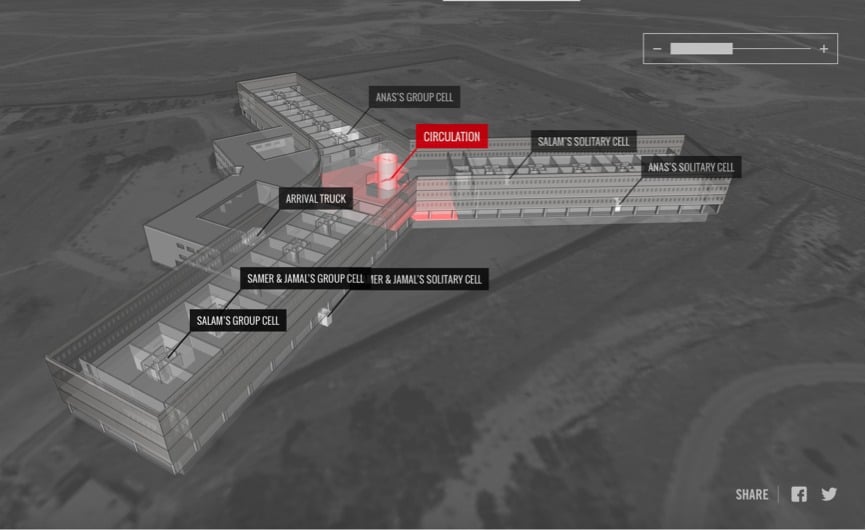 August 23, 2016
Forensic Architecture Digitally Recreates a Syrian Torture Prison
Forensic Architecture and Amnesty International have digitally replicated a Syrian prison—in effect memorializing those who died, survived, and remain there still.
Images Courtesy Forensic Architecture
This article comes to us via our media partner ArchDaily.
---
Forensic Architecture, a research agency based at the University of London, in collaboration with Amnesty International, has created a 3D model of Saydnaya, a Syrian torture prison, using architectural and acoustic modeling. The project, which was commissioned in 2016, reconstructs the architecture of the secret detention center from the memory of several survivors, who are now refugees in Turkey.
Since the beginnings of the Syrian crisis in 2011, tens of thousands of Syrians have been taken into a secret network of prisons and detention centers run by the Assad government for a variety of alleged crimes opposing the regime. After passing through a series of interrogations and centers, many prisoners are taken to Saydnaya, a notoriously brutal "final destination," where torture is used not to obtain information, but rather only to terrorize and often kill detainees.
---
More from Metropolis
---
Located about 25 kilometers north of Damascus, Saydnaya stands in a German-designed building dating from the 1970s. In recent years, no meaningful visits from independent journalists or monitoring groups have been permitted, so no recent photographs or other accounts exist of its interior space, except for the memories of Saydnaya survivors.
In order to reconstruct the interior of the space, architectural and sound modeling specialists worked with witnesses, who "described the cells and other areas of the prison, including stairwells, corridors, gates, doors, windows, bars, and hatches," as well as objects such as blankets, bowls, and torture tools.
"As the model became increasingly detailed, the witnesses could be located virtually within it, experiencing spaces at eye level and zooming into elements in them. This model-building made the witnesses active participants in the process of reconstruction. Sometimes, as they measured the rooms, located windows and doors, placing objects in their virtual environment, flashes of recollection took place."
While in Saydnaya, sound becomes a prisoner's tool to understanding their environment due to the restricted natural lighting and constant blindfolding. Furthermore, speaking or making noise is prohibited, including inside the cells, as well as while being beaten. Consequently, prisoners become attuned to minute sounds, which can then be pieced together to form the architecture of the building.
Audio investigator Lawrence Abu Hamdan has utilized eco and reverberation modeling to help confirm the size of spaces such as cells, corridors, and stairwells, from sounds like water pipes dripping, and the sound of torture through air vents.
Because survivors have endured traumatic events, the project acknowledges that memories can be erroneous: "We cross-referenced the individual spatial and audio testimonies to construct an overall model of the building, Whenever we identified potential errors or contradictions between different accounts we tried to carefully resolve them, but we also made a note and modeled what we knew to be divergences. Errors, contradictions, and lacunae are enriched with information because they contain the subjective experience of a detainee and their mental condition. Such errors could themselves be considered as evidence in their own right."
"What we're trying to do with this effort is try to build the story of this prison and try to speak up for all these people who are still in there, because it's not something that is finished," explains Christina Varvia, project coordinator at Forensic Architecture.
Based out of Goldsmiths, University of London, Forensic Architecture is a research agency that "undertakes advanced architectural and media research on behalf of international prosecutors, human rights organisations, as well as political and environmental justice groups." FA have played a crucial role in the establishment of architectural forensics as a field, as they have used technology to recreate places and situations that would otherwise be lost to time.
At the 2016 Venice Biennale, Forensic Architecture is presenting elements from four recent projects, including a micro-analysis of the effects on a ruin from a drone strike in Miranshah, Pakistan; an urban study into the war-torn city of Rafah in Gaza; a tracking of the paths of migrant boats lost in the Mediterranean Sea; and a map of environmental violence along the shifting climatic frontiers of desertification and deforestation.
The full, explorable model of Saydnaya is available in English and Arabic here, and can be viewed by location or by witness.
Learn more about the project here.
News via Forensic Architecture.