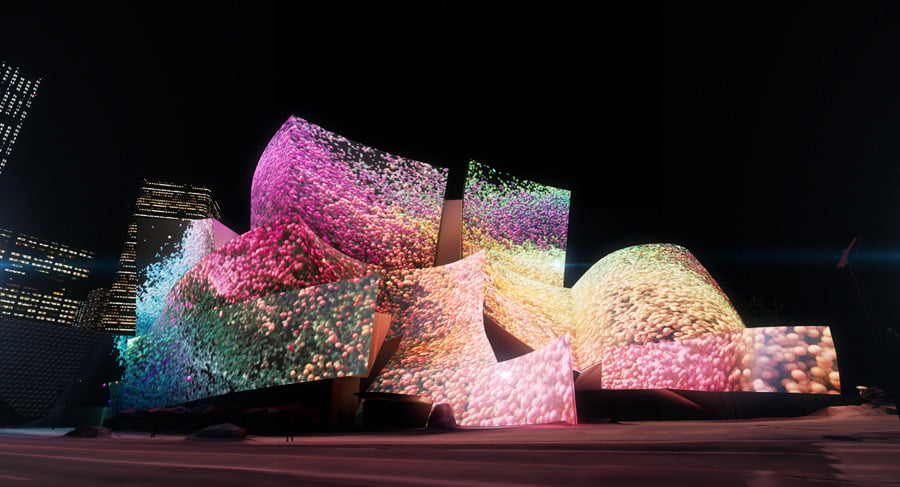 September 26, 2018
Frank Gehry's Walt Disney Concert Hall to Be Projected With Digital "Machine Hallucinations"
The landmark building will be covered with swirling, abstracted images from the L.A. Philharmonic's 100-year-old archive, designed by artist Refik Anadol.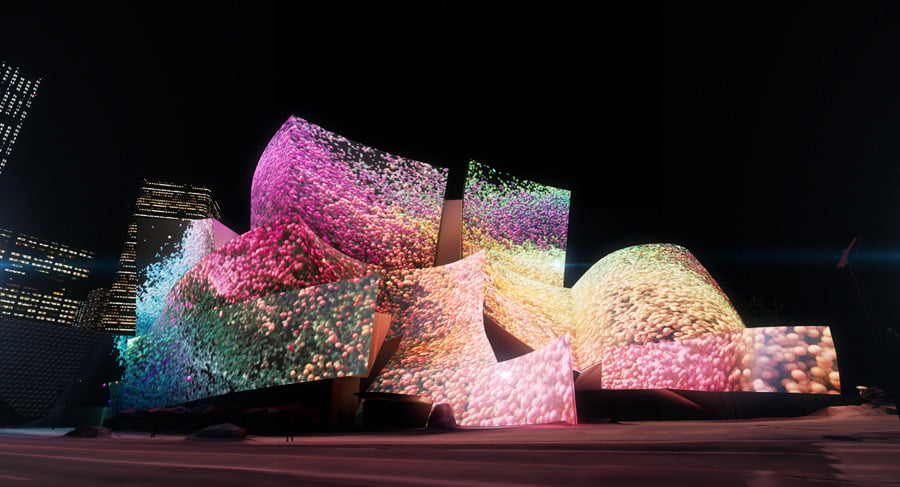 ---
When Frank Gehry conceived Downtown L.A.'s shimmering Walt Disney Concert Hall, he wanted to shoot projections onto its undulating, stainless steel surface. That didn't happen. Until now.
From September 28 through October 6, L.A.-based media artist Refik Anadol—with the help of a team that includes Gehry's own firm—will launch WDCH Dreams, a barrage of vibrant three-dimensional projections fired onto the building's facade that celebrate the Los Angeles Philharmonic's 100th anniversary. The images will be abstract (and not-so-abstract) representations of more than 45 terabytes of information from the L.A. Phil's archives, including photos, videos, audio recordings, posters, and more.
To achieve this, Anadol and his studio, employing Artificial Intelligence (AI) algorithms created with Google Arts and Culture's Artists and Machine Intelligence program, organized millions of data points scanned from the L.A. Phil's archives into hundreds of attributes. (Classifications included pitch, amplitude and timbre for sound, and shape, color, pattern and dimension for images.) Employing visualization software and that AI, the team then translated these points in multiple dimensions as data art.
---
More from Metropolis
---
"Every single shape will represent a data point from the archive," sums up Anadol. "It's treating algorithms like a brush."
The graphics will be projected from a nearby parking lot and from the Dorothy Chandler Pavilion via 42 large-scale, high-powered projectors. All were mapped, stitched, and fitted precisely to the building's form using projection software along with Gehry Partners' original Catia building files.
The L.A. Phil calls these building-altering creations "radical digital visualizations" and "data sculptures." Refik, more ebulliently, calls them "machine hallucinations." You get the idea when you witness the data-driven plans: swirling, candy colors; cotton wisps, big-bang bursts, architectural point clouds, algae and amoeba–like mutations, flickering performance moments, cascading timelines, and millions more combinations merged with otherworldly, digitally-altered music. (Much of it selected by virtuoso L.A. Phil conductor Gustavo Dudamel.) At times the projections and music will become clearer and morph into images and performances from the past.
"It's a balance of poetry," points out Anadol. "Sometimes the results are real, sometimes they're created by machine." He adds: "Every project I'm producing is sort of a science fiction story. This is about a building remembering; a building learning; a building dreaming." Anadol will also be producing a smaller installation inside the hall where visitors can interact with the digital materials used for the exterior display.
Anadol, originally from Turkey, says he has dreamed of some version of this plan almost his entire life. He remembers, for instance, being mesmerized by the reinterpreted world of Blade Runner at age eight. He first pitched the idea to the L.A. Phil four years ago while he was a student at UCLA's Design Media Arts program. While the organization's leaders weren't ready for the full vision, they commissioned Anadol to create a hyper-kinetic, kaleidoscopic piece inside the hall in which visual projections directly responded to the music of Edgard Varèse's Amériques.
"We were struck by Refik's talent as an artist and a forward thinker," notes L.A. Phil Vice President of Artistic Planning Meghan Martineau. After one more success, they were finally ready to bring the whole building to life for their centennial. "We said 'we really want to make a statement about pushing our artform forward,'" adds Martineau.
"They're the ideal place for discovering innovation," noted Anadol, of the L.A. Phil. "They're fearless. They believe in the future. That's the reason we're collaborating."
Anadol, meanwhile, is busy merging architecture and data in places like Dubai, China, Tokyo, and London. "I believe every architectural space should be a canvas," he says. If he keeps this up, he might just get his wish.
You might also like, "Frank Gehry Reveals Design for New L.A.-Area Youth Orchestra."