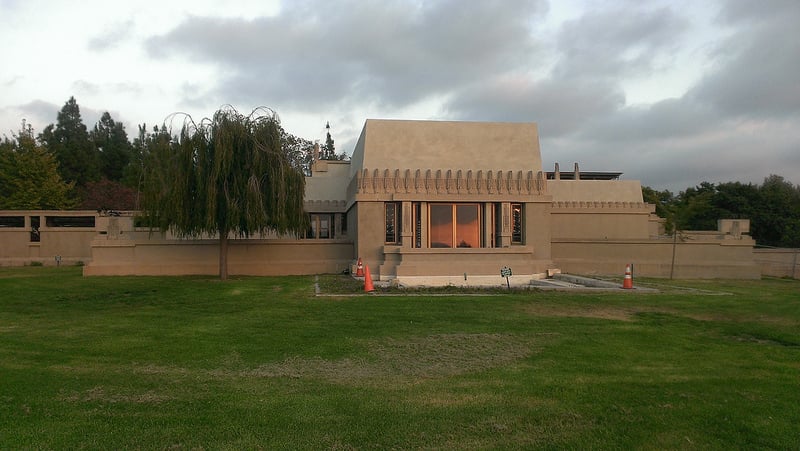 January 27, 2015
Frank Lloyd Wright's Hollyhock House Will Soon Reopen to the Public
After a six-year restoration, the landmark is poised to open its doors once again.
The Hollyhock House, which was built in 1921, features some of Frank Lloyd Wright's earliest use of ornamental concrete.
Courtesy flickr user adotamanda
Located within Los Feliz, Los Angeles, and near the trendy Silver Lake neighborhood, Wright's 1921 house has undergone numerous rebirths over the years. The project began when Pennsylvania oil heiress Aline Barnsdall purchased 36 acres of Los Angeles land where she would build her residence and a performing arts center, complete with theater and facilities to house performers. Barnsdall, an socially and artistically avant-garde single mother, tapped the similarly rebellious Wright for the design. Wright referred to the building's style as "California Romanza," though thanks to its heavy concrete massing and steeply angled exterior walls, the design has also been called "Mayan Revival." In addition to Wright's signature abstract ornament and stained glass windows, the layout features an intricate system of split levels, terraces, steps, and gardens.
Ultimately, only one primary and two secondary residences were built and donated to the city soon after. The buildings subsequently housed the California Art Club from 1927 to 1942 and functioned as an art gallery, USO facility, and finally a city museum after a 1974–1976 restoration. A recent $4.359 million restoration, lasting from 2008–2014, included the careful recreation of doors, paint colors, decorative molding, windows, and doors. Calling the house "a crown jewel of Los Angeles architecture," city mayor Eric Garcetti expressed the importance of the renovation work. "Restoring this landmark to its original glory is a great example of how the city can preserve its unique history while providing Angelenos access to art in everyday places," Garcetti said in a statement released to press.
Currently operated by the the Los Angeles Department of Cultural Affairs, the yet again reborn Hollyhock House and its parkland will open to the public on February 13th. The structure is already a National Historic Landmark and vying for a UNESCO World Heritage Site designation.
---
More from Metropolis
---
The house amid repairs
Courtesy flickr user teakwood