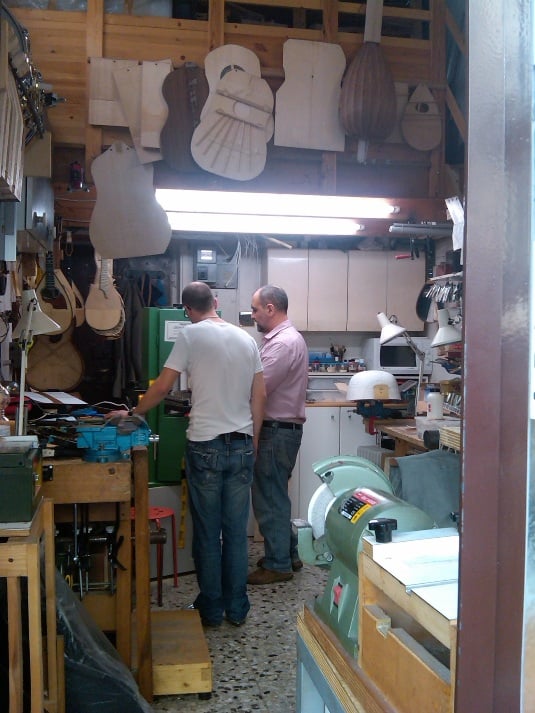 April 11, 2011
From the Field
We've flown over Italy's verdant fields, their shapes determined by borders of rivers and forests, a random patchwork that brings to mind a conversation between the land and its artistic expressions. In Milan, we're set out to explore the Salone through the eyes of local artisans, those involved in creating the new neighborhoods of Isola. […]
We've flown over Italy's verdant fields, their shapes determined by borders of rivers and forests, a random patchwork that brings to mind a conversation between the land and its artistic expressions. In Milan, we're set out to explore the Salone through the eyes of local artisans, those involved in creating the new neighborhoods of Isola. Designers, crafts people, and gallerists gave us pointers on navigating the city, the furniture fair, and what's happening in Isola, the Green Island cultural and artistic event, curated by Claudia Zanfi who described it as a "progetto sull 'arte pubblica e la vita contemporanea," or in the long form, " an event which sets out to provide a moment of reflection, as well as giving space to planning energies addressing key themes such as sustainability, urban green areas, and the landscape as a whole."
Among the neighborhood's treasures of small shops, evidence of the "hand" is everywhere, in the old, traditional ateliers such as Lorenzo Lippi, (where we spy a hip young man learning to craft stringed instruments from a master) or come upon a modern window of boldly polished and rough, petrified wood garden gear. Many Isola designers have showrooms with working craft studios on site, picking up on the neighborhood's tradition of open "backrooms," showing everything in process, be it cooking in restaurant kitchens or the welding of furniture joints.
---
More from Metropolis
---
When asked about Salone, the bias here is towards the less slick, the less mass-produced and the advice is always quipped with rich visual metaphors. For instance, furniture designer Costanza Algranti said, "The big fair is a TV show and the smaller fairs are like good books. Don't watch TV the first day to spoil the books."  A former tennis coach, Algranti remembers the first time she "met copper" and fell in love with a piece of turquoise metal she saw on the back of a truck.
Her change of direction has resulted in furnishings that utilize soft and thick recycled woods, metals with a soft human orientation, and a love for the "re-make," which comes from "aesthetics not ethics." Very thin metal sheets record on their surfaces the tracks of dripping water. Her wine-barrel rockers wrap solid and thick recycled woods, stained by plum wine, all resulting in an "honesty of the material" that gives a quality of "buying a moment in time."
Algranti allows nature to paint the patterns on all her furniture; she adds nothing to enhance how the material looked when she found it. She also paints a vivid picture of the richness of Isola, like a small village, where everyone knows everyone else. In fact, she and jewelry designer, Monica Castiglioni, located around the corner from one other, exhibit work reciprocally in their showrooms. From Algranti's handmade sample book to Castiglioni's display cases, the feeling of nature's movement on materials is ever present.
Monica Castiglioni's jewels on Constanza Algranti's shelves.
Castiglioni who is also a photographer says, "I like Salone, when for a moment, Milano is not just about fashion, and yet, for me it will always be not about the party, but about the beauty."  In case you were wondering, yes, Monica's father was the legendary Achille Castiglioni. She fashions molecular patterns into rings, necklaces and objets d'art that are part Disney, Eva Hesse, and a biology text book illustration sprung to life. Her "atelier" is in the back of the shop and, when asked, she'll gladly show you her photography book, with its images of New York City streets reflected in rain puddles. These are not quick reads or quirky takes at a flashy Salone party; this is a slow look at your surroundings and drinking in the pleasure of light, color, and form.
Interestingly, her father's studio is now a part of La Triennale di Milano, the design museum, the place where his industrial design pieces for Alessi, Aura, B&B Italia, Flos, Cassina, Interflex, Lancia, Olivetti Synthesis, Poltrona Frau and Kartell, were birthed and now are in major museums worldwide.
We ran into gallerist Sergio Riva of Dilmos , who told us that "Choosing the big fair instead of smaller shows and showrooms is like passing by the best trattoria in the world to go to a trendy restaurant for a bad meal." His gallery in the arts district of Brera features the breed of furniture/art by such artists as Akomena, Alessandro Ciffo, Alessandro Mendini,Ettore Sottsass,Fratelli Campana, Pieke Bergmans, Roberto Mora, Studio Job, Zaha Hadid and others.  For Salone, Dilmos is showing Ron Gilad's "Nine Mirrors by Ron Gilad." Gilad was also hanging out in Monica's showroom.
Gilad  playfully redefines the past by incorporating into the mirrors antique Venetian fabrics, Byzantine mosaics made in Ravenna and hand sculpted figures modeled after classic Roman statues, hovering between art and functionality. It's all about a direct experience of discourse beyond the self-reflection.
Riva expands on "food analogies" saying that his gallery's edited collection is "the fruit of a growing awareness of the value and poetical significance of objects: a profound interest …to deal essentially with articles distinguished by a strong communicative and narrative force." He adds, "The fair is industrial."
Italy's long love affair with the beauty of nature and community, the country's appreciation of detail over gimmick or trend is a cultural mark like the flow of water over time ingraining an experience.  We are happy to combine new classics such as an Alessi tea pot and an Artimede lamp, a Campana brothers sofa and an Ettore Sottsass chair, with a walk to the kitchen to touch a super smooth and thick wood storage cabinet with finger-pull holes and its solid and timeless feel.