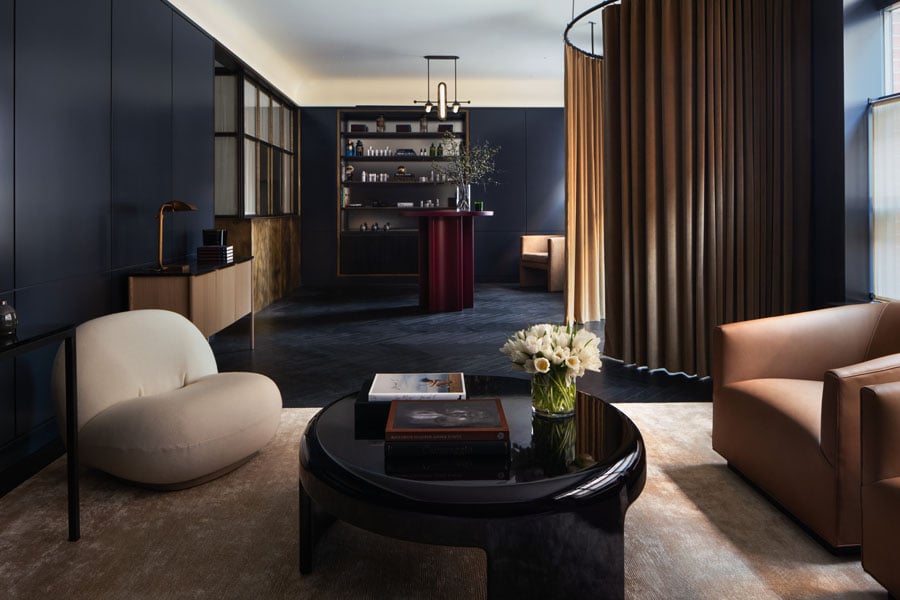 March 3, 2021
A Dermatology Office Beckons with the Allure of a Boutique Hotel
New York–based Gachot Studios devised a lush, residential-feeling design for celebrity dermatologist Dr. Paul Jarrod Frank.
Healthcare design can leave a sterile aftertaste—not so at Pfrankmd's bespoke second location in New York. Designed by Gachot Studios, the roughly 4,000-square-foot cosmetic dermatology facility in New York's West Village attracts patients with the welcoming appeal of a boutique hotel. "You really wouldn't think that you were walking into a doctor's office," reveals Christine Gachot, who heads up the interior design firm with her husband John Gachot.
In recent years, the Gachots have realized a notable roster of residential and hospitality projects—among them the Shinola hotel in Detroit, the Eaton Workshop hotel in Washington, D.C., and New York nightlife hotspots Acme and Evening Bar—a resume that appealed to Pfrankmd founder Dr. Paul Jarrod Frank. Upon landing a ground floor in a landmark building, Frank approached the couple for what would be their first doctor's office. "Paul really gravitated towards blending our sense of hospitality with how his clients are treated," Christine explains.
Framework in mind, the designers sketched out a 16-room floor plan consisting of reception and waiting areas, seven treatment rooms, private office space, and clinical service areas.
---
More from Metropolis
---
Reception staff greets patients from within a gilded box, an 8-foot long, 4-foot wide, and 9-foot high structure of matte-lacquered brass and glass. Illuminated from within, the structure rests like a glowing lantern on smoked oak flooring laid in a herringbone pattern. Curtains in an earth-toned caramel—Furlong by Fabricut—conceal the view through window panes framed by burnished bronze. "This area is meant to be exposed and open, but people also want privacy," Christine notes.
Below a Circuit 4 glass and brass pendant light by Apparatus, paperwork is filled out at an adjacent custom high table. Elbow-height at nearly four feet, it's painted a matte Oxblood red—a color that represents the Pfrankmd brand and emerges in subtle accents throughout.
Easily at home in a chic hotel's lobby, the waiting room's upholstered furnishings are gathered on a custom beige rug woven in a wool-polyester blend and surrounded by charcoal gray custom wall paneling. Rounded forms dominate the mix of custom and manufactured pieces—among them a low slung Pacha lounge chair by Pierre Paulin, a pair of curved and sheltering swivel chairs upholstered in caramel leather, and a Cell side table in onyx gloss by Room & Board. Marble Plinth Cube side tables by Timothy Oulton press up on either side of a custom sofa—conceived to be welcoming but not too deep—upholstered in deep pile mohair fabric. "These little modifications accommodate that it is still a doctor's office," Christine reasons.
In a hotel-like, 53-foot-long corridor leading to treatment rooms, doors trimmed in brass are illuminated by custom metal sconces in a glossy-powder-coated onyx-red. Custom round brass fixtures mounted on doors indicate room number and occupancy. "We had some fun applying what's often reserved for hospitality experiences," Christine reveals.
Walls and shelving are a classic white in treatment rooms, although Arabescato Faniello marble is among rich material accents. Epoxy flooring is a custom cream hue.
Among the less conspicuous comforts, the HVAC system is carefully concealed and wayfinding suits the dynamic choreography of a busy medical practice. Warm lighting is both flattering and dimmable—allowing the eyes to adjust following a procedure. As Christine sums it up, "The balance between luxurious and highly functional—that's the trick."
You may also enjoy "Gigi's Brings Intimacy and Comfort to Post-COVID Dining"
Would you like to comment on this article? Send your thoughts to: [email protected]
---
Register here for Metropolis Webinars
Connect with experts and design leaders on the most important conversations of the day.