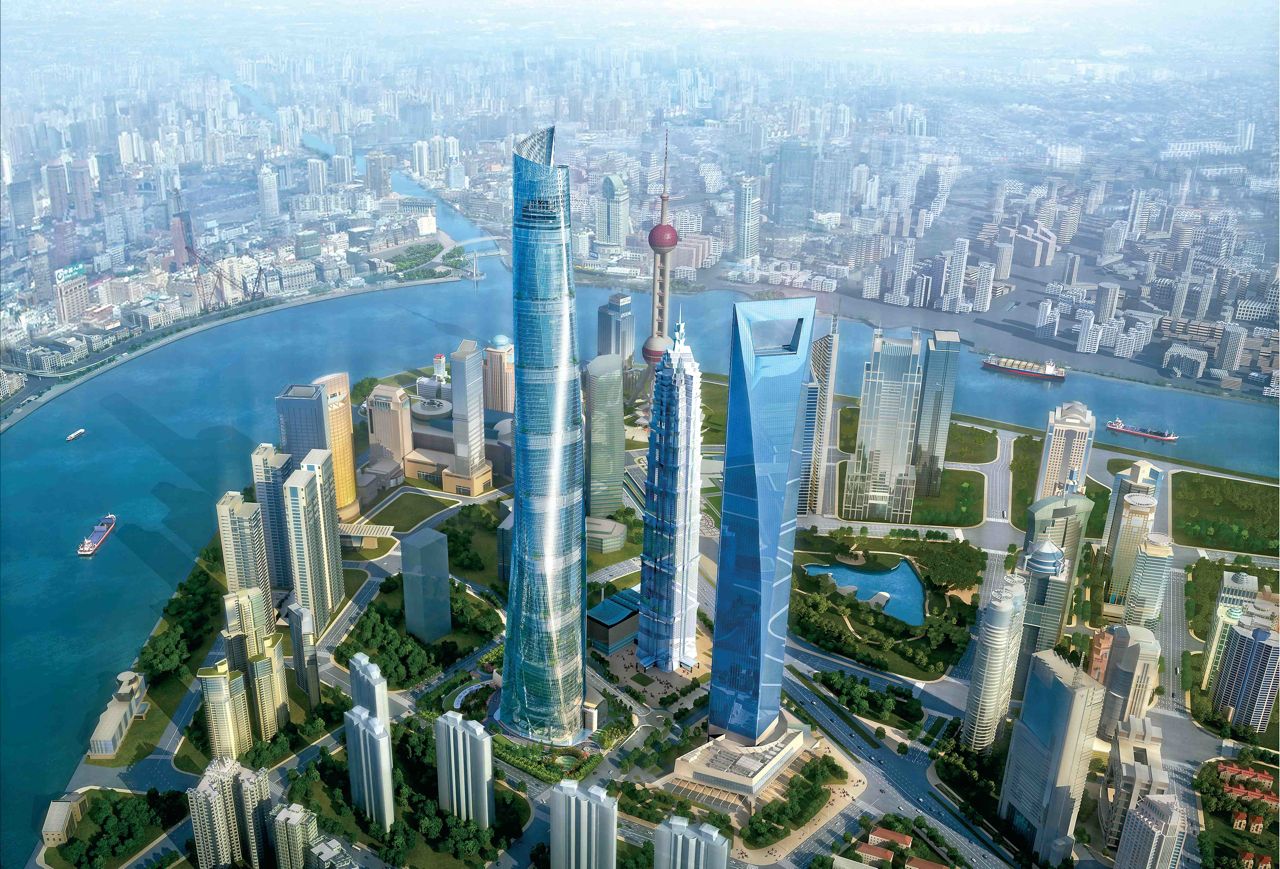 June 6, 2013
What's Inside Gensler's Secret Sauce?
Just two years after the worst recession in decades, the firm is reporting record-breaking revenue.
When completed, the Shanghai Tower, in Pudong, will feature an  array of innovative engineering and energy-saving systems.
Courtesy Gensler
When the $1.9-billion project is completed next year, the 2,073-foot Shanghai Tower will become the world's second-tallest building. The state-of-the-art, spiraling form, which is engineered to help it withstand typhoons, pays tribute to the city's dynamic rise as a leading commercial center.
---
More from Metropolis
---
The super-tower also symbolizes the ascension—and resilience—of the firm that designed it. With 3,500 employees, Gensler operates 43 offices in 14 countries. Last year, the company worked on some 6,700 projects for about 2,200 different clients, reporting a record-breaking $751 million in revenue. This year, the company projects its revenues will be closer to $800 million—astounding figures considering the industry is emerging from one of worst economies since the Great Depression. "It's been a serious downturn and
a slow recovery," says Kermit Baker, chief economist of the AIA. "From 2008 to 2011, architecture firms' gross firm billings dropped 41 percent. Now, most firms are inching back, but very slowly."
In a landscape still riddled with fallout, Gensler has managed to weather the recent economic storms. After cutting about 30 percent of its workforce in a nine-month period between 2008 and early 2009, the firm has rapidly rebuilt and now employs more staff and generates more revenue than ever before.
Many in the industry today are scratching their heads: What's Gensler's secret? There is no orphic algorithm to the firm's ascendance. Its success has been tied largely to a unique operating philosophy that springs from its humble origins. But naturally, business acumen has been a hefty part of the equation. Two of the firm's three CEOs hold MBAs, and they keep close tabs on the market from a macro perspective, watching for global economic shifts. And they've learned to become decisive in response to shifts, especially in the last decade. "It was after 9/11 when we tried to determine how to get through recession cycles," explains co-CEO David Gensler. "That's when we started diversifying our practice areas strategically."
In the last four years, Gensler launched several new practice areas, adding the most recent—its 20th—to serve the health and wellness sector. According to co-CEO Andy Cohen, the logistics of diversifying into new specialties comes down to three determining factors: perceived market opportunity, strength of client relationships, and depth of passion and expertise. "Since we're so focused on our client relationships, we have a very good understanding of how their industries are changing," Cohen says. "This helps us to identify new market opportunities."
A case in point: The firm had long been involved in designing mixed-use entertainment districts and thought of sports facilities as a natural extension of its expertise. After observing that many universities were investing in upgrading their athletic facilities to help recruit both athletes and students, Gensler launched its sports and recreation practice in 2009, a move precipitated by its own strategic recruitment of Ron Turner. The architect had last been with RTKL and his resume included work on the Staples Center in Los Angeles, Lincoln Financial Field in Philadelphia, and Seattle's Safeco Field. With Gensler, he has led a number of projects around the world, including work on a competition entry for Rio de Janeiro's Olympic Park, a 12.7-million-square-foot area that will stage events for the 2016 Olympics.
Shenbei Arena, in China, features dramatic skylights, reflective stainless-steel metal panel walls, and huge operable doors that will allow for indoor and outdoor events.
Courtesy Gensler
Gensler's most recent launch was driven by the observations and interests of its designers across existing practice areas: "We launched our health and wellness practice last year after hearing from a wide range of clients—developers, employers, retailers, hotels, schools, and cities—who were all trying to figure out a way to incorporate wellness strategies into their facilities," says co-CEO Diane Hoskins. "We felt that there is an enormous opportunity to rethink the relationship between space and well-being."
Seizing opportunity is only part of the Gensler story. Understanding the firm's growth requires a look at its origins. David Gensler's father established M. Arthur Gensler, Jr. & Associates, Inc. in San Francisco in 1965, with a staff of three and a somewhat unique focus: interior design for commercial tenants. "Much of the interior work was then done by furniture vendors, but Art saw the design of interiors as a legitimate design challenge," Gensler says. "He believed if it doesn't solve a problem, it's not really design. I think that philosophical idea of designing from within for the end user is still fairly novel today." More than that, the elder Gensler recognized an untapped market, a strategy that would characterize the firm as it grew.
While other firms worked to distinguish their brands with design agendas and signature styles, Gensler adapted with each job to the demands of the client. Arthur Gensler called the approach the "rubber band theory"—the idea of encouraging designers to challenge clients without pushing them so far that their trust was compromised. Though detractors today might say that Gensler is the one bending to please, it's hard to argue with the results. The firm has assembled an enviable client list that now includes half of Fortune magazine's Global 100 companies, and 33 of the top 50 U.S. Fortune 500 companies. This roster of large, long-standing clients provides Gensler with two self-reinforcing advantages: repeat business and institutional knowledge. "We advise them on how to help their businesses, but we also get to learn from them," Hoskins says.
During the recession Gensler may have had to slacken its rubber band a bit as clients needed to cut costs, but the firm worked to help many with the transition. "Our global clients were facing new challenges, so the way we worked with them needed to evolve," Hoskins says. "So we helped some clients reduce their real-estate footprint by advising them on workplace mobility strategies, and we worked with others to rebrand and reposition undervalued buildings."
With its diverse practice areas and close ties to big clients, Gensler sustains a business model that consistently yields balanced revenue portfolios. Last year, 43 percent of the firm's billings came from architecture jobs and 39 percent from interior design work.
The portfolio is fairly balanced geographically as well, with 62 percent of its revenue derived from work in the United States. and the rest from abroad. And it seems well positioned to take advantage of global trends. Of the 38 percent of its 2012 foreign billings, 22 percent came from Asia, mostly from work in China, which will play an increasingly important role in the coming years. "According to McKinsey, more than half of all the new building activity in the world during the next two decades will take place in China and the U.S.," says Edward Mazria, CEO of Architecture 2030.
Unlike the conglomerate AECOM and other large firms, Gensler has not grown by mergers and acquisitions. Instead, it has developed expertise and carved deep inroads into its clients' respective markets. As it grew, the firm embedded itself into different markets—and locations—with a conviction that in order to become global, it must first become local.
Because its international clients are served by local talent with access to a global support network, Gensler has enjoyed a distinct advantage in China. Jun Xia, for instance, was born in Shanghai, and moved to the United States in 1987 to study urban design. He joined Gensler four years later as the firm began expanding into China. His talents and knowledge of the culture have proven mutually beneficial. Now a director for the firm's Asia region, Xia helped the firm score the Shanghai Tower contract and led the team's work on it.
Of course, with growth come challenges that are inherent with size. "Firms are successful when they have a simple philosophy that guides the business model," says Frank A. Stasiowski, founder of PSMJ Resources, Inc., who has advised many top design and con-
struction firm CEOs. "But as the business culture grows, they start to face capitalization issues, with huge overhead and payrolls, so there is more pressure on creating more business to feed the monster."
As for the near-continuous expansion Gensler has experienced over five decades and throughout numerous recessions, the firm takes an almost Zen approach. "Growth isn't the objective," Hoskins contends, "it's the outcome."