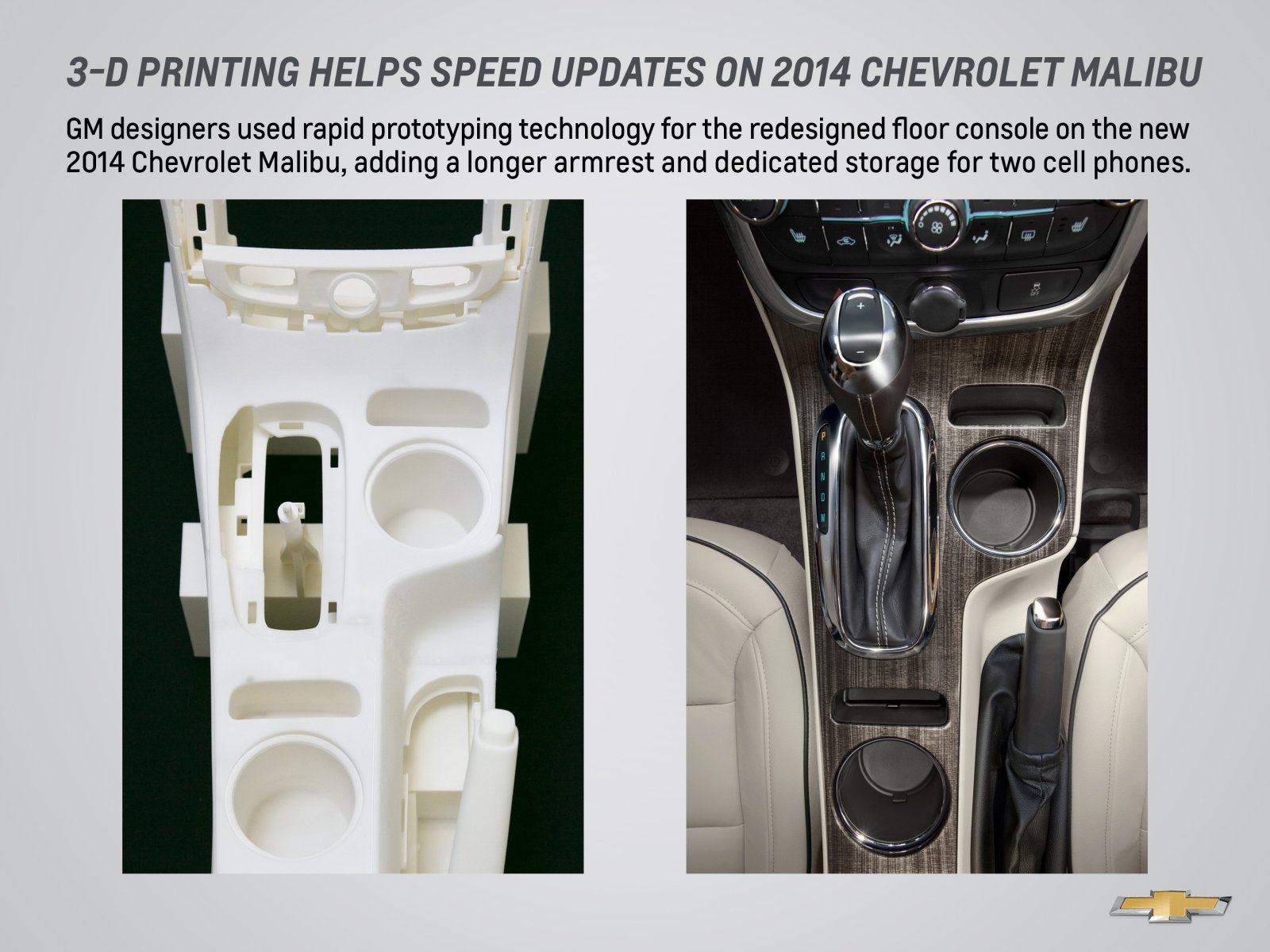 June 25, 2013
GM Turns to 3D Printing for New Malibu Model
Mainstream industrial production employs 3-D printing successfully.
In our April issue we asked, "What's next for 3-D printing?", observing that a "quiet revolution has taken place under our noses" and is growing stronger by the day. As the equipment necessary for 3-D printing gets smaller, cheaper, more widely available, and more complex, the field is opening up to new possibilities for innovation, with designers and engineers relentlessly breaking new ground.
So far the main venue for 3-D printing has been the creation of prototypes that speed up the process of product development. Rapid prototyping has allowed manufacturers to test components and systems cheaply and quickly, allowing them to resolve issues that might appear in the production process by going through feedback loops that seamlessly move design from the screen into a concrete form.
The newest frontier for 3-D printing is the move from prototyping into mass production. The breakthrough happened with Nike's Vapor Laser Talon, for which the cleats were produced using the 3-D technology Selective Laser Sintering. However, Nike isn't the only company exploring this technology—other manufactures aren't missing a beat; they're eager to make use of the cost-effective, timesaving nature of 3-D printing.
---
More from Metropolis
---

Courtesy General Motors
While rapid prototyping is not a new tool in the automotive industry, it has become a venue more manufacturers are willing to explore. So when General Motors decided to update the exterior and interior of Chevrolet's midsize sedan, Malibu, "nothing [could beat] rapid prototyping," says Todd Pawlik, Chevrolet's chief engineer of mid- and full-size cars. The Malibu development team used rapid prototyping to create a lighter floor console and integrate smartphone holders for the driver and passenger. The technology was also used to redesign the front fascia and the front seat back panels of the new model.
The 2014 Malibu is  a perfect example of how 3-D printing is moving away from being a cumbersome, obscure technology and becoming a staple of mainstream industrial production, spurred on both by the rapid development of the technology and the increased public interest. "The business case for its use is phenomenal," says Dave Bolognino, director of GM Design Fabrication Operations. "It reduces development time, saves cost, and it gives the designers and engineers more options." His enthusiasm is definitely warranted. As 3-D printing has opened the field to new experiments, there has been a shift in how design is approached by everyone from designers to manufacturers to consumers. For General Motors, as for many others, the story of 3-D printing is only beginning.
Dora Sapunar is a graduate student of design studies at Parsons the New School for Design.