May 26, 2018
Golden Lions Go to Eduardo Souto de Moura, Kenneth Frampton, and Switzerland at Venice Biennale
The Portuguese architect won the prestigious prize for a contemplative chapel he designed for the Vatican's Biennale contribution.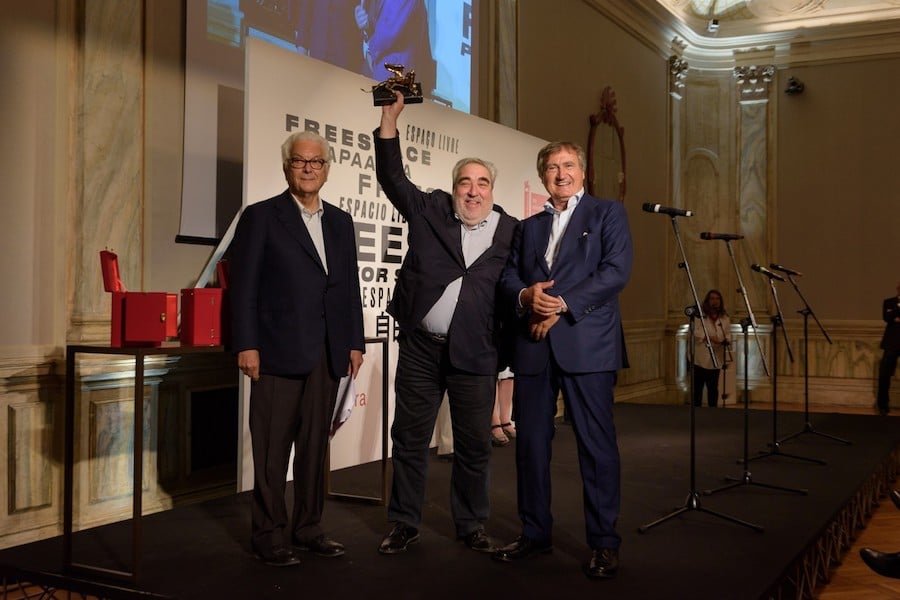 ---
In a ceremony this morning, Portuguese architect Eduardo Souto de Moura was named the winner of the Golden Lion for best participant at the 2018 Venice Architecture Biennale, one of the profession's most prestigious honors. Switzerland, meanwhile, has won the Golden Lion for the Best National Pavilion.
Today also marks the official opening of the Biennale, titled FREESPACE and curated by Irish architects Yvonne Farrell and Shelly McNamara.
De Moura's contribution can be found on the island of San Giorgio Maggiore and is part of the Vatican's Holy See Pavilion—the city state's first ever outing at the Biennale. Commissioned  by Italian architecture historian Francesco Dal Co with Cardinal Ravasi Gianfranco, the Pritzker Prize-winning architect's installation is joined by nine others, including Norman Foster and Terunobu Fujimori, on the sheltered, wooded island.
---
More from Metropolis
---
---
The architects were asked to design chapels, drawing from Gunnar Asplund's 1920 Woodland Crematorium in Stockholm. All were captivating contributions making San Giorgio Maggiore a popular destination at the Venice vernissage this week. A jury composed of Sofia von Ellrichshausen, Frank Barko, Kate Goodwin, Patricia Patkau, and Pier Paolo Tamburelli, however, singled out de Moura's installation as the best, not just on the island, but of the entire Biennale.
Titled No, it is not… de Moura's narrow, laconic chapel is enclosed by four stone walls with a stone "altar" at its center. Its entrance is screened by a tree and inside, seating —a prominent trope of this year's Biennale—is provided through ledges which join the walls. The result is a peaceful space that encourages moments of contemplation.
Back at the Giardini, the jury deemed Switzerland's contribution, Svizzera 240: House Tour, the best national pavilion, describing it as a "compelling architectural installation that is at once enjoyable while tackling the critical issues of domestic space."
The Swiss Pavilion's design comes from Zurich-based architects Alessandro Bosshard, Li Tavir, and Matthew van der Ploeg and addresses residential construction, realized as a series of domestic spaces constructed at various scales. Its name derives from the optimum ceiling height for a flat: 240 cm (just over eight feet), though ceiling heights inside vary wildly—evoking an Alice in Wonderland experience.
Also awarded was the Silver Lion, an award for promising young participants. This went to Belgian architects Jan de Vylder, Inge Vinck, and Jo Taillieu.
Special mentions were also given to Indonesian architect Andra Matin; Indian architect Rahul Mehrotra, and for the British National Pavilion which came from Caruso St. John Architects and artist Marcus Taylor.
Finally, critic and historian Kenneth Frampton was presented the Golden Lion for Lifetime Achievement. Frampton was recommended by the curators and the award was announced earlier this month.
You might also like,"'We Will Not Stand Silent': 150 Demonstrators Gather at the Venice Biennale To Demand Equity in Architecture."