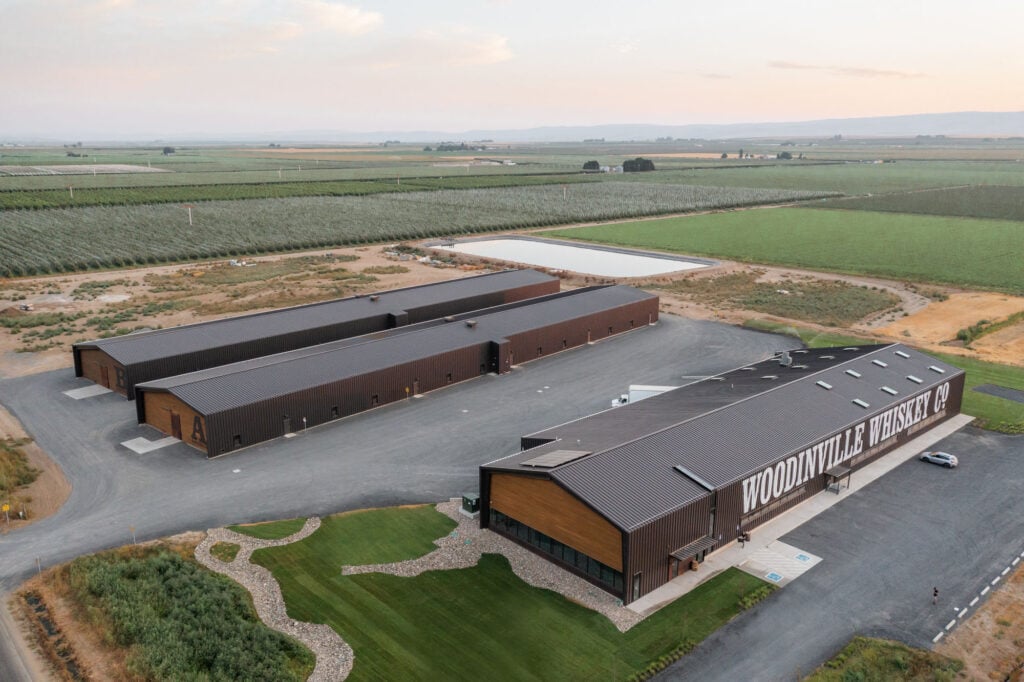 February 23, 2022
Seattle's Graham Baba Architects Drilled Down Deep for Woodinville Whiskey's New Home
Sorensen and Brett Carlile founded Woodinville Whiskey in 2010, releasing its first five-year-old whiskey in 2015. In 2016, Woodinville Straight Bourbon won the Craft Whiskey of the Year award from the American Distilling Institute. In 2016, Moët Hennessy, the wine and spirits division of LVMH, acquired the company. In 2020, Woodinville won a Double Gold Medal and Best Straight Bourbon of the Year at the San FranciscoInternational Spirits Competition.
---
More from Metropolis
---
Following its acquisition, the distillery produces six times as much whiskey. "As we grow, we'll become a larger player in America, where just a handful of distilleries make most of the bourbon," Sorensen says.
Grain is trucked from Quincy to the Woodinville distillery. There, mash for whiskey is made, and spent grain is trucked to a farm in western Washington to feed dairy cows. "It's a circular process and a compelling piece of the story," Tillack says.
Unaged whiskey is trucked back to Quincy to the new processing building, where it's pumped into vats in a 5,000-square-foot room for barreling. Thousands of barrels of whiskey then move into barrelhouses, to age five years. Then the whiskey's bottled.
Heat and cold play major roles in the aging process. The whiskey is warmed in spring and summer, and during an 80-100 degree day it's pushed into the wood of the barrels. As temperatures drop, flavors are pulled out of the wood and across the barrel's char layer, resulting in a whiskey that offers hints of vanilla, caramel, and oak.
Tillack was tasked with conveying the Woodinville brand through industrial-scaled buildings—on a budget. "I thought: 'Keep it as simple as possible and spend money where it really counts,'" she says. "I wanted to be judicious with the use of materials like wood and Corten steel that are more refined and costly than the big, standing-seam metal building."
She used Kebony (an engineered wood product made by impregnating sustainable softwoods with a bio-based resin to increase their durability) to clad select exteriors, while barn doors of Corten steel slide back for barrelhouse entries. And she streamlined the areas where roofs meet eaves. "I liked the knuckle joint at the eaves of the roofs—that same panel goes down the wall with no gutters," says Steve Roeter, the project's general contractor.
Tillack's final touch were mega-graphics for each building's exterior. The processing building carries the company name in huge letters reflecting the brand's corporate identity. The barrelhouse labels follow letters of the alphabet.
"It's a design thing, but an important marker for barrels in the building," Tillack says. "That's because Building A's whiskey is different from Building B's."
Because Graham Baba understands all that, their client rewards them. "They'll bring us a case after we finish a project," she says.
That's a circular process too—for a total immersion in the Woodinville Whiskey brand.