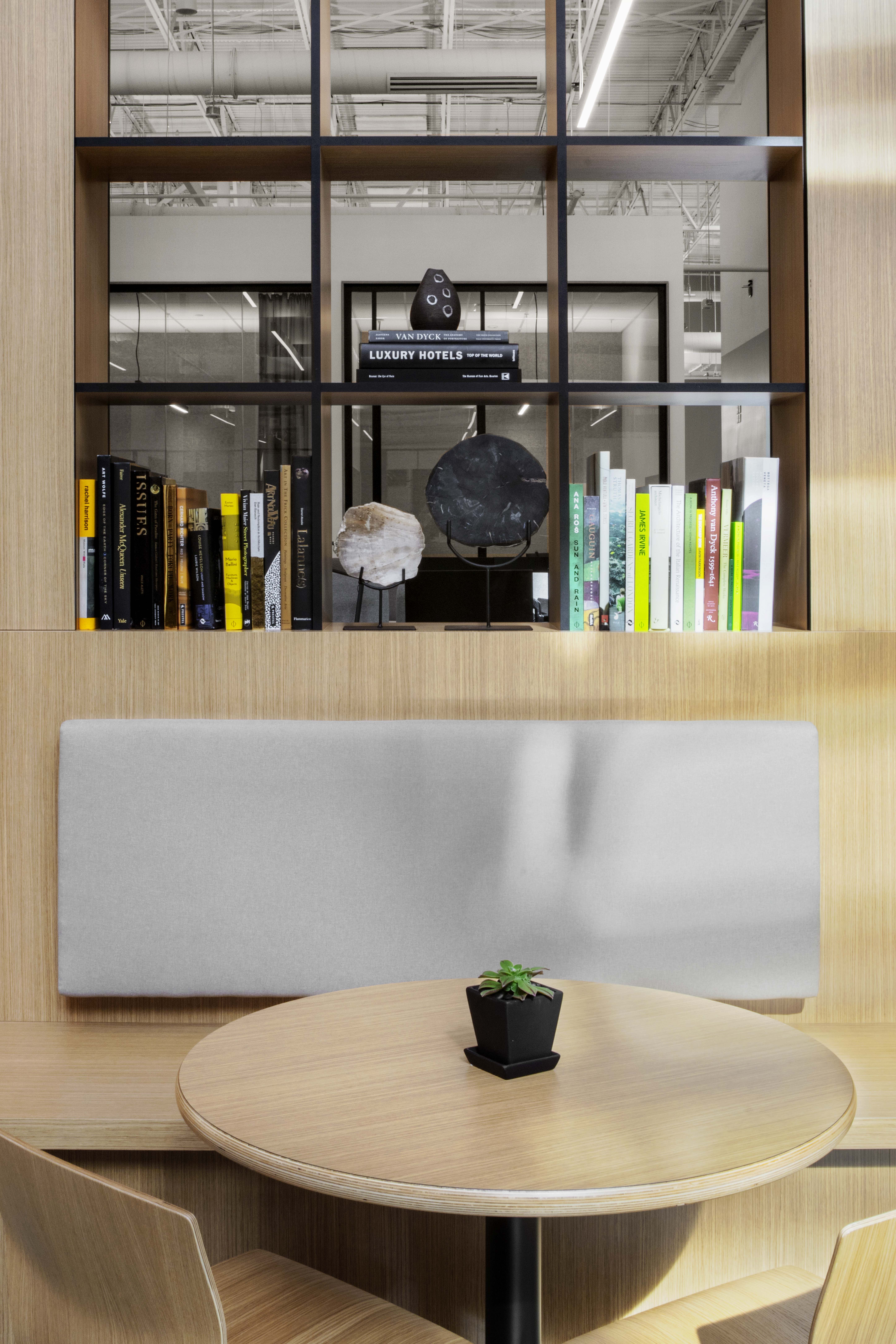 November 23, 2020
Gucci's French Parent, Kering, Commissions a Sustainable Office in Wayne, New Jersey
The French luxury goods company—home to Gucci and Saint Laurent, among others—tapped HLW to give its U.S. headquarters a sustainable homebase.
You might not be familiar with the Paris-based company Kering, but you know (and have likely coveted) the brands it owns: Balenciaga, Saint Laurent, Bottega Veneta, and Gucci—to name just a few.
Kering's Paris headquarters is located on an imposing four-acre complex at 40, Rue de Sèvres, formerly a hospital located a short walk from where the late designer Yves Saint Laurent once lived. Naturally, the sprawling Louis XVIII-era campus is as grand as the fashion, jewelry, and accessories labels it represents, complete with its own chapel, vaulted passageways, and formal gardens.
When it came to building an expanded North American headquarters, Kering Americas wanted the essence of Parisian roots to shine in the Garden State as well. But how, exactly, do you bring the rive gauche to a 400,000-square-foot operations center in Wayne, New Jersey?
---
More from Metropolis
---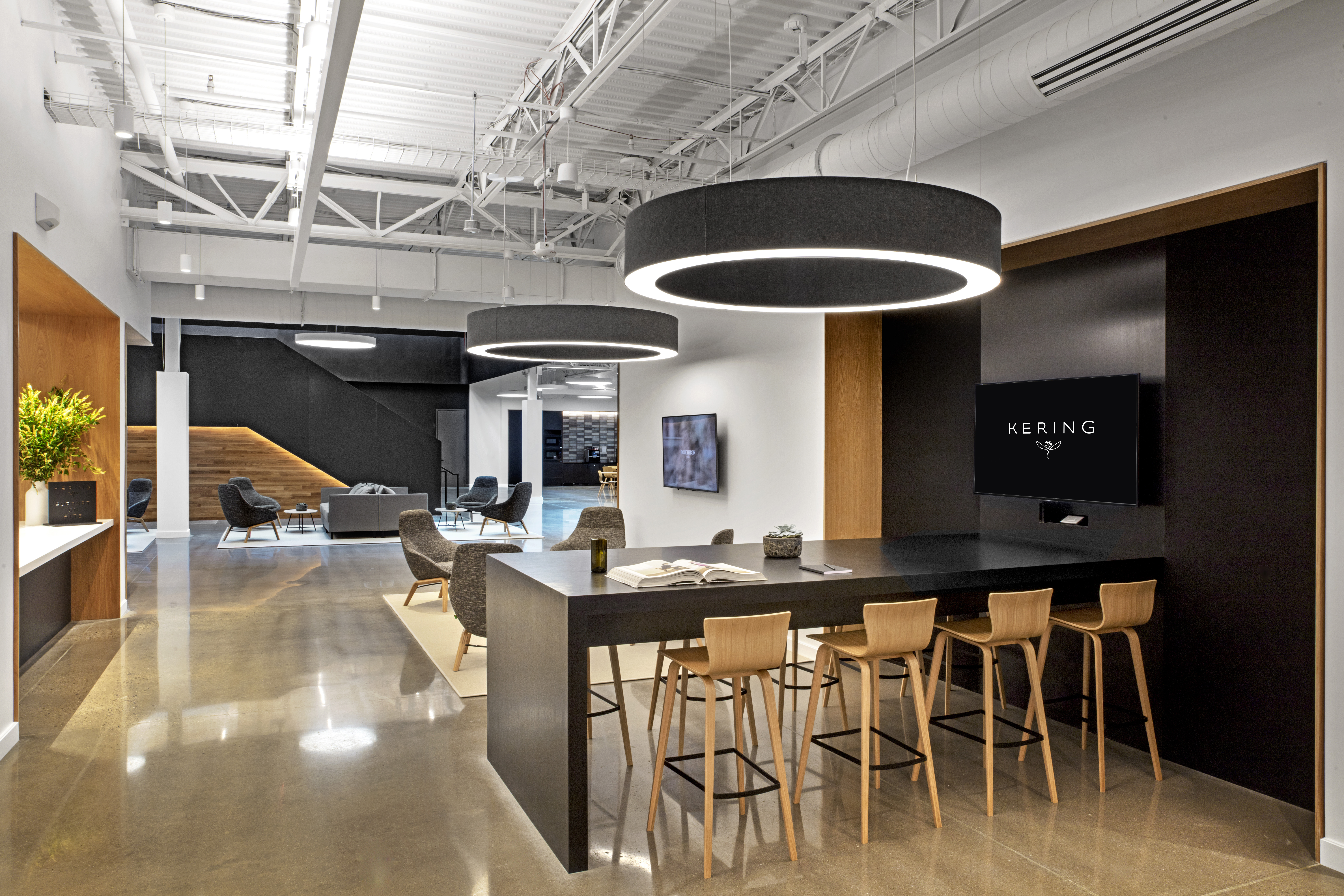 "It had to be elegant, warm, and inviting," explains Melissa Strickland, a senior project designer at HLW, the firm tasked with the transformation. "But they also wanted us to be true to the site."
It also had to be sustainable. In 2019, Kering announced that it was committing to becoming carbon neutral across all of its brands and supply chains. As Kering's CEO François-Henri Pinault put it in the New York Times, "If your products are not in sync with a higher set of values, then you aren't going to survive in this business." Management wants to project the same values in its offices, which is why the New Jersey project is on track to achieve LEED Gold.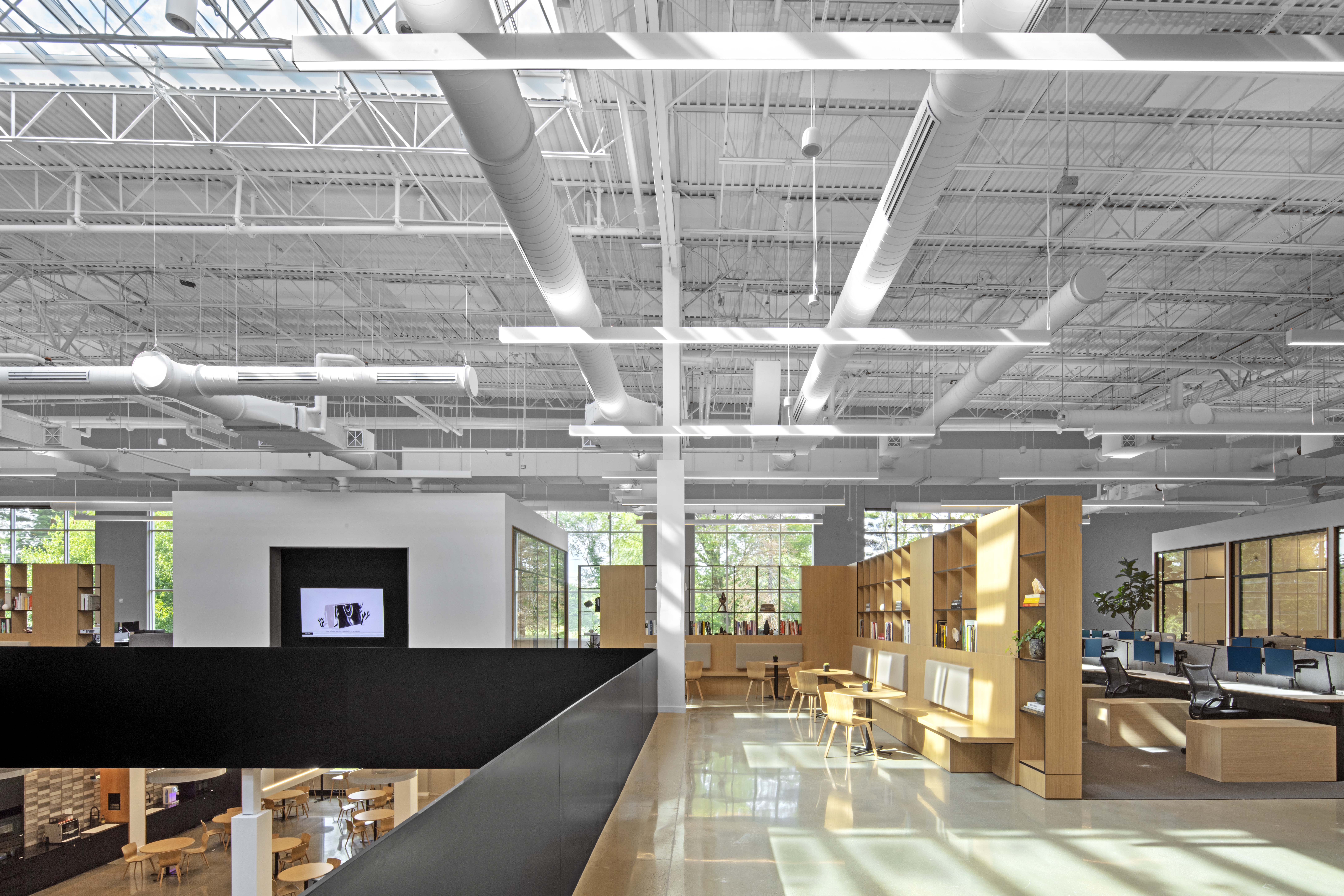 Like the Paris campus, HLW's project was a monumental exercise in adaptive reuse, only this one was more airplane hangar than 18th century hospital. Employees (with the exception of the IT team, which handles global tech support) are grouped in free-flowing team "neighborhoods." An immediate challenge the team faced was having windows on only one facade, making it difficult to bring natural light into the work spaces of some 275 employees.
HLW's solution entailed a number of structural tweaks. Designers punched three large skylights into the roof and built a mezzanine level, which inserted additional space under the building's 45-foot ceilings. This left room for the project's biggest formal move, a dramatic, timber-frame stadium stair that punctures the mezzanine and flows down into a café and lounge. Not only does this new atrium-like space filter the sun's rays into the lower levels and provide seating for town hall-style meetings, it also echoes the main courtyard back at Kering's Parisian campus. "It's our courtyard, our gathering place," Strickland explains.
The stairs also proved a handy organizing device in the once cavernous space, enabling Strickland and her team to orient private offices and conference rooms around it. Meanwhile, rows of workstations (from Estel, the Italian contract furnishings brand) in the open-plan office occupy prime real estate in front of the existing 24-foot-tall windows. These provide daylight and views of a golf course across the street.  Employees (with the exception of the IT team, which handles global tech support) are grouped in free-flowing team "neighborhoods"
The rest of the interiors offer staff as much flexible space as possible, in the form of individual break-out areas, lounges, mothers' rooms, pantries, and even a large multi-purpose space for activities ranging from yoga to art classes. "They're really into crafting," Strickland says. In lieu of traditional cookie-cutter conference rooms, each department selected their own furniture to create a perfectly tailored set-up.
HLW's design strategies have already paid off: though the Covid-19 pandemic sent the employees home, the flexible environment and abundant space permitted them to return comfortably at reduced capacity.
Strickland and her team also kept the material palette streamlined and sophisticated, in line Kering's French headquarters. "They really wanted it to be architectural," she explains. The warehouse's trusses and ductwork were left exposed and painted white for an airy, industrial atmosphere." Sustainability also dictated that the architects' material choices: There's no leather allowed, for instance,  and the carpeting is made from recycled plastic bottles. These details along with energy-efficient appliances and fixtures will all help the building earn LEED Gold. But the environmentally friendly palette doesn't mean the project sacrificed style. Employees work or dine at custom-made, dove-colored banquettes made of FSC-certified oak and plywood, backed by generous bookshelves full off monographs and objets d'art from the parent company's luxe  brands.
It's one additional step toward Kering's sustainable future. "As a leading luxury group, we have a significant role to play in this industry," said Laurent Claquin, President of Kering Americas, via email. "And because we set the trends in fashion, we have a responsibility."