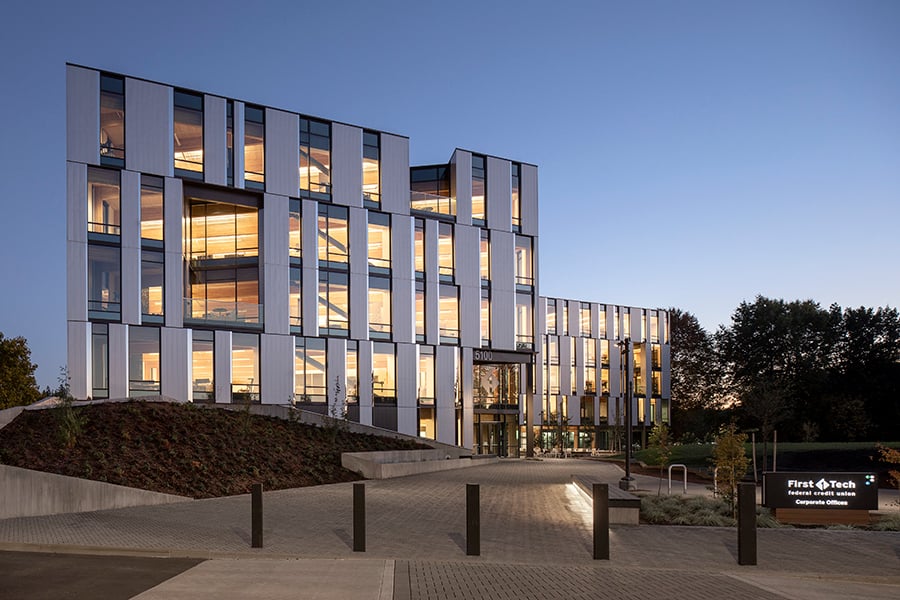 April 8, 2019
Using CLT, Hacker Architects Helps Connect a Workplace to Its Surrounding Nature Preserve
The First Tech Federal Credit Union office—at five stories and 156,000 square feet—became America's largest CLT-framed building by area when it opened this past summer.
---
When First Tech Federal Credit Union commissioned a new corporate office in the Portland, Oregon, suburb of Hillsboro, the idea was to be near tech-industry clients in what's known as the Silicon Forest. But then the company purchased a 17-acre plot bordering a small wetland preserve there, and a different kind of motivation emerged: to build an office that could feel as inviting as green space.
To Portland's Hacker Architects, that meant building with wood, and specifically cross-laminated timber (CLT), a technology long prevalent in Europe that has slowly gained traction in the United States. "We had the idea early on because wood best aligned with [First Tech's] values," explains Hacker's Scott Barton-Smith, citing the material's inherent renewability. (Wood also sequesters climate-change-causing carbon.)
Made by gluing perpendicularly placed layers of wood, cross-laminated timber has begun to proliferate in the Pacific Northwest thanks to its sustainable credentials. Besides these advantages, CLT buildings are more fire-resistant than traditional stick framing, which in turn has allowed code approval for taller buildings. The nation's tallest CLT building, the Carbon12 condominium, was completed in Portland last year, and First Tech Credit Union's office—at five stories and 156,000 square feet—became America's largest CLT-framed building by area when it opened this past summer.
---
More from Metropolis
---
---
First Tech's office construction is estimated to have taken four months less to complete than a comparable steel-framed structure, essentially because CLT makes conventional construction closer to prefab. "All the columns and beams come out of the factory with the connectors on them and ready to be joined together in the field," Barton-Smith explains. Workers slip the beams into these connectors, and they snap into place—a process that requires as few as seven workers plus a crane operator (the crew would be three to four times larger on a steel or concrete building). "We saw about a four percent savings, relative to constructing with steel," says Monique Little, First Tech's chief people officer, "not really because of the cost of materials but due to the time savings we were able to gain."
The boomerang-shaped building is designed to literally embrace its surroundings, wrapping the wetlands' U-shaped footprint. Hacker Architects gave the floor plate a narrow depth to ensure optimized light penetration. Especially bright and inviting is what's known as The Commons, a large, terraced gathering space that spills from the second story to the ground floor and looks out on the wetlands through a double-height wall of glass. In summer, some of these panels can slide away to join an outdoor plaza into a combined indoor-outdoor space. On each floor, the architects cut balconies into the facade, providing every department with easy access to fresh air.
---
To create a flexible environment, the design team struck a balance between open and traditional office concepts. Though some departments include closed-door executive offices, they can be easily converted to huddle rooms. "One size does not fit all," says Jennifer Fowler, Hacker's head of interior design. "You basically just have to figure out how to distribute all types of spaces for all types of work styles." But the best option may still be to meet while strolling the pathway circling a large pond that's part of the wetlands just outside the office door.
The interiors derive color from the natural wood ceiling beams (uncluttered by mechanical equipment thanks to a raised-access floor) as well as from the leafy view outside, seen through the glass walls that delineate meeting rooms and an interior stairway. There are also patterns throughout the space inspired by nature. When the sun disappears, for example, artificial lights mimic natural illumination. Ceiling-mounted LEDs are filtered through perforated screens to create the effect of a tree canopy's dappled light. Luckily, even gray days fill this glassy, wood-festooned office with sunshine.
"The aesthetics are great," First Tech's Little says. "But it's more than that. It's a space where people can come together and collaborate."
Selected Sources
INTERIORS
• Timber structure: Structurlam
• Kitchen surfaces: Caesarstone Quartz
• Kitchen products: P-Lam, custom built-ins by Hacker
• Bath surfaces: Daltile
• Bath fittings: Bobrick, Elkay
• Wall finishes: Maharam
• Flooring: Interface, Oregon Lumber Company, Forbo
• Ceiling: Armstrong Ceiling and Wall Solutions
• Furniture: Environments, custom built-ins by Hacker
• Lighting: Neo-Ray
• Textiles: KnollTextiles
• Conveyance: Kone
EXTERIOR
• Facade: AEP Span and custom-mirror-finish stainless-steel panels
• Lighting: Eaton Portfolio
• Windows: Cascadia Windows
• Doors: Kawneer, Panda
OUTDOORS
• Landscape products: NDS, Mutual Materials
• Lighting: Ligman Lighting
• Landscaping: WHPacific
You may also enjoy "New Releases to Look For at Euroluce."
Would you like to comment on this article? Send your thoughts to: [email protected]