January 21, 2022
Eugene, Oregon's Hayward Field Puts Athletes on Center Stage
Tearing down the original Hayward, which opened in 1921, initially caused some handwringing among fans, given the stadium's history. Iconic distance runners like Steve Prefontaine (subject of two different Hollywood movies) and Mary Decker competed here regularly in the 1970s and '80s. In recent years, 2012 and 2016 Olympic gold medal-winning decathlete Ashton Eaton came of age at Hayward, as did 2020 bronze-medaling middle-distance runner Raeven Rogers.
Yet these athletes would never have competed in vintage shoes. Why should the facilities be frozen in time? "Emphasizing the experience for these athletes was something we really aligned with as a broader team," says Whitney Ranson, SRG project designer.
---
More from Metropolis
---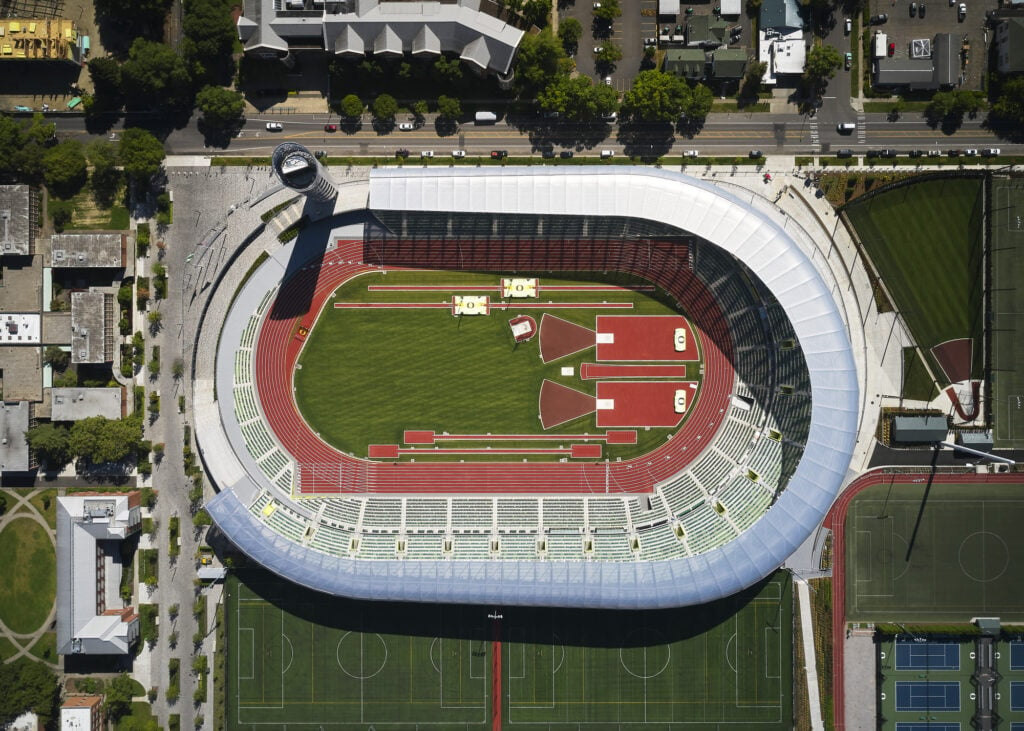 The old stadium, a pair of covered bleachers bookending the long ends of the field with a total capacity of just 6,000, never would have hosted the world championships. With a capacity 13,000 but temporarily expandable to 30,000, the new Hayward, which opened last year, is still small by Olympic standards, but the design harnesses Hayward's legacy in a more ambitious package.
Funded in part with financial support from Nike co-founder and University of Oregon alumnus Phil Knight, the new Hayward was intended to be the world's premiere track and field-only venue. "Everybody wanted this to go one step further than anything they had seen before," says SRG principal Rick Zieve.
Before designing, the architects and clients traveled to stadiums around the world for ideas. Particularly on the Diamond League professional track circuit, "almost everybody we met had ties in their careers to Eugene," SRG principal Jeff Yrazabal recalls. "Everybody talked about Hayward's magic, but they didn't talk about architecture. They said the magic is the people, the fans: an energy." Could that be replicated?
Marking the new stadium's entrance is the cylindrical Hayward Tower, equivalent in height to a nine-story building, its perforated metal panel featuring imagery of past university athletes and coaches. Yet competitors may be more interested in what's underneath the stadium: a 40,000-square-foot training and warmup facility.
"This wasn't a facility to just be occupied on game day," says Nike creative director Todd Van Horne. "It can be active every day of the week, day and night." There is a six-lane, 140-meter straightaway track, as well as a two-story underground space for long jumps, shot put, and pole vault. In addition to locker rooms, a full gym, and a sports-medicine facility, there's a 100-seat team auditorium and a barber shop.
Above ground, the architects took inspiration from one of the oldest facilities they toured: Stockholm Olympic Stadium, completed in 1912, with a continuous wood roof that "defined and created the space of a stadium," Zieve explains. At the new Hayward, columns made from a steel and wood-glulam composite encircle the stadium and become the frame for a combined wall-and-roof cladding made from semi-translucent EFTE plastic (which also comprises the transparent roofs of NFL team venues like L.A.'s SoFi Stadium and Las Vegas's Allegiant Stadium). It's completely disconnected from the concrete stadium bowl.
"We decided to go with a single layer of ETFE and stretch it taught, so it becomes kind of a diaphanous, simple form that sits on this solid masonry base," Zieve says of the stadium's cladding. "It goes from more transparent down lower on the building to more fritted as you move up to the roof, so you get better shading. And ETFE is really a bright acoustical material, so it really helps reinforce and amplify sound. It was loud at Old Hayward, but there wasn't enough enclosure to really amplify it."
After the world championships, Hayward will continue to pay dividends for the university's athletes, training indoors during Oregon's rainy winter months. "It's something we've been extremely passionate about," track and field head coach Robert Johnson says. "These kids eat, breathe, and sleep this every day."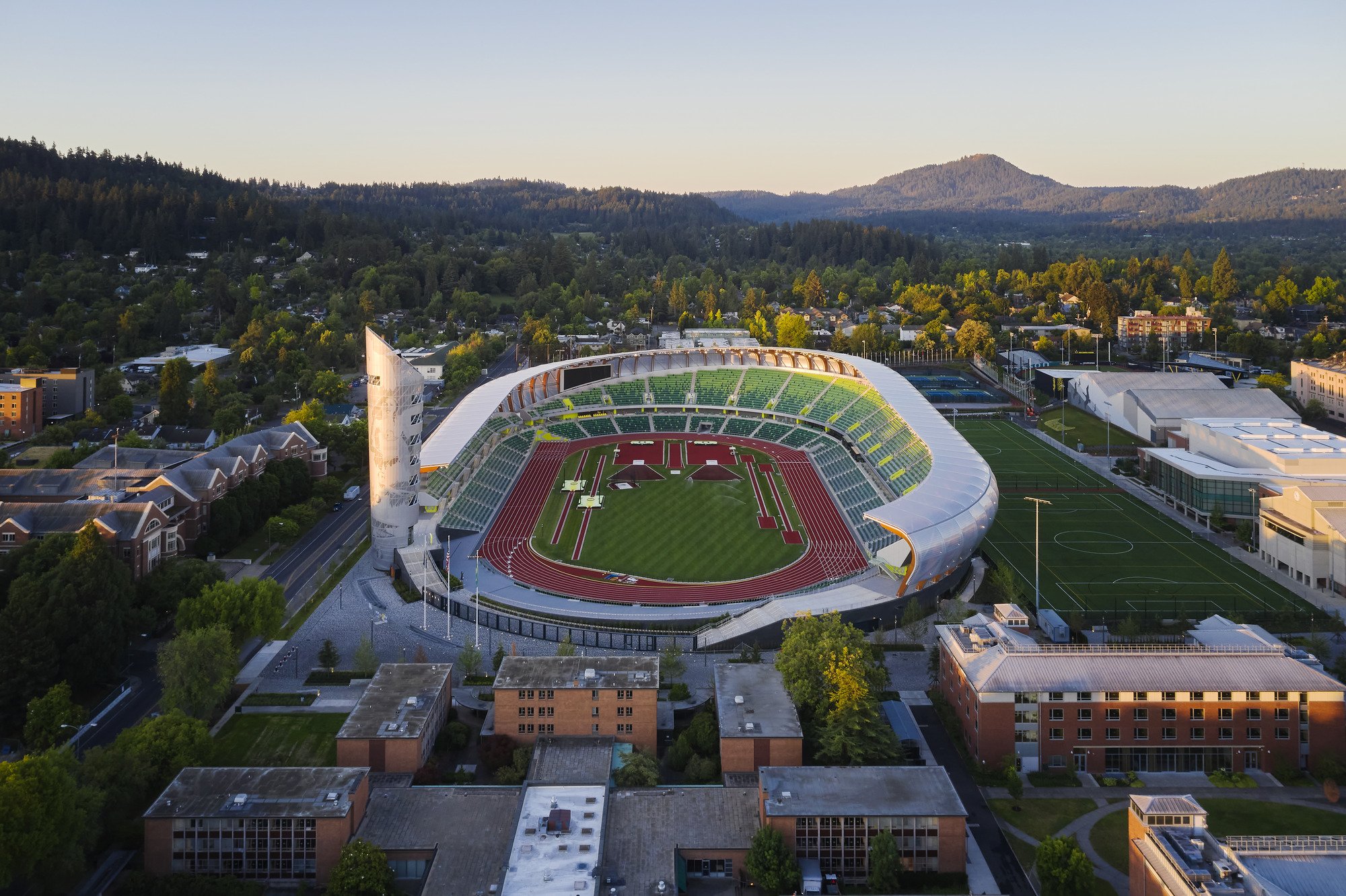 Would you like to comment on this article? Send your thoughts to: [email protected]