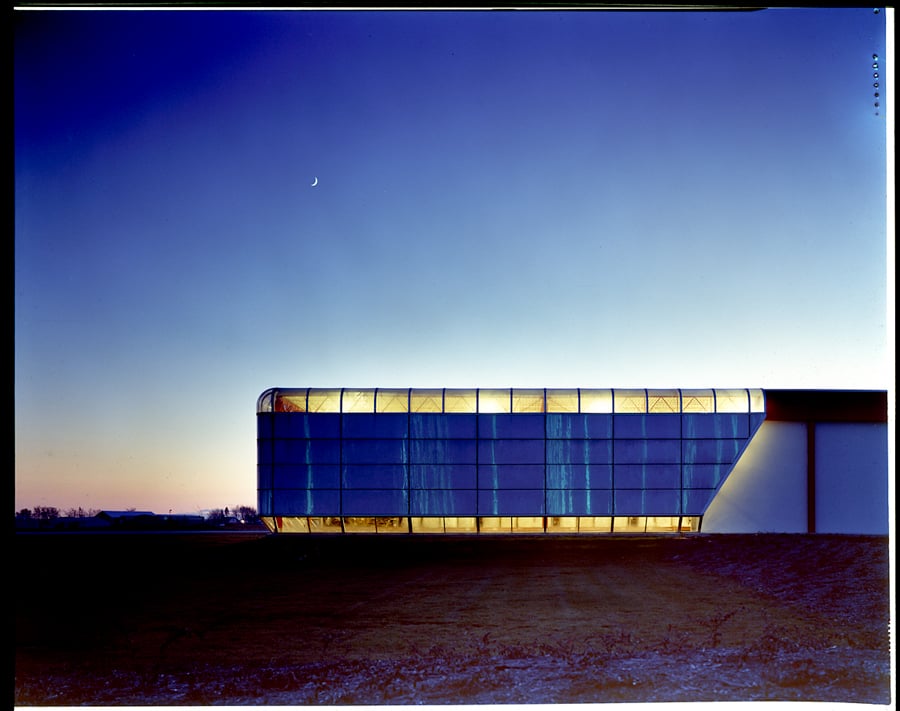 June 10, 2019
The Pioneering Sustainable Building That Still Inspires Pilgrimages
Spread out on a field in Michigan, Herman Miller's GreenHouse facility helped popularize sustainable building practices.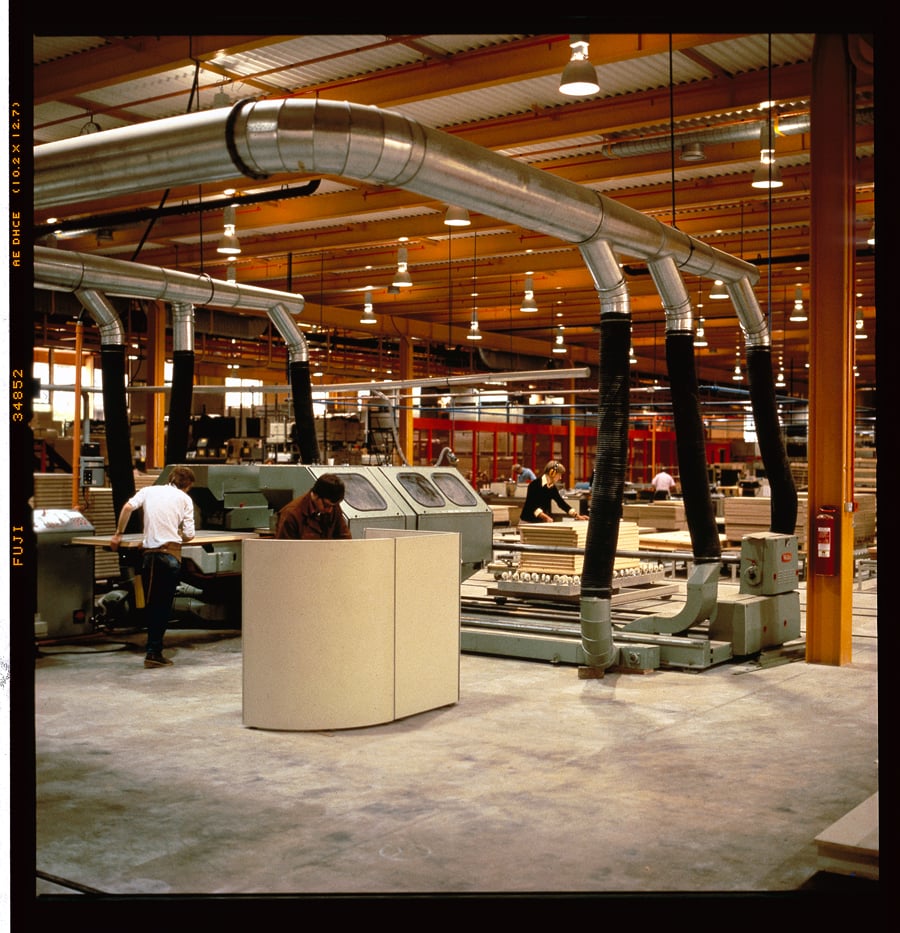 ---
In the early 1990s the green-building industry in the United States was still in its infancy, lagging behind Europe. It was then that the manufacturing heavyweight Herman Miller decided to build a new facility for its subsidiary SQA (Simple, Quick, Affordable). A buyback program that purchased and refurbished used office furniture and sold it to small and medium-size businesses, SQA was growing fast and was ready to shed its digs.
The strategy to build anew—and do so sustainably—"best reflected the character of our company," says Ed Nagelkirk, a project manager with the Herman Miller facilities management team at the time of construction and today the company's senior workplace strategy and facilities manager.
Completed in 1995, the 295,000-square-foot building that would eventually be called the GreenHouse remains a milestone in workplace and environmental design. Set on a 37-acre site in Holland, Michigan, the GreenHouse incorporated elements that helped set the standards for the U.S. Green Building Council's (USGBC) LEED certification, including stormwater management, a robust air-filtering system, operable windows, and 66 skylights that pour daylight onto the manufacturing floor.
---
More from Metropolis
---
The practical effects of these and other innovations were also reflected in the receipts. The GreenHouse cost just $10 per square foot more than what the commpany had paid for similar conventional pre-engineered buildings—and the difference was recovered quickly. The new plant slashed $35,000 from SQA's energy bill in its first year. Moreover, within five years of its opening, productivity doubled. The people working inside the building loved it. "You can see the sky," one employee commented at the time. "You don't feel boxed in. And you don't really feel like you're at work."

---
The project unfolded in near lockstep with the development of USGBC's LEED standards, as is proudly pointed out in the company's new monograph Herman Miller: A Way of Living (Phaidon). Herman Miller had joined the fledgling USGBC in 1992—only the second corporation to do so—and several of its employees were members. "We weren't trying to ride the green wave," recalls Nagelkirk. "We were driving that wave, trying to help set the standards that would become LEED. There was no such thing as LEED when we started the project."
By 1993, with site selection and workplace projections in place, the company turned to a little-known New York architect named William McDonough, whose star would soon rise in part because of the Herman Miller commission. "If you look at our history, we've always looked for opportunities to innovate, whether in the way a chair is manufactured, or in becoming even better stewards of the environment," says Herman Miller's corporate archivist Amy Auscherman. "And taking a risk on a young designer is very much in the Herman Miller tradition."
The roster of spry architects the company retained over the decades bears this point out. Nicholas Grimshaw, then a young British architect with few buildings to his name, completed Herman Miller's first overseas plant in Bath, England, in 1975, which was later followed by another in Chippenham. A mid-career Frank Gehry, far from obscure yet still a few years from megastardom, designed two facilities in 1989 and 1991, both in California. Even a seasoned practitioner like the Los Angeles architect A. Quincy Jones, known mostly for his midcentury houses, parlayed a commission from Herman Miller to flex his design muscles, drafting a master plan for the company's Holland headquarters in 1970 and designing several large buildings for the site.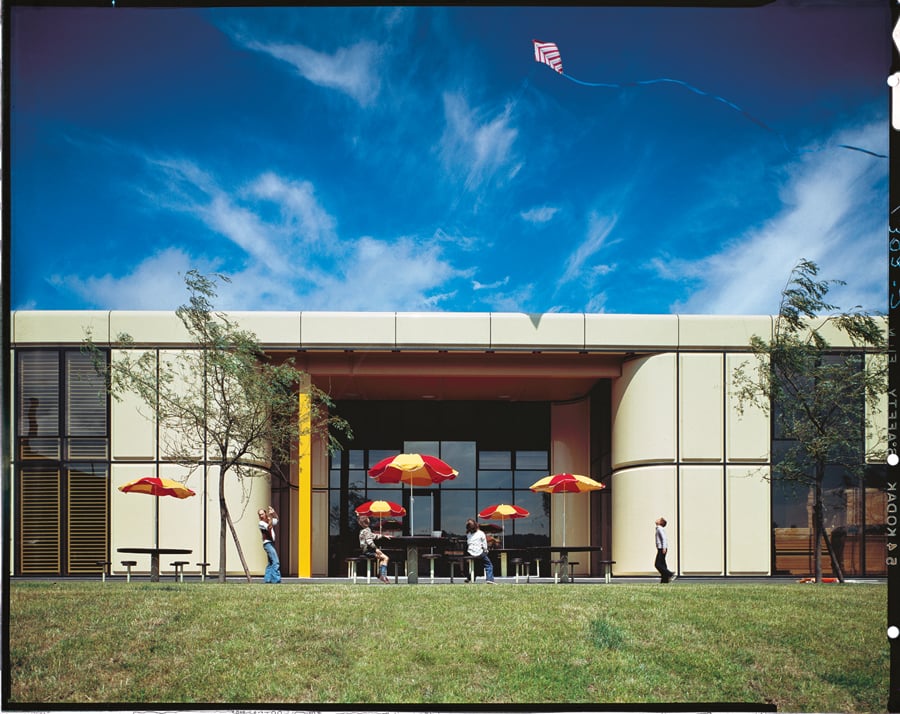 ---
McDonough himself was no stranger to Herman Miller. Company president and CEO J. Kermit Campbell had hired him to design his Michigan home. But the GreenHouse was much more complex, requiring a systemic type of thinking. In early 1993 McDonough visited the rolling prairie site on which the plant was to be built. "There was an immediate click between Bill and our leadership team," says Nagelkirk. "We knew we had a project. At the end of his first day with us, Bill was ready to take his ideas to Kerm Campbell and sell him on them." (Not everything on McDonough's ambitious wish list made it into the final project. His idea for a sprawling green roof—which would have been perhaps Michigan's first— was discarded.)
Since the GreenHouse's opening, it has earned several sustainability awards—virtually nonexistent at the time it was constructed—including the President's Environmental Challenge and Conservation Award, and a LEED Pioneer Award. Design magazines and graduate students still write about the building; many make the pilgrimage to Michigan to experience the building firsthand. When these visitors leave, they do so with a jar of honey, produced by the descendants of bees that were introduced as an environmentally friendly means to disperse an infestation of paper wasps.
In many ways, the GreenHouse today is more monument than model. LEED standards and sustainable design have evolved beyond now-commonplace elements such as green roofs and access to fresh air and daylight. Herman Miller's PortalMill factory in Melksham, England, designed by Grimshaw and completed in 2015, features translucent glass surfaces and a demountable facade system that enables the interchange of external panels and windows—features that improve upon aspects of the GreenHouse. In the 1990s, when the facility still housed SQA's stock, company planners working with the architects assumed its substantial corrugated inventory would dampen factory floor noise; after the building's use changed, no vapor barrier remained beneath the concrete floor.
And yet, whenever Herman Miller's leaders talk about adjusting or expanding their Holland master plan, they never consider making changes to the GreenHouse. "It's not that we got everything right in this building," says Nagelkirk. "You never get everything right. But we got a heck of a lot right on this one."
You may also enjoy "From the Metropolis Archives: Designing the First "Googleplex" Office."
Would you like to comment on this article? Send your thoughts to: [email protected]