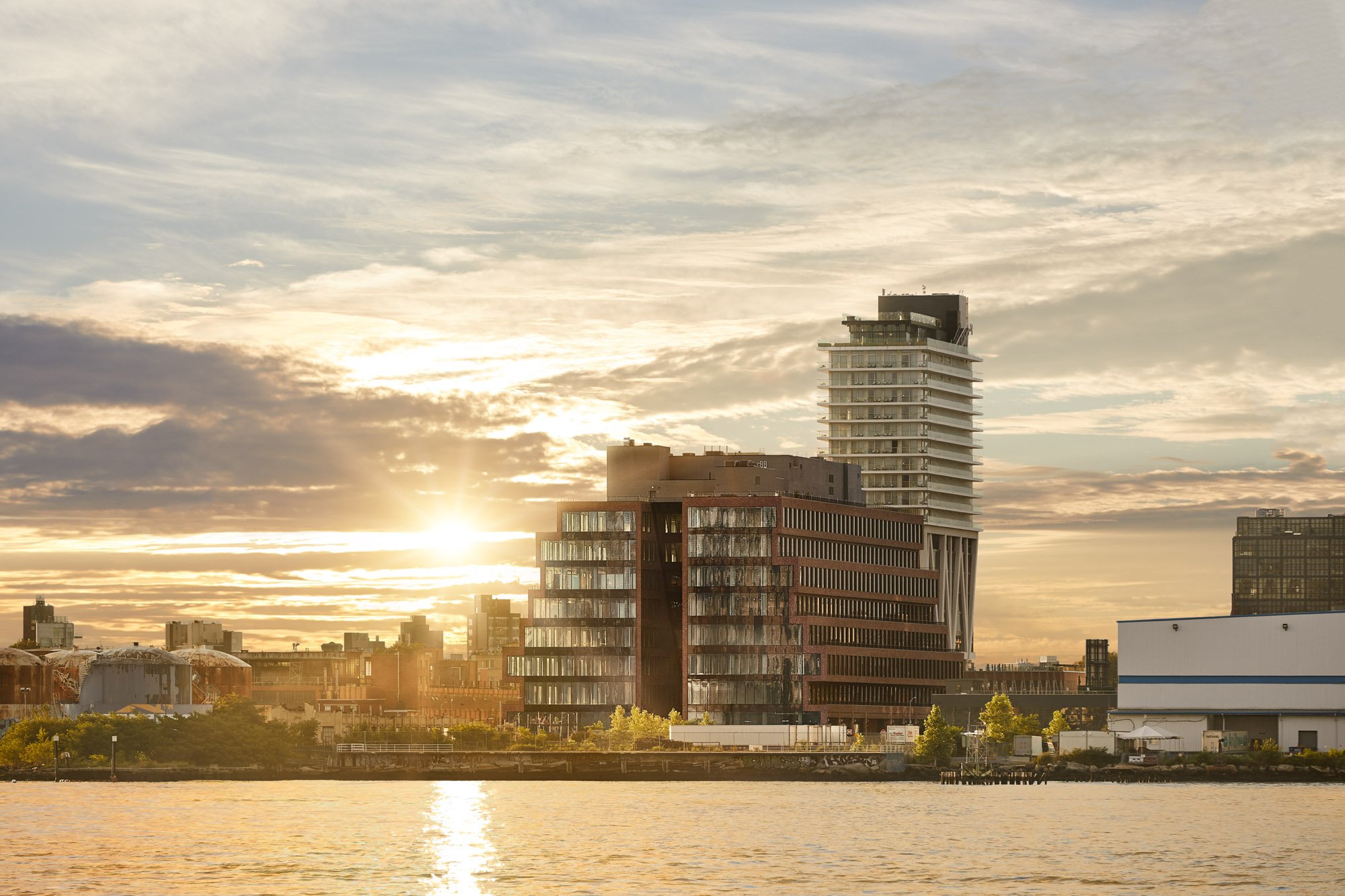 November 7, 2019
25 Kent Mirrors Williamsburg's Aesthetics, Entrepreneurialism, and Rapid Change
Designed by Hollwich Kushner, the new mixed-use development is a sensitive addition to North Brooklyn's glitzy, booming waterfront.
A new commercial property has been added to Williamsburg's variegated skyline in Brooklyn, New York, and it's also the neighborhood's first speculative office property in more than 50 years. It's known as 25 Kent—designed by Hollwich Kushner (HWKN) as Design Architect and Gensler as Design Development Architect—a new type of office building that prioritizes innovators, startups, and their associated modern, collaborative lifestyle.
The 500,000-square-foot development spans an entire city block—a plot so large, the architects underwent a two-year rezoning process to get the development approved. The team settled on this neighborhood (which is arguably the poster child for New York City gentrification) because of its rich architectural history and close relationship to the arts and entrepreneurship. In advance of designing 25 Kent, the HWKN team took a preliminary tour of Williamsburg and its myriad businesses, "just to get a feel for all the different elements that are so aspirational for creative companies," Matthias Hollwich, principal at HWKN, says. "You saw all of the buildings being occupied by really progressive, inspirational firms."
25 Kent, which the creators describe as "bringing the Silicon Valley to Williamsburg," is designed to accommodate seven to 100 companies, depending on how the floor plan is organized. (Each floor in the eight-story building is designed to adjust to the needs of whichever tenants rent the space.) But in its current form, the structure is expected to start as a collection of five to 20 companies, before more move in. "It's packed with creative companies or the companies that have a creative department which they put into the building," Hollwich says. The design team took inspiration from Williamsburg's omnipresent brick warehouses, and incorporated their open, blocky structure into the newly-debuted office space.
---
More from Metropolis
---
Like a factory that's been sliced down the middle, 25 Kent's identical halves face each other, sitting on either side of a hidden plaza. All red brick and black steel, the major development is also marked by glossy, 14-foot windows and a boundless open floor plan within. "[We used] that idea of a warehouse in terms of aesthetic and dimension, we stacked them on top of each other," Hollwich says. While typical American office buildings are simple boxes built around a central core, the design team reimagined this space for a modern, coworking world.
"What we created is a core almost like an 'H.' We were able to create a much more diverse layout in terms of floor plans," Hollwich says. "An 'H' has four different legs and when you go into one of them, you have 3 windows on 3 sides which is very unique and feels very exclusive." The architects punched a hole in the back of this factory window–clad building to turn it into a bright and open urban campus. 25 Kent also boasts nearly 16-foot-tall ceilings, a grander alternative to the traditional office building's 14-foot ones. "We also have columns in the office spaces which create amazing character in these big office floor plates," Hollwich adds. "The time of the neutral office with no character is kind of over."
The ground floor of this waterfront destination—which will face Williamsburg's Domino Park once the park is extended—will house several retailers and amenities, including a coffee shop, brewery, and gym. These spaces promise to not only serve the building's tenants, but also attract curious passersby off the street; the sheer size of the building, along with its irregularly stacked office floors, make it impossible to miss. Thanks to its prime location and sleek, new facade, 25 Kent is already poised to host an outpost of Smorgasburg and Brooklyn Flea this winter: Through March 2020, the carnivalesque markets will occupy the warehouse's 25,000 square foot top-floor space.
When asked how 25 Kent, a glassy, red-brick behemoth, will ultimately serve the Williamsburg neighborhood rather than dominate it, Hollwich says: "We feel that context is the power of a place and we always want to make sure that we bring the context into the design. We want the design to make the neighborhood better, not just outshine the neighborhood."
You may also enjoy "KPF's Gleaming New Tower at New York's 55 Hudson Yards"
Would you like to comment on this article? Send your thoughts to: [email protected]