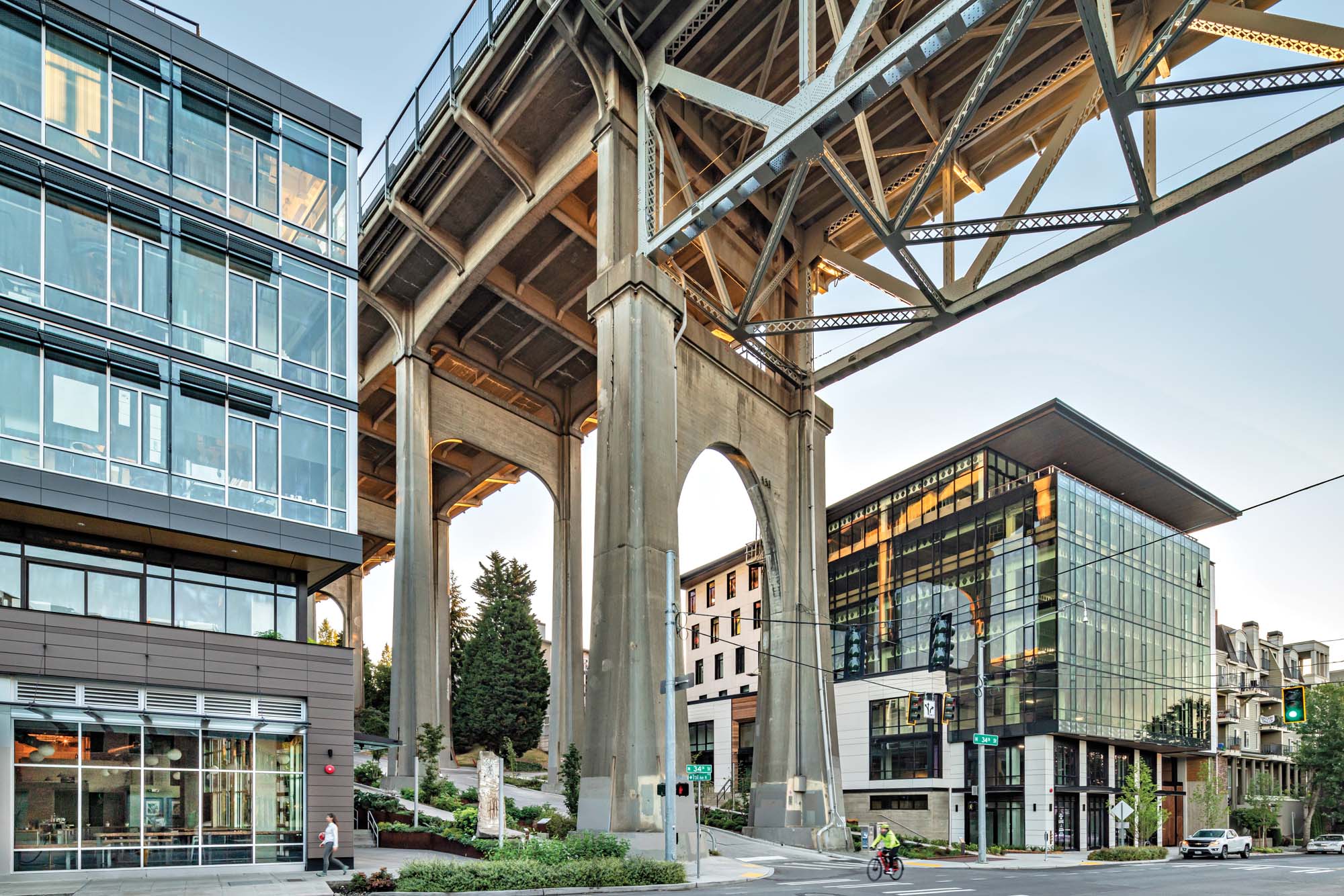 November 17, 2023
How This Mixed-Use Complex Improves Seattle's Water Quality
The green building movement has made dramatic strides in just a few decades, constantly advancing and widening its goals to adapt to new needs, research, and technology. If you're looking for a symbol of this progress, look no further than Watershed, an office and retail complex designed by Weber Thompson in Seattle's Fremont neighborhood with a stunning breadth of sustainable features.

Located on Lake Union, the building was commissioned by Center of the Universe LLC (COU), whose moniker nods to Fremont's longtime nickname. Weber Thompson and COU had established trust years ago while developing another ambitious green building, the Terry Thomas, a 2009 LEED Gold project in the city's South Lake Union neighborhood.
The seven-story, 72,000-square-foot Watershed is a podium edifice sitting on a tight downhill corner lot overlooking the water, under the towering Aurora Avenue Bridge. The building provides space for 61,000 square feet of workspace and 5,000 square feet of retail, not to mention parking spaces for both cars and bikes. Its significant green bona fides were both aided and dictated by, among other things, the developer's sustainable ambitions, Seattle's stringent codes, and the city's Living Building Pilot. The latter program, based on the International Living Future Institute's (ILFI) Living Building Challenge, provides additional height and FAR (especially valuable on a floor plate measuring just 10,000 square feet) in exchange for meeting at least three of the stringent "petals" within the certification system. The team is pursuing the challenge's place, materials, and beauty petals, and is in the final stages of receiving certification from the ILFI. In the meantime, it has won a prestigious Top Ten award earlier this year from the AIA Committee on the Environment.
"We give huge credit to our clients to be willing to go through these rigorous processes," says Kristen Scott, Weber Thompson managing partner. The move was especially brave, she adds, given that the pilot program levies a financial penalty if buildings don't meet its requirements in their first year of operation. To ensure that doesn't happen, the list of sustainability-informed elements in the building is remarkably long.
Watershed's most dramatic feature relates to water use and habitat sustainability. The building's overhanging roof helps it use more than 88 percent less water than the local baseline by collecting rainwater in a 20,000-gallon underground concrete cistern, to be reused in the toilets and for irrigation. Meanwhile the structure and its surroundings play a key role in reducing the neighborhood's toxic stormwater runoff, which has contributed to the region's dramatically dwindling salmon and orca populations. The architects (who also served as the project's landscape architects) helped edge Watershed with a system of stepped bioswales, treating runoff from the bridge and nearby streets.
Another major focus for the project is energy savings. Twelve months of utility data have proved Watershed to be 67 percent more efficient than a typical benchmark structure. Heat recovery is maximized via a high-performance HVAC system that includes a dedicated outside air system (DOAS) and a variable refrigerant flow (VRF) system. Meanwhile the building's sizable upper curtain wall is embedded with self-tinting electrochromic glazing on its south and west sides, significantly reducing solar gain, glare, and thermal waste. This element has helped reduce cooling demand by an estimated 14 tons.
---
More from Metropolis
---
Next on the outsize green checklist are building materials, which were vetted to ensure they didn't contain any Red List chemicals. Local cedar clads the underside of the roof canopy, soffits, and most of the lobby, which is highlighted by an open stairway and light well. Weathering steel plates cover the dramatic steel hangar front door. And recycled materials include a portion of the existing concrete foundation, which was reused as temporary shoring, eliminating about 100 tons of concrete waste. 
Since its opening in 2020 the building has filled with tenants, including Weber Thompson itself on the second floor, all drawn to its beauty, tall ceilings, site, views, natural light, breezy authentic comfort, and mission, among other things. The only spaces not yet leased are two retail suites, about 2,000 square feet in all: Retail has been slower to fill up countrywide.
"It's really gratifying to prove that so many sustainable principles are aligned with what people are looking for after going through a pandemic," says Scott. "Healthy buildings are a much more attractive way to get people into office spaces," adds Cody Lodi, a Weber Thompson principal, who also notes that the building and its landscaping have been well received by the neighborhood. "These buildings are going into communities," Lodi says. "We need to start seeing them as community investments."
Meanwhile, the design—specifically its steel gutter system, landscaping, and bioswale filtration system—is beginning to have an impact beyond the project's footprint, annually cleaning an estimated 400,000 gallons of water on its way to Lake Union. "I expect in the next five to ten years we will see meaningful results," says Scott.
Would you like to comment on this article? Send your thoughts to: [email protected]