February 27, 2018
Hugh Broughton Architects To Overhaul New Zealand's Antarctica Research Base
The project, designed in conjunction with Auckland firm Jasmax, will be Broughton's third on the frigid continent.
New Zealand mountaineer Sir Edmund Hillary is best known as the first climber to reach the summit of Mount Everest in May 1953. Though he had a decidedly casual reaction to the heroic feat ("We knocked the bastard off," he recounted after the descent), his adventures didn't stop there. Just four years later, Hillary journeyed to the South Pole and helped to establish Scott Base, his home country's research facility in Antarctica.
Since its founding more than 60 years ago, Scott Base has grown into an amalgam of separate structures attached by a series of enclosed walkways. All are painted in a vibrant shade of emerald—rumored to have been inspired by a former supervisor's vacation to Ireland.  
In spite of Scott Base's rich history and punchy appearance,  the buildings' age and Antarctica's harsh conditions meant that maintenance—and therefore research—was becoming increasingly arduous.   
---
More from Metropolis
---
Now, Scott Base is embarking on its latest adventure. Today, Antarctica New Zealand—the authority that oversees New Zealand's development on the continent—announced that London-based Hugh Broughton Architects and Auckland-based firm Jasmax will lead a redesign to both modernize the facilities and to promote New Zealand's research globally. In a media release, issued today, the government agency described it as New Zealand's "coolest redevelopment."
Scott Base will mark Hugh Broughton Architects' third Antarctic project. In 2013, they completed Halley VI, an innovative British research station that can be moved according to fluctuations in its floating, ice shelf site. The firm designed another facility for Spanish researchers, completed in 2016.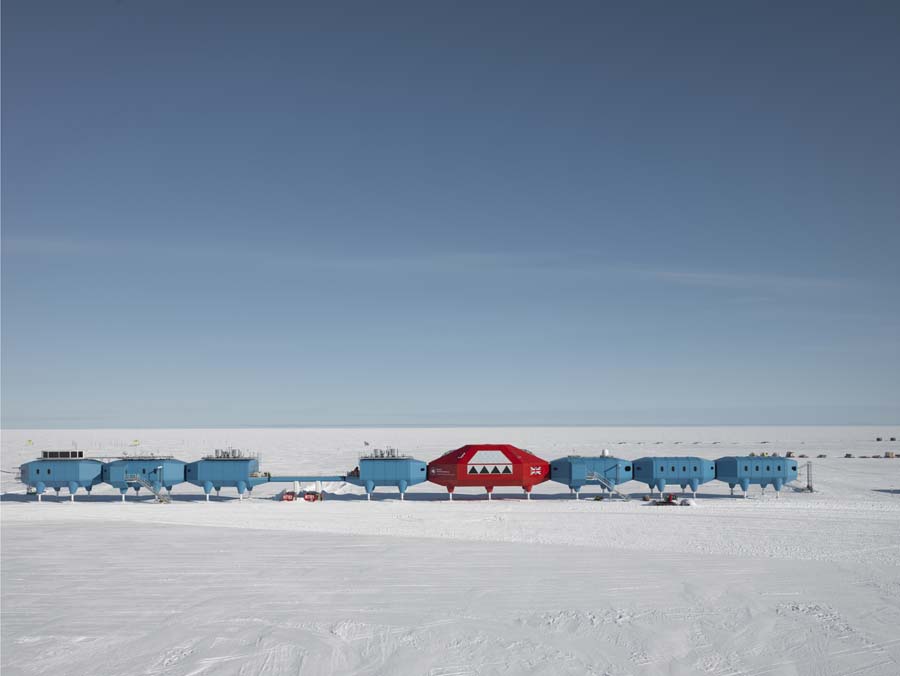 "You start off thinking, 'Great, that'll be the same blueprint as the last one,'" principal Hugh Broughton jokes, "but of course they're nothing like that."
The design team visited the site in December. According to Broughton, the project presents several key challenges. For one thing, Scott Base is unusual in that, unlike most research facilities, all of its buildings are interconnected. And, unlike Halley VI, the research center is located on solid ground.
In its brief, the New Zealand government also underscored the potential for increased international visibility and diplomacy. At present, the site is located near the research bases of the United States, South Korea, and China. "New Zealand has had a base there for over 60 years and that presence is important for the national identity," Broughton explains.
Ultimately, the architect says, "what we want to do is to ease the operation, reduce maintenance, and optimize flexibility— all so you can spend more time doing science and less time maintaining your base."
Over the next year, the Broughton-Jasmax team will develop four different possibilities for the facility. Broughton says to expect a mix of concepts that explore varying degrees of interior/exterior circulation ("To challenge this notion of being indoors, or if a walk to work is a good thing," explains Broughton) and whether or not to adapt existing buildings. All concepts will prioritize sustainability and minimal environmental impact.
As for that bright shade of green, officially called Chelsea Cucumber?
"I sort of doubt that it will end up green," says Broughton. "I may be proved wrong, but I think along the way there will be a lot of interesting exploration to be had."
You might also like, "Asif Khan Designs World's Darkest Building for the Winter Olympics."