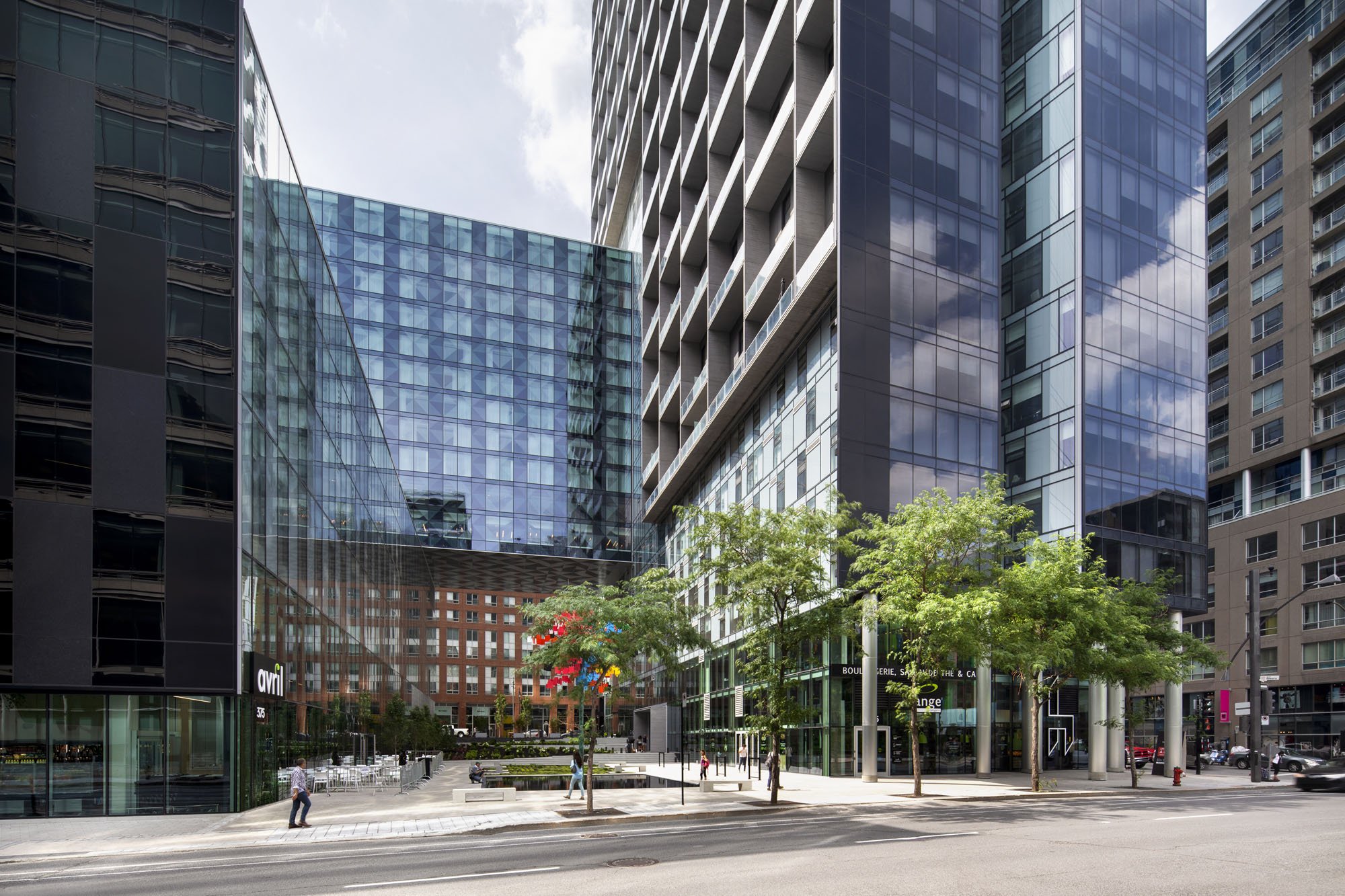 December 2, 2022
Montreal's First Vertical Village Places Wellness at its Core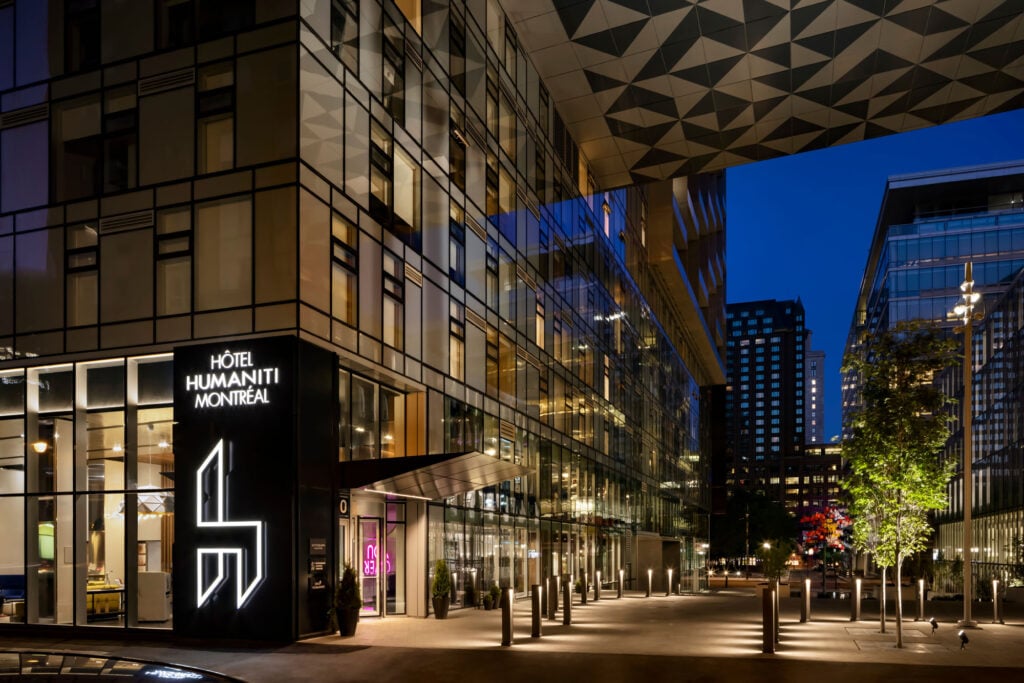 Located in Montreal's Quartier International neighborhood a few blocks of Quartier des Spectacles and Old Montreal, the Humaniti is the city's tallest mixed-use development, billing itself as "the first vertical village in Montreal." The goal was to have both a presence on the Montreal skyline while also playing with scale in order to create a sense of community in a hyper-dense area. The first way this is immediately apparent is through the complex's public spaces, including an outdoor public plaza that feels both physically and visibly connected to the Place Jean-Paul-Riopelle across the street.
"The public plaza at the hotel's base was one of the most important parts of the design process," explains Andrew King, chief design officer at Lemay, who describes it as a "giving back to the city." The plaza, with its art, reflecting pool, mossy garden patches, and ample outdoor seating provides a peaceful respite for pedestrians to pass through the busy block.   
---
More from Metropolis
---
This idea of peace and refuge is carried inside the complex to the Humaniti Hotel Montreal, Autograph Collection, a 193-suite luxury hotel that is Marriott's first Autograph Collection location in Montreal. "The hotel has health and wellness at its core," notes King, explaining that "This is why many of the residences and hotel units look inward" into Humaniti's own biophilic courtyard rather than out towards the city (and neighboring construction). The hotel itself is suspended on a cantilever-shaped structure that marries the Humaniti's residential and commercial towers while creating the complex's unique "H" shape. While the shape makes for a strong architectural part and symbolic gesture, the complex's form really emerged out of a desire to "create a continual experience of public space," says King.  
While the residential portion of the complex was the first to be awarded a WELL certification for rental condominiums in Canada, many of the same sustainability measures made their way into the design of the hotel as well. King continues, "The certification adds layers of optimal performance in a multitude of ways—from indoor air quality to light management via a curtain wall to optimize daylight—which affects natural circadian rhythms and improves sleep, productivity, and focus." Hotel amenities such as a sustainably-minded spa, heated rooftop pool, a restaurant, lounge, outdoor terrace, and gym encourage a lifestyle of luxury while creating what King describes as a "positive emotional environment."
The joyful, Andres Escobar-designed interiors go hand in hand with this sentiment. Through local art and eclectic design elements—a DNA-shaped chandelier, an oversized face-shaped chair peering out to the street through the glass curtain wall, figural sculptures guarding the elevator banks—the interiors provide a more human understanding of luxury hospitality. The bold yellow and fuchsia-hued interiors certainly soften the concrete and glass architecture, providing an ideal contrast between geometry and humanity.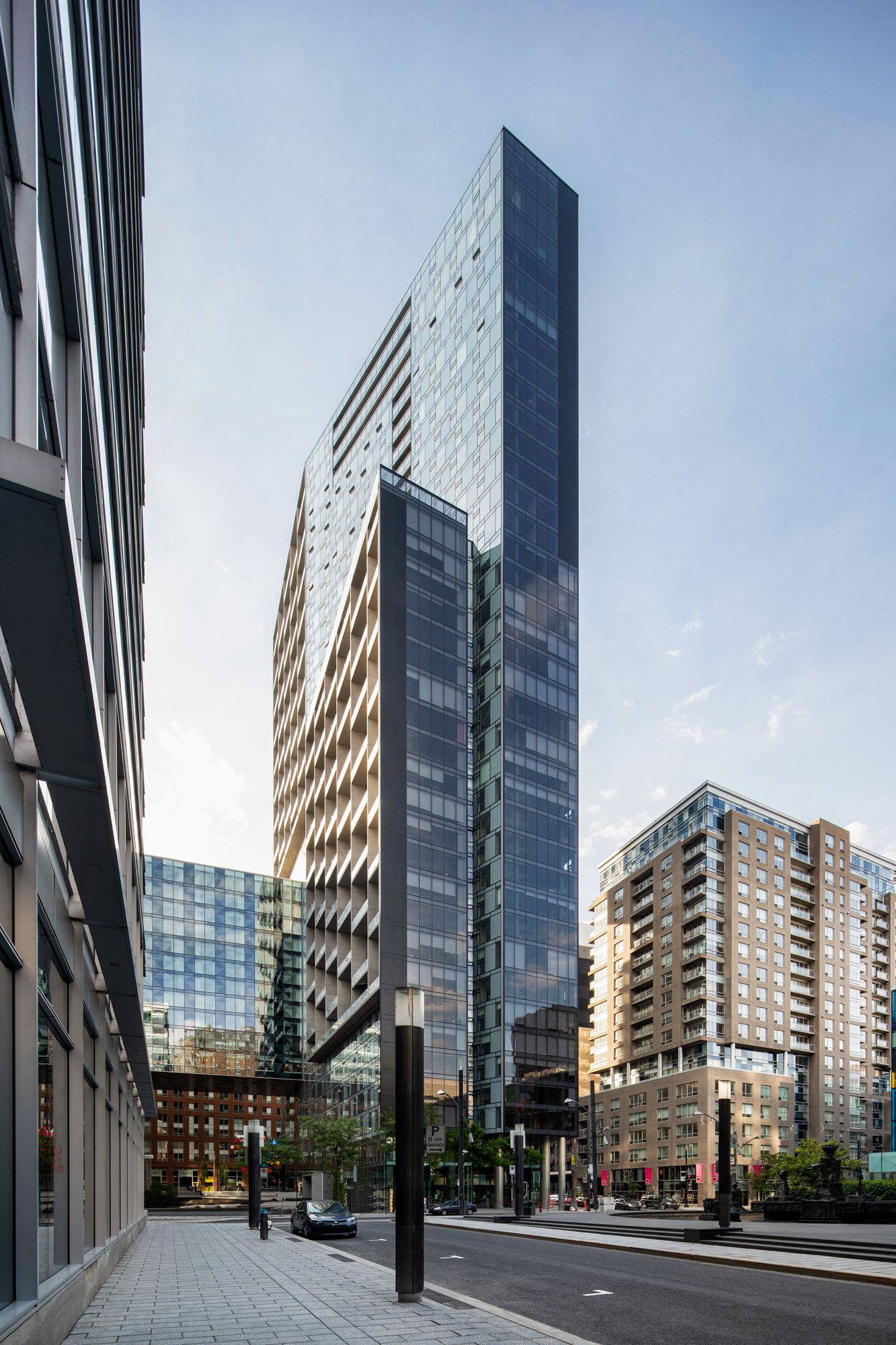 Would you like to comment on this article? Send your thoughts to: [email protected]