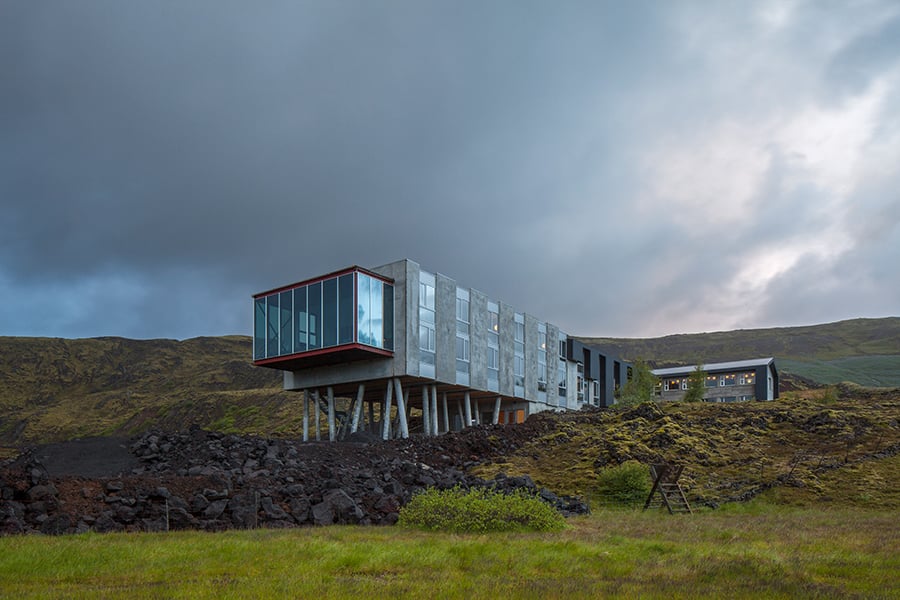 November 29, 2017
How Iceland's Designers Are Staying True to Their Roots Amidst a Booming Tourism Economy
Iceland's booming hotel industry welcomed two million visitors in 2016 alone, though the country's design community is working hard to retain its authenticity.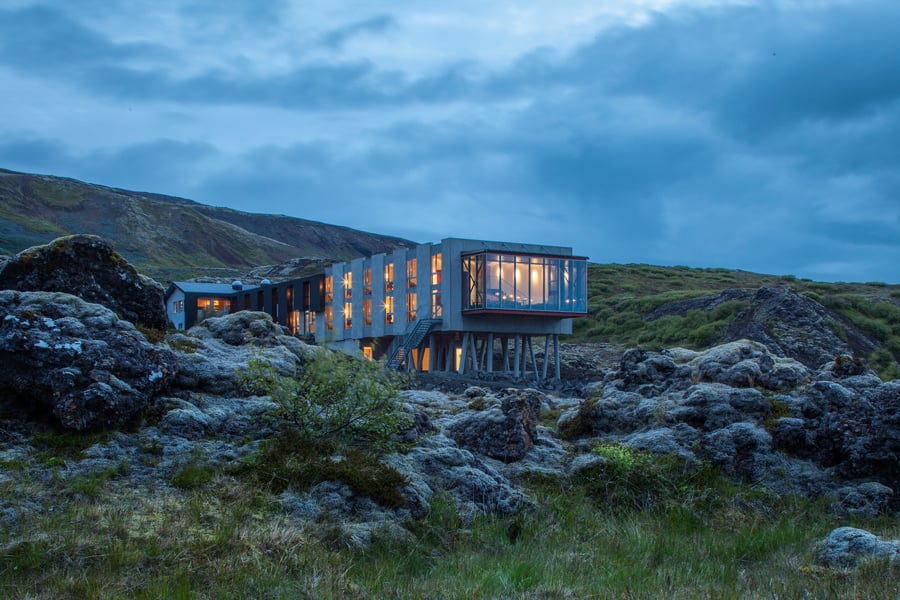 For those who have never visited Iceland, it's easy to be suspicious of the hype that comes from anyone who has. Surely much of it is thanks to the sleight of hand that well-chosen Instagram filters can provide. But after a day or two exploring the island's whimsical natural landscape, even the most hardened skeptic is likely to be a little bit enamored.
With hype comes tourism—lots of it—a boon for an economy that, less than ten years ago, was in a financial crisis so severe that its effects were felt throughout the world. Last year, hotels in the capital, Reykjavík, saw a year-round occupancy rate of 86 percent; by contrast, average occupancy in the United States was 66 percent. For a population of around 340,000, with a third in Reykjavík, the ever-increasing droves of visitors (1,792,200 in 2016, up from 488,600 in 2010) are significant.
A spate of new luxury hotels have popped up, and more are planned for the coming years (including an Ian Schrager Edition hotel) with the number of available rooms expected to double. Earlier this year, Icelandic hotelier Sigurlaug Sverrisdóttir opened ION City Hotel—the urban sibling to her much-lauded rural ION Adventure hotel—on Reykjavík's main pedestrian thoroughfare, Laugarvegur.
---
More from Metropolis
---
Having grown up on Iceland's Snæfellsnes Peninsula, where she recalls using beached whale carcasses as trampolines, Sverrisdóttir says she's definitely seen her home country change (for starters, you rarely see whales anymore). When she opened ION Adventure Hotel in 2013, it was one of very few boutique properties in Iceland. From her extensive travels working as a flight attendant, Sverrisdóttir saw the opportunity to bring a new standard of dwelling to her home country, which—especially outside the capital— really had only three-star accommodations.
Following the economic crash of 2008, the Icelandic government was selling off properties. Based in Switzerland at the time, Sverrisdóttir and her husband had been in the market for a summer house in Iceland, but a building of a different kind caught her eye—the abandoned staff quarters of a geothermal power plant in Iceland's western volcanic belt that was being run as budget accommodations. Her initial vision for what became ION Adventure was simply to expand it from 20 rooms to 45, but after realizing what a rare gem they had, the couple turned it into a grand architectural feat. Using a prefabricated panelized building system, they envisaged an elongated extension perched on pillars, so that it jutted out from the craggy slopes of nearby Mount Hengill.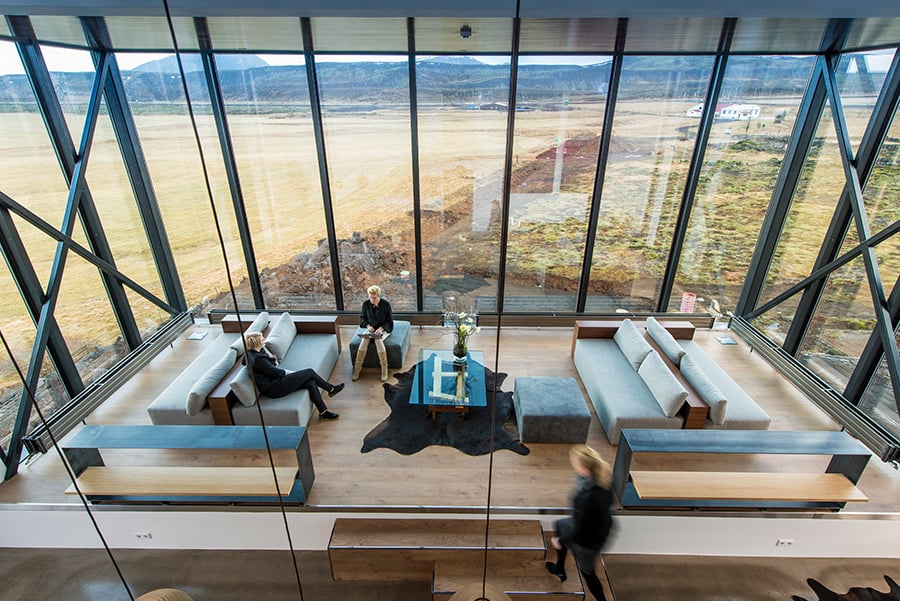 The remote location and dramatic, otherworldly landscape that provides the backdrop for the hotel are a key enticement for visitors. "People are seeking more authenticity today," Sverrisdóttir says about why such rural retreats are gaining popularity. "Twenty years ago, everything was about showing off brands—like your Louis Vuitton bag— but the younger generations don't want to be a billboard. It's more like everybody's ticking off their bucket list and they show it on their Instagram."
Whereas ION Adventure's connection to nature comes as easily as looking outside the window to the rugged lava rock landscape, where wild sheep and arctic foxes regularly trot by, at ION City the natural landscape—and its "fire and ice" dichotomy—had to be brought into the design. The hallways of the 18-key hotel feature dramatic streams of zigzagging light that resemble lava flows, while bathrooms all have obsidian rock walls bearing intricate sand murals that pay homage to the country's interior desert plateau. But perhaps the most patriotic addition is on the building's exterior: A geometric "woven" aluminum facade references traditional Icelandic knitwear.
"It had to be authentic," Sverrisdóttir says of her choice to keep the aesthetic and design as Icelandic as possible. "I didn't want it to be old-fashioned Iceland, either, because that's not us today. We are very fashionable and we love design. We're right in between the States and Scandinavia, and we take a lot from both."
The two hotels were designed by Minarc, a Southern California architecture firm headed up by two Icelanders, Erla Dögg Ingjaldsdóttir (a childhood friend of Sverrisdóttir's) and Tryggvi Thorsteinsson. Although the duo have been based in Los Angeles for quite some time, they are still heavily influenced by their roots. "Materials, the things you use—you have to appreciate them, because they're hard to get in Iceland," says Thorsteinsson. "Everything that's imported is expensive, so we've learned to reuse things, or even repurpose things. I think that's kind of lost a little bit in the world today, but we grew up with that approach. We still keep that in mind every time we do something, even in Los Angeles."
A fellow Icelander–turned–Los Angeleno, architect Gulla Jónsdóttir, designed the Thingholt Hotel in Reykjavík. Like the Minarc duo, she left Iceland at a young age because there were no opportunities to study architecture locally at the time. These days the creative and design industries are receiving growing support in the country, but there is still a lot to be done to foster and retain local talent.
Not only is the increased tourism driving up rents and making it harder for creatives to occupy spaces in the capital, but it has also resulted in a mushrooming of tourist-focused stores, all offering variations on the same theme. While there is a smattering of locales focused on promoting young Icelandic designers, most showcase more products from the country's Scandinavian neighbors. The March 2017 opening of the Marshall House—a center for visual arts in Reykjavík that is home to the Living Art Museum, Studio Ólafur Elíasson, and the artist-run gallery Kling & Bang—was an important boost to the local design culture.
Of course, the influx of tourists is likely to be unsustainable (and many Icelanders are concerned about visitors' poor treatment of the country's natural landscape). Sverrisdóttir predicts that the bubble will eventually burst and the market—along with an overvalued krona—will correct itself to a happier medium. She points to Ibiza as an example of another island that experienced an uptick in tourism and is now reinventing itself—from a party mecca to a wellness and yoga destination, with dwellings like Design Hotels' La Granja.
And there's also the unwavering patriotic optimism among those in Iceland's design community, which is accustomed to outside influences. "In Iceland we celebrate the diversity of our design," says Daniel Freyr Atlason, whose creative studio Döðlur designed Reykjavík's Art Deco–inspired hybrid hotel/hostel, Oddsson. "There is no great design history to build on and adhere to, and this creative freedom can be incredibly liberating. It is this brimming curiosity and daring optimism that makes Icelandic design what it is, and we must hold it dear."
You may also enjoy "Studio Tack Fuses Alpine Modern and the American West for the Anvil Hotel in Jackson, Wyoming."