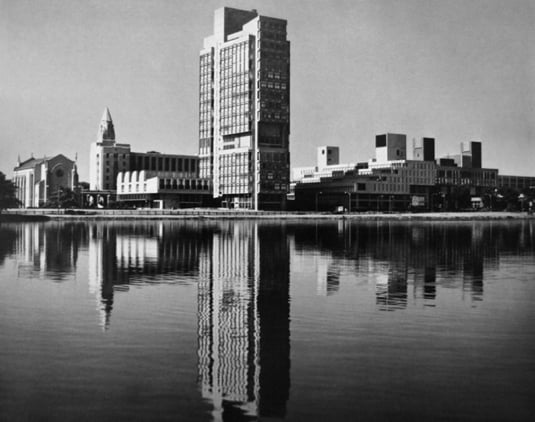 September 24, 2012
Debating the Value of Brutalist Architecture in Boston
Boston University School of Law Sert complex as seen from the Charles River upon its completion.In our previous post, the Owner/Occupant Perspective, we identified the push-pull issues between these two factions in renovating mid-twentieth century modern buildings. Here, we explore Stakeholder Equilibrium as the value of these structures is debated, and the role architects play […]
Boston University School of Law Sert complex as seen from the Charles River upon its completion.
In our previous post, the Owner/Occupant Perspective, we identified the push-pull issues between these two factions in renovating mid-twentieth century modern buildings. Here, we explore Stakeholder Equilibrium as the value of these structures is debated, and the role architects play in this mix. Our experience in addressing the rehabilitation of this building type has grown over the years. In the process, we have found that our role as architects has expanded to include an advisory role, both before and during the design process. Because of our track record in identifying the value of these structures, we are frequently brought in to mitigate and resolve differences among those who debate a building's fate, usually a structure that's disliked by its users and owners alike, yet may be judged to have historic value by preservationists or architects.
---
More from Metropolis
---
More than a year ago, we were commissioned to restore and renovate Boston University's (BU) School of Law and Law Library (begun by Josep Lluis Sert in 1962). We went into this commission with the understanding that our role would have to include mediation, to enable the stakeholders to set aside their prejudices about these buildings and to see the project anew. In the process, we were surprised to find that we, as architects, needed to do the same thing. Many members of our firm, some of whom studied under Sert, had admired his buildings for years. Charged with defending and restoring landmark buildings that we once only knew from a distance, we had to tone down our reverence in order to see the challenge of the project clearly. The problems with the Sert buildings at BU, agreed upon by the owner (BU) and the user (the law school), are similar to the trials and tribulations of other buildings of their type—concrete and window failures, a poorly insulated building envelope, and sub-standard heating and ventilating systems. In addition, the 18-story law school tower seemed to pose a series of unsolvable problems, due to its inadequate elevator system design. The original arrangement of six small and slow elevators has made daily vertical movement by hundreds of students, over the course of 50 years, very difficult and time-consuming. As a result, the law school faculty doubted that the Sert building could ever serve their academic needs. Additionally, the university faced growing annual maintenance and operating costs for the rapidly deteriorating building. The preservation community added another voice to the mix; they expressed their unqualified affection for the Sert buildings.
Boston University School of Law Sert complex model view from the east.
To address these issues with all stakeholders, we started with an extensive preservation and development study that detailed the significance of the historic buildings, as well as the alternatives we identified for their restoration, rehabilitation, and reconstruction. Then we went beyond "existing conditions" to analyze opportunities for additional square footage that would accommodate the law school's planned expansion and growth. Unlike our experience in working with large-scale restorations and the repurposing of industrial buildings such as the Massachusetts Museum of Contemporary Art (MASS MoCA in North Adams), where spaces can be "sculpted" to create exciting, new interior volumes where before none existed before, most poured-in-place concrete buildings do not provide this possibility. Their structures and interior finishes are undifferentiated, making selective demolition a near physical impossibility, or simply unaffordable. The unavoidable and therefore frequent solution for these rigid buildings is to design an addition to the existing historic structure. If this is done properly, the addition can remedy the perceived deficiencies in the original building and enable it to have a new life, perhaps even supporting core functions. This is what we suggested to the stakeholders at BU—and what all involved accepted.
Boston University School of Law Sert complex: Significance of Design Elements and Preservation Priorities.
Our plan is to relocate 16 law school classrooms to a new 100,000-square-foot building with its own bank of new elevators that will be sited, according to our 2008 preservation and development study, at the base of the tower. We will then convert the tower interior to offices for faculty and administration. This new faculty and administration tower will become a state-of-the-the-art facility with its new LEED rated mechanical systems and office views toward the Boston skyline high above the Charles River.
Setting some of the dislike for Sert's concrete esthetic aside, what matters now is that the new law school building will support teaching and student social interaction in ways that were never before possible. Construction will begin next spring to be completed by September 2015 in what is hoped will be a happy ending and a win-win for all involved. Our next post will focus on a new subject related to mid-century building rehabilitation, Materials and Building Components.
---
Leland Cott, FAIA, LEED AP, is a founding principal of Bruner/Cott & Associates, a Cambridge, Massachusetts, architecture and planning firm. This is the fifth in a series of Metropolis blogs written by members of Bruner/Cott's restoration team that focus on the challenges and solutions for converting, rehabilitating, or reusing mid-century buildings. Upcoming posts will explore issues associated with this conservation, drawing on the firm's long-term experience working on the repair, enhancement, and continued use of this architecture. Mini-case studies of buildings will include the MIT Stratton Student Center by Eduardo Catalano; Harvard University's Peabody Terrace Apartments and Holyoke Center and its Gund Hall for the Graduate School of Design by John Andrews; and Boston University's School of Law and Law Library by Josep Lluis Sert. Design and technical problems associated with these projects as well as user/owner issues inherent to mid-century modern design will be explored.