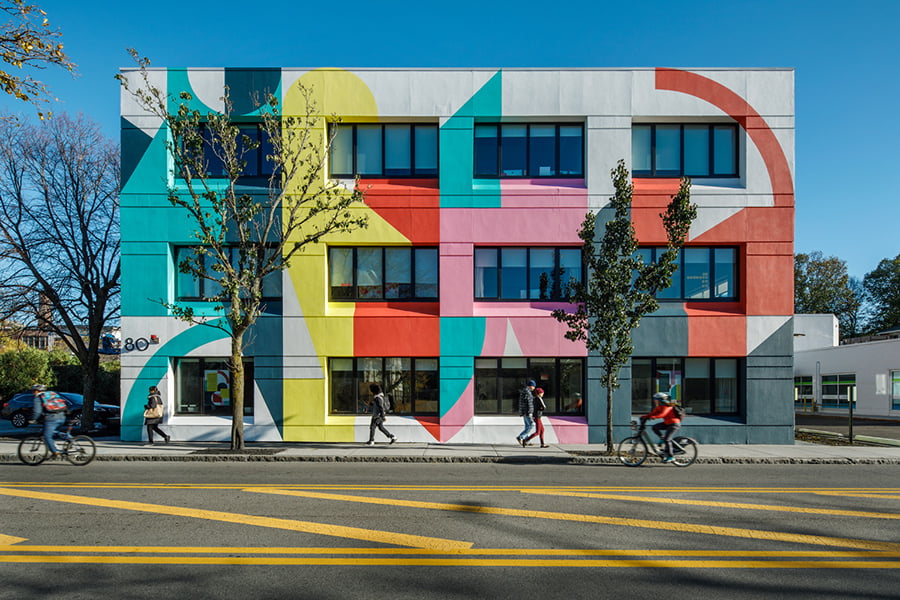 June 27, 2018
IDEO's Bold New Cambridge Office Uses Architecture to Join a Start-Up Community
Designed by Hacin + Associates, the new office enables collaboration between its teams while plugging into Boston's burgeoning start-up and tech scene.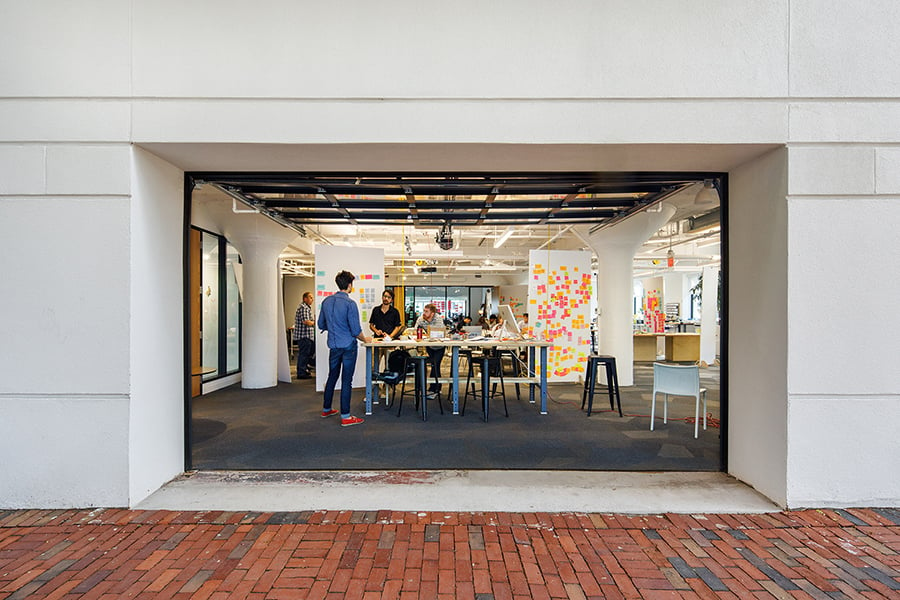 ---
You don't typically enter an office through a garage door, but at IDEO's new location in Cambridge, Massachusetts, that's what employees, clients, and visitors do every day. Passersby can sometimes stumble onto events in the reclaimed space, such as a recent public radio recording. But even when the doors are closed, the windows provide a plain view of workspaces peppered with sketches, Post-its, and prototypes (not to mention dozens of designers working furiously). Preserving the parking garage's original doors as the entry to the ground-floor design studio is both a symbolic and practical move by Boston-based architecture firm Hacin + Associates—one that supports IDEO's objective to build a creative office and plant an essential node in Cambridge's tech start-up community.
IDEO is no stranger to the Boston area: In 2007, it moved its office to a Hacin + Associates–designed space in a mid-rise tower in Cambridge from nearby Lexington. IDEO returned to the firm in 2016 when the company was looking to expand and forge a closer connection to the area's tech scene. Located between engineering powerhouses Harvard and MIT, the new site was ideal. IDEO figured that if the company could draw from the neighborhood's expertise while offering creative solutions, it could generate new businesses (and clients) in the process. But the move's success would hinge on the new space's ability to foster IDEO's horizontal, multidisciplinary, and quirky work culture. "Our clients are typically coming to us to solve challenges that they've tried to [fix] and failed, and so they're coming to us to say, 'OK, what is this wild new idea?'" says Rebecca Hornbuckle, partner at IDEO and the Cambridge office's managing director. "The irreverence and courage here are in service of that."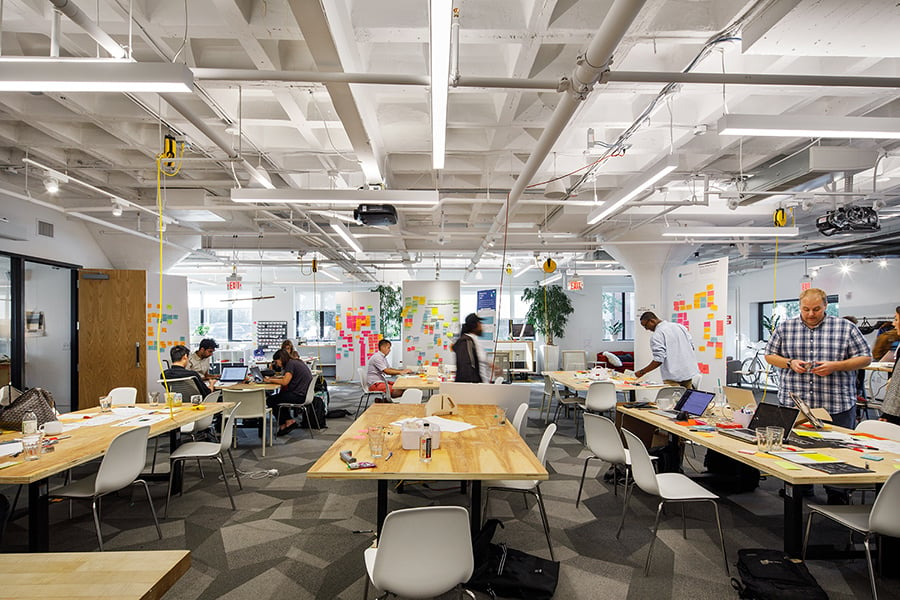 ---
It's intentional that this spirit is on full display even before one enters the building. Visible through the garage doors is CoLab, a venture distinct from the regular IDEO offices above. A separate IDEO offering, the CoLab program serves as a revolving door for local tech industry talent. Instead of commissioning IDEO to design new products, services, and experiences for them, companies pay an annual CoLab membership fee to help set CoLab's research agenda. Along with that, they send their employees to work with CoLab designers in sprints, weeklong whirlwind sessions that produce prototypes that CoLab members can develop into businesses. (Examples include solar panels that log energy credits on a blockchain to monitor their use in the electrical grid, and a small, deployable pharmaceutical dispenser that uses a voice interface to track inventory across clinics.)
---
More from Metropolis
---
Flexibility was a key design driver throughout the office, not least in the CoLab space, which, thanks to movable tables and drop-down electrical plugs, adapts to whatever task is at hand. But, says architect David Hacin, the garage doors were the key gesture to communicate that "this is a place that's part of the public realm," a different guiding philosophy from that of the old Cambridge office. Now IDEO's collaborators—past and future—can drop in for industry events or quick chats, so much so that CoLab invites former fellows and members of its broader network to work in the space every Friday. Gian Pangaro, the unit's creative director, says "having a place that we can actually invite communities in to work with us…helps us establish ourselves" among developers of blockchain, artificial intelligence, and other cutting-edge technologies.
---
The second floor hosts perhaps the office's most essential social infrastructure for creative design: its generous 1,290-square-foot "café" kitchen, which serves as a meeting space during companyprovided lunches each Monday. "It's equidistant from every place in the building. It's intended to be the place where people come together, get to know each other, bring guests, have events, and so forth," Hacin says. Thursday lunches, also held in the kitchen, feature a design fiction exercise in which an individual is assigned a random brief (usually a phrase, such as "Celine Dion's dreams") and a limited set of materials to tell a story. Regular events like these help stimulate teamwork, says Michael Hendrix, partner at IDEO and an executive design director at the Cambridge office: "Creatives are sensitive people, so trust has to be built in a lot of different ways."
While clients are welcome on the second level, the third floor is employee-only territory—both to protect the confidentiality of work and to provide an environment for focus. Hacin + Associates cut three new skylights and installed a library, a dozen-odd sit-stand desks, a long table, numerous comfy chairs and sofas, and cozy nooks for an overall intimate and quiet atmosphere. Hendrix describes the top floor as a place for designers to "be together alone." A small indoor lounge overlooking several trees has been nicknamed the Treehouse and is especially popular among employees. "All of these small pockets are giving you different options" for work, says Hendrix. Hacin also provided dedicated rooms for work in teams, which remain assigned for the duration of a project.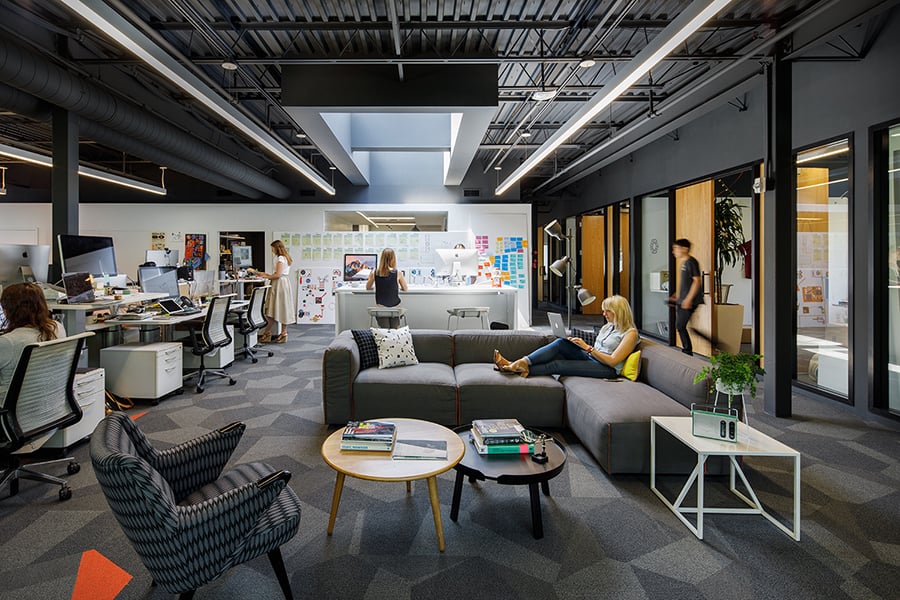 ---
Beyond their shared spaces, what binds IDEO and CoLab is culture. Hacin and Hendrix both acknowledge that "collaboration" is too often a buzzword, but IDEO's Cambridge office leverages its social spaces to cultivate a work culture that encourages employees to share ideas and offer critiques. Woodworking classes in the fab lab, a cover band competition, a summer party on the ground floor—all of these serve to build familiarity and trust.
IDEO has never been about the lone creative genius. "We're a build-it-together culture," says Hornbuckle. "We can actually lower the bar to participation and to putting ideas out there." One of IDEO's biggest collaborative vehicles is sketching, so much so that designers will often lay out swaths of blank paper to lure colleagues into drawing, doodling, and ideating—something one designer playfully calls a "sugar trap." And while a sugar trap can pop up anywhere, it's this office's intentional flexibility, openness, and social infrastructure that successfully joins IDEO's micro-community with the wider one.
You may also enjoy "At SFO, a 1960s Airplane Hangar Conceals a Working Design Office."