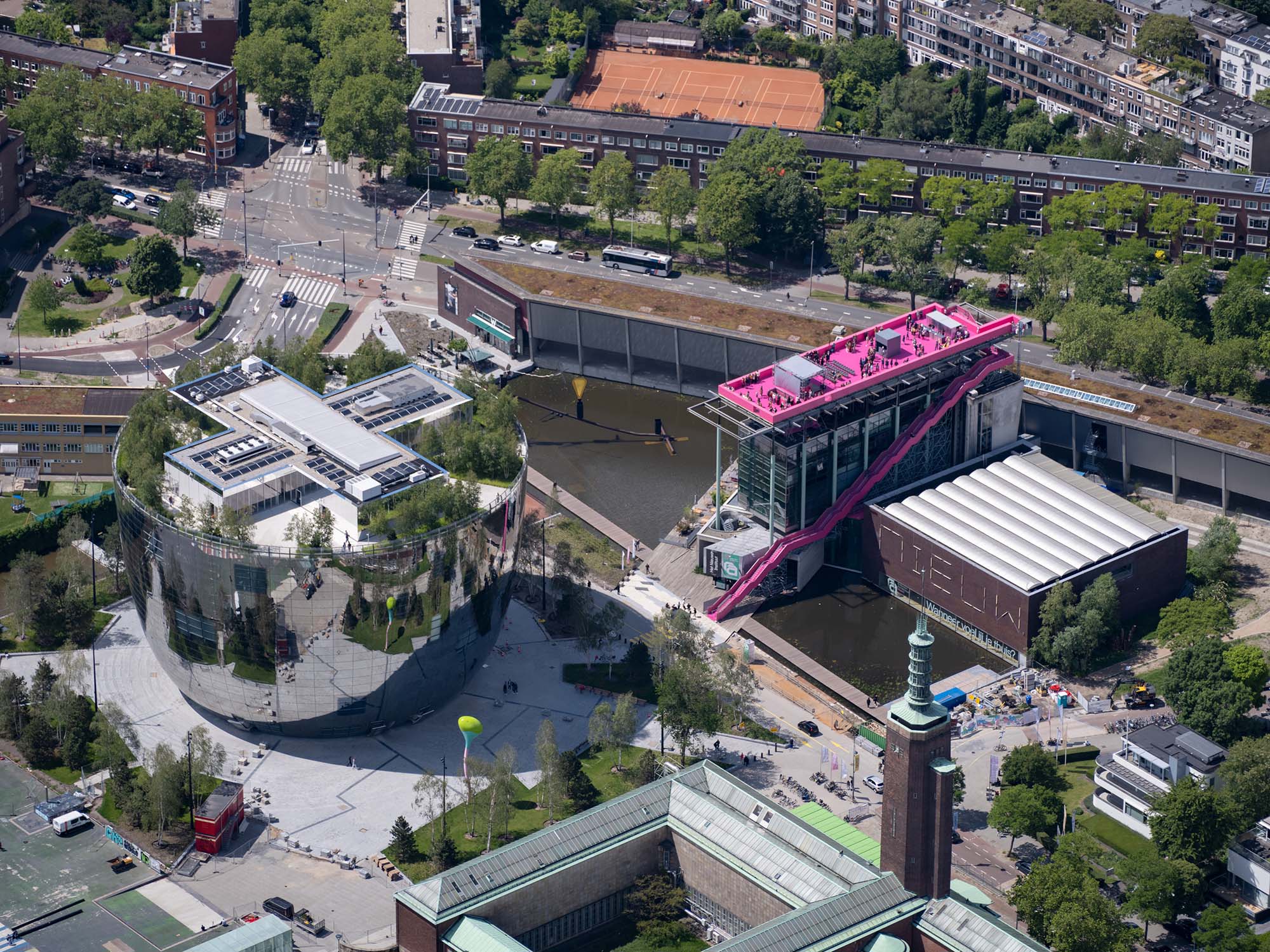 August 25, 2022
In Bright Pink, A Temporary Roof Structure Transforms a Rotterdam Museum
To design the installation during the Pandemic, the MVRDV team dug through Coenen's old drawings to confirm the existing rooftop pergola's weight-bearing capacity and held a series of Zoom conversations in which they sketched over Google Earth images. The bold color, used for the project's Astro-turf carpet and paint, was selected to tempt curious passersby into the museum. "Some colors just blend and fall away against the sky, and we wanted something bright that both draws attention and makes you smile," says Rikken.
---
More from Metropolis
---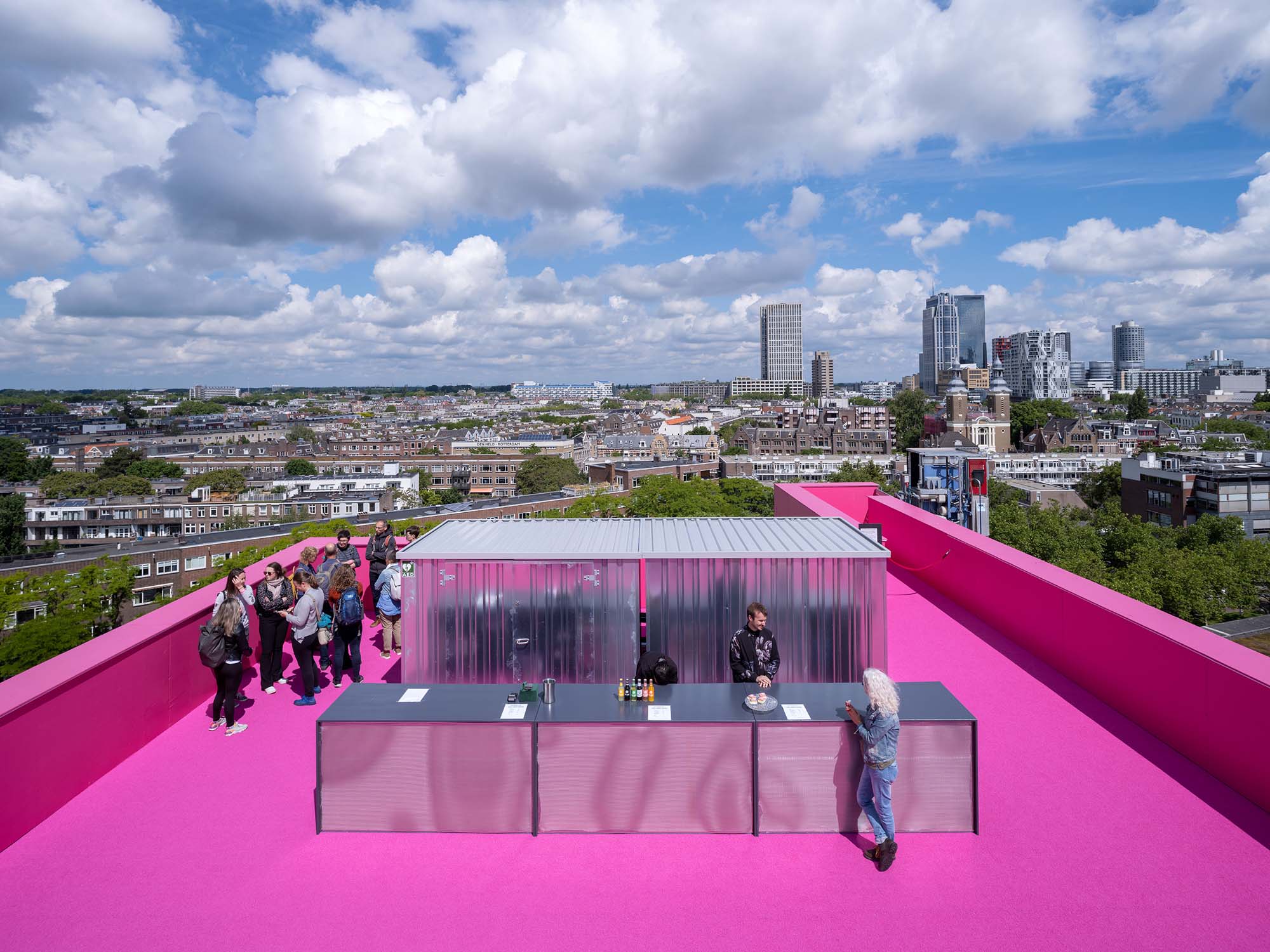 Opened after two months of construction, the sky-high platform, with its birds-eye view over the sculpture garden and six other museums in Rotterdam's Museum Park (including MVRDV's own Depot Boijmans Van Beuningen, with its round, mirrored facade), hosted a 20-foot-long bar and a storage area stowing away chairs for gatherings such as concerts, lectures, yoga classes, and theatrical presentations. It was securely wrapped by a 4-foot-high balustrade that is a generous 24-inches thick to deter fear of heights. The first event held was the kickoff party to Rotterdam Architecture Month–with attendees including the city's mayor. "There was really a square on top of the building," Rikken continues.
The MVRDV team was particularly keen to ensure everything about the project was temporary. Since scaffolding material is always leased, it was obtained at a low cost and would be reused. The recyclable carpet can be pulled apart, "so that the fabric, the little hairs are reusable for other types of astroturf, and the backing is ground down for rubber tiles that would be used in playgrounds or schools," Rikken notes.as
This isn't MVRDV's first foray into eye-catching stairs or roofs. "Our grander vision is roof activation, and exploring the possibilities they could achieve in densifying cities," Rikken explains. In 2006, the firm completed Didden Village, a bright blue town-like roof extension on a historic Rotterdam building that disappeared into the sky on cloudless days. In 2016, the firm erected "The Stairs to Kriterion," a 98-foot-long white temporary stair used as an observation deck attached to Rotterdam's main train station. This year, the firm was behind "The Rooftop Walk," a nearly 2,000-foot-long bright orange rooftop walkway, also timed with Rotterdam Architecture Month as well as the three-day Rotterdam Rooftop Festival in June.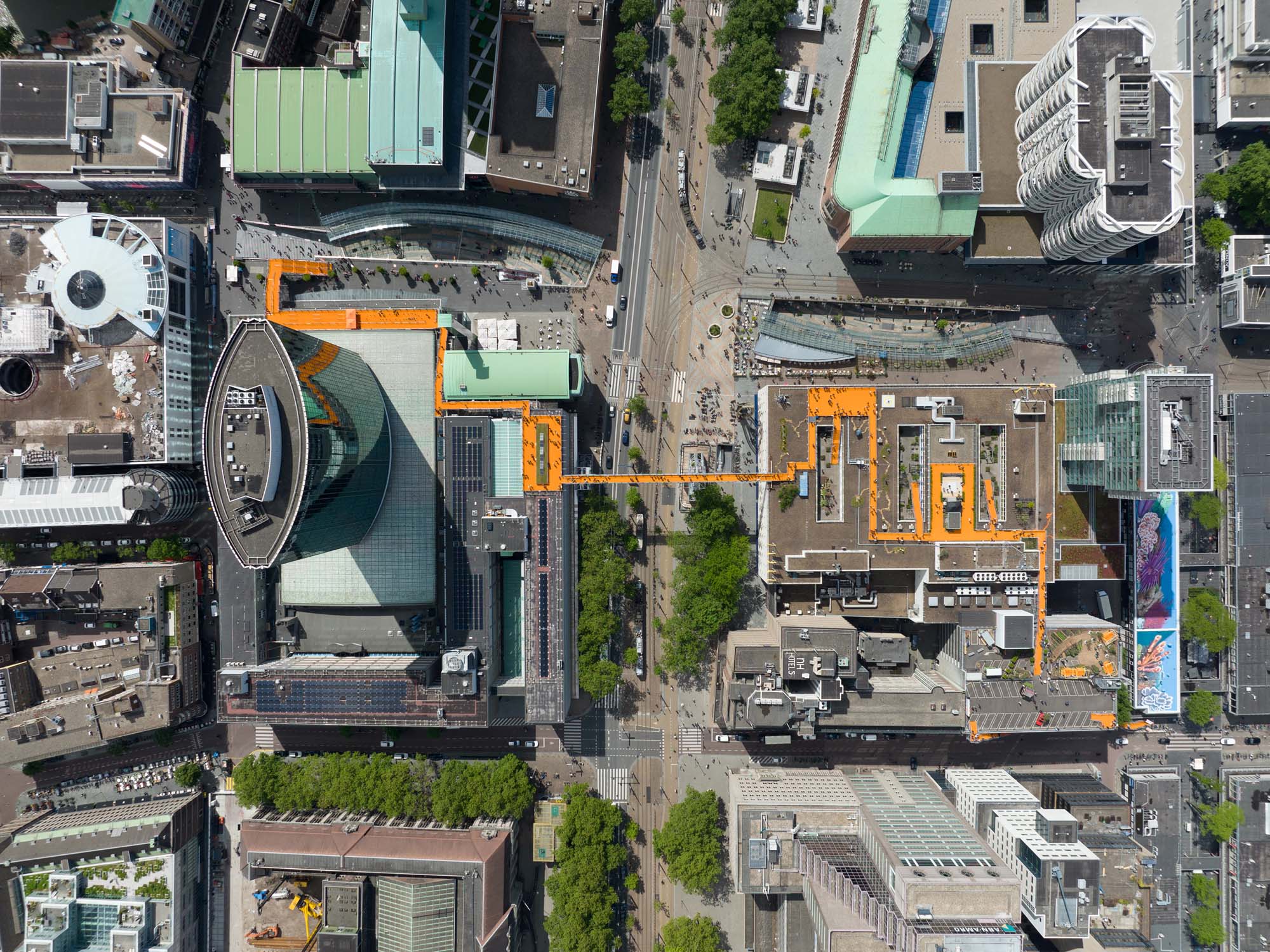 The Podium also drew visitors into an exhibition at the HNI highlighting MVRDV's work. MVRDVHNI: The Living Archive of a Studio is on display on the top floor of HNI through September 4. "It was great to be able to turn the museum into a testing ground for MVRDV's long-standing work on rooftop urbanism," says Aric Chen, general and artistic director of HNI. To get a closer look at MVRDV's work you can walk next door to the 161,000-square-foot Depot Boijmans Van Beuningen. Its transparent glass interior puts even stored art on view.
"You could actually stand on top of the Depot and look at this fantastic pink space, but also the other way around," Rikken says. "From The Podium, you could see yourself mirrored in the Depot's facade."
Would you like to comment on this article? Send your thoughts to: [email protected]