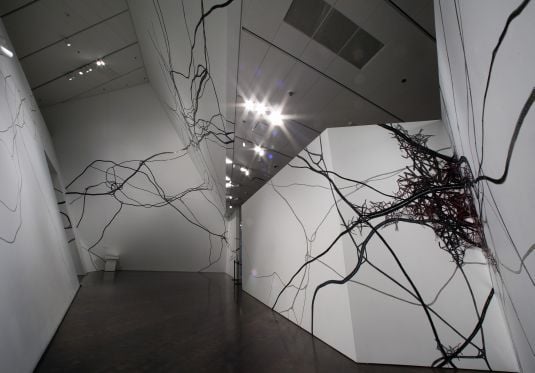 November 13, 2009
In Denver, Artists Embrace Libeskind's Controversial Museum Addition
Three years ago, the Denver Art Museum (DAM) expanded into a titanium-clad addition by Daniel Libeskind, which, typical of the architect, features a dramatic series of jagged outcroppings and angular interiors. The new building has quickly become a symbol of the Mile High City, but a number of critics have balked at its asymmetrical galleries, […]
Three years ago, the Denver Art Museum (DAM) expanded into a titanium-clad addition by Daniel Libeskind, which, typical of the architect, features a dramatic series of jagged outcroppings and angular interiors. The new building has quickly become a symbol of the Mile High City, but a number of critics have balked at its asymmetrical galleries, arguing that they are poor spaces in which to display art. Now the DAM is confronting those criticisms with an exhibition, opening tomorrow, titled Embrace! The show's curator, Christoph Heinrich—who was recently named the museum's new director—invited 17 artists from around the world to, yes, embrace the museum's unique design and use the architecture itself as a canvas for their work. Here's a look at what several of the artists came up with.
.
Photos: Jeff Wells/courtesy the artists and Denver Art Museum
Nicola López's printed images react to the architecture with lines that snake up, down, and around the walls, delicately consuming the space. The prints were inspired by steel beams and girders, plastic cables, industrial waste, and assorted construction and technological debris.
---
More from Metropolis
---
Lawrence Weiner believes that snippets of language can be just as powerful as a painting or sculpture. Here, his words are found in the stairwell of the DAM.
Matthew Brannon's large vinyl wall murals cover the wall between the second and third floors.
In one of the smaller galleries, Russian-born Dasha Shishkin's installation uses the angled walls and low ceiling to create depth and help her tell a story.
John McEnroe's plastic sculptures hang from the ceiling of the DAM.
Shinique Smith balances street art and fine art using garments, wire, spray paint, and other objects collected from museum volunteers and docents.
Berlin-based Katarina Grosse used an industrial spray gun to cover a four-story slanted wall, drawing attention the building's unique structure. Fun fact: During installation, the wall had to be sealed in a plastic bubble to protect the museum from spray paint.
Kristin Baker's architecture-inspired sculpture is made of paint on steel underpinnings.
Finally, Rick Dula (show here with his work-in-progress) takes an industrial approach with this inside-out view into the second-floor hallway. His to-scale installation reminds viewers of the gritty construction process.
All work © the artists, 2009. Titles, from top: Nicola López, R.A.W.; Lawrence Weiner AS TO BE IN PLAIN SIGHT; Matthew Brannon, Last to Know; Dasha Shishkin, Dying Christ Rushed To The Hospital (You Are Going To Need My Help, Sweetheart); John McEnroe, The Bathers; Shinique Smith, Twilight's Compendium; Katharina Grosse, George; Kristin Baker, Dihedral Barrage; Rick Dula, untitled work in progress