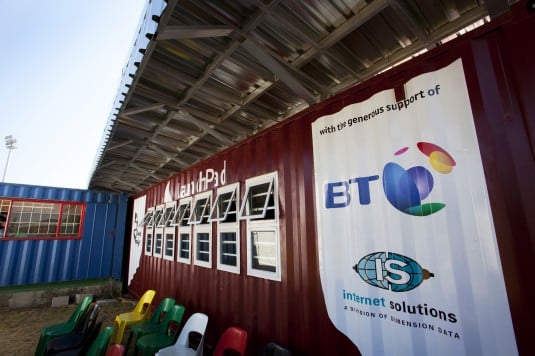 November 2, 2012
Infinite Family's New Mentoring Module Recycles Old Shipping Container
Infinite Family's first LaunchPad mentoring lab opened in August 2012, in Alexandra township, north of Johannesburg. Their plan is to open one hundred LaunchPads over the next five years, serving more than 11,000 children.Courtesy Perkins+Will Perkins+Will, in collaboration with Atelier Ten, volunteered their time to design the first environmentally sustainable mentoring module. Called LaunchPad, it […]
Infinite Family's first LaunchPad mentoring lab opened in August 2012, in Alexandra township, north of Johannesburg. Their plan is to open one hundred LaunchPads over the next five years, serving more than 11,000 children.
Courtesy Perkins+Will
---
Perkins+Will, in collaboration with Atelier Ten, volunteered their time to design the first environmentally sustainable mentoring module. Called LaunchPad, it uses a repurposed shipping container for the Infinite Family initiative in Sub-Saharan Africa where millions of children grow up without the influence of adults. Amy Stokes, the program's founder, wants to change this.
---
More from Metropolis
---
Due to the AIDS epidemic in the region, which has spread to one in ten people being infected with HIV, a disproportionate number of children and young adults are growing up without parents or without adult mentors. In response, Stokes's Infinite Family enlists volunteer mentors from around the world to interact one-on-one via web video with at-risk youth, forming lasting relationships and helping them to become assets to their communities.
The program has been a great success.  More than 400 mentors have given their time, engaging some 600 children over the last three years and helping them gain the confidence and self-reliance they need to become leaders in their communities.
Infinite Family's first state-of-the-art module marks an important milestone for the program. There is funding in place to construct three more, potentially affecting the lives of thousands of under-served youth living in difficult situations. "One of the keys to successful mentoring is to have a place that is conducive to a good experience," Stokes says. "Our LaunchPad is that place."
I posed a few questions to Mike Kane, an architectural illustrator at Perkins+Will, who donated his time to the project and the program's founder, Amy Stokes to learn more about the modules. The unit utilizes passive cooling, an interactive thermal wall composed of recycled water bottles, and battery-powered back-up storage banks to allow them to function off-the-grid when necessary.
The self-sustaining module utilizes operable windows and a canopy structure for passive cooling to reduce energy consumption and keep costs down.
Courtesy Elske Photography
---
Laurie Manfra: How did Perkins + Will become involved with Infinite Family?
Mike Kane: Scott Schiamberg, a former senior designer with Perkins+Will and now a visiting scholar at MIT School of Architecture, introduced the project to our New York office.
Amy Stokes: Infinite Family was introduced to Perkins+Will by a mutual colleague, with whom Scott had worked on the NYC Olympic bid. Scott was immediately enthusiastic about the project and brought to bear vast experience, ideas, and outside resources to guide it. LaunchPad is truly the state of the art for distance mentoring. It's a place that signals that important work is being done by the mentee and their mentors, and it's a place where students come to invest in themselves and develop the self-reliance they need to build better lives.
LM: What measures did you take to keep the building project affordable and sustainable from a materials and construction point of view?
MK: There is a strong precedent for using repurposed shipping containers as low-cost buildings in Africa. To fit out a container was a more economical solution than to construct a building onsite. The building itself is, in a sense, recycled. Fitting out the container off-site reduced construction and delivery costs.
Perkins+Will has collaborated with Atelier Ten, the environmental design consultants, on several projects, and we invited them to work with us on this project. Thankfully, they were happy to do so on a pro-bono basis.  They provided invaluable advice about low-cost, high-impact passive strategies such as siting the building to take advantage of local conditions, as well as detailed advice on interior heating, cooling, power loads, and how to enable the LaunchPad to operate off-the-grid in southern Africa's areas where electricity supply can be unpredictable. We recommended laptop computers for improved energy efficiency, introduced as many operable windows as possible for natural light and cross-ventilation, and added an over-sailing canopy on the roof, which gives the LaunchPad a strong identity while providing deep shade to help modulate the interior temperature. There was an overriding imperative for this project to be extremely economical, both to build and maintain. Even a relatively small building like this one can be costly to run. Our energy conservation efforts should have a significant impact on its affordability and sustainability.
The interior is divided into open-plan cellular spaces that allow for group and private interaction, and the labs are equipped with high-speed internet capabilities, courtesy of its sponsors, Internet Solutions and BT.
Courtesy Elske Photography
---
AS: Managing ongoing-running-costs is critical to our ability to expand and bring valuable mentoring relationships to more children in Africa. 55 million children in Sub-Saharan Africa have been orphaned, so our focus needs to be on growing quickly and economically. Our donors expect us to manage their grants effectively and efficiently, and to help the greatest number of teens become responsible, resourceful, and resilient young adults. The P+W team understood this right away and worked very hard to include a range of passive technologies to maintain LaunchPad's internal temperature rather than rely on air-conditioned solutions.
LM: Did you utilize local labor?
MK: The container was sourced locally in Johannesburg; the fit-out was carried out by Absolute Container, a local company from nearby Pretoria. We weren't involved with detailed design or construction administration, so we had little influence on choice of materials beyond recommendations about energy use, air quality, and recycling.
AS: Absolute Container has been a great local partner. They made several valuable suggestions that took advantage of locally available components. In addition, they understand the extreme conditions, both environmental and security related. We all want the LaunchPads to last and serve thousands of African teens.
LM: What other socially and culturally sustainable measures did you take?
MK: The very existence of the LaunchPad and the tremendous work done by Infinite Family are, in themselves, sustainable and regenerative. One of the suggestions that Scott and Atelier Ten proposed was a thermal mass wall, which has been taken up by Infinite Family. The Net Buddies will be encouraged to fill it with discarded water bottles from their surroundings, giving them a stake both in helping to clean up their environment and in the completion and ongoing function of the LaunchPad itself.
AS: Infinite Family is helping young people gain skills in five areas: communications, academics, life skills, technology, and career preparation. These skills and the self-reliance they bring are a real source of sustainable impact. We expect our mentored teens to go on and create better lives and a stronger society.  Along the way, they are very engaged in gathering plastic bottles to create the thermal wall. They understand we've all made an investment in them and they are also making an investment in how LaunchPad works.
---
Laurie Manfra is a freelance architecture and design journalist based on Long Island.