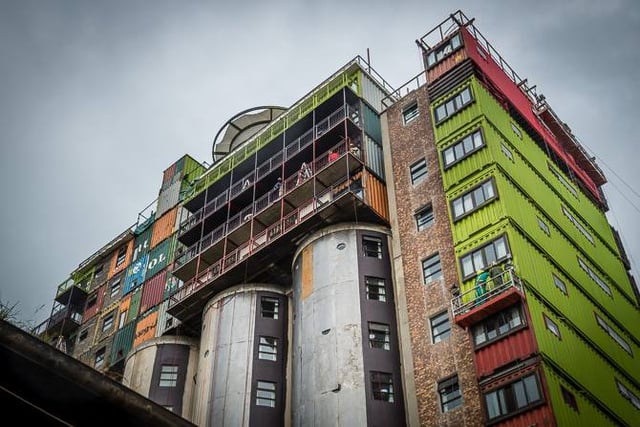 February 24, 2014
In Johannesburg, A Colorful Dorm Made From Shipping Containers
Mill Junction is a daring student dormitory that's high-rise and low-cost.
Johannesburg has a new rainbow-colored high-rise that's an unlikely pastiche of architectural types. Brightly-colored shipping containers meet decrepit-looking grain silos at Mill Junction, an innovative development that realizes a 370-bed student dormitory smack dab in a city with few student housing options. Floor slabs were inserted into the silos, and windows punched into their thick concrete walls. The shipping containers were then lifted into place and welded together.
For Citiq, the property developers behind the project, Mill Junction represents the company's commitment to exploring the potential of inner-city regeneration efforts. "What these types of projects do for us is open up the city landscape. So, we can take derelict parts of the city and do something significant with them," says Citiq CEO Paul Lapham. The grain silos had been abandoned for an estimated 50 years and were bought at a bare minimum price, "so, the overall cost savings was probably fairly significant at 30 or 40 percent over a conventional retailed price for a project site." He adds that by using shipping containers, the material and assembly costs were additionally lowered by at least 20%.
---
More from Metropolis
---
By saving funds on land and construction, Citiq was able to invest in energy-saving fixtures. Opened for move-in-day in mid-February, the structure is fitted with eco-friendly utilities that will save residents an expected 40% in monthly electricity and water consumption. The property now uses heat-pumps with insulated water piping opposed to a conventional boiler system. Lights are motion controlled, and windows have been doubled glazed for insulation and enhanced temperature control.
Mill Junction's amenities include free WIFI, shuttle bus services, and an AstroTurf roof. Lapham is particularly proud of the latter: "We've tried to create what is really almost a garden feel for students, where they can go out and get fresh air and walk around." Every residential floor of the fifteen-story structure is equipped with a leisure or recreation room.
Since the dormitory started accepting applicants in late January, it has been signing leases at an average of 60 to 70 new contracts a week. Located within a mile of Johannesburg's two largest universities, the complex is ideally sited for the approximately 80,000 students who study in the area. Lapham estimates that an additional 80,000 students attend the city's smaller colleges in the surrounding region.
The model seems to be replicable. "We're currently busy with one, two, three, four other properties in Johannesburg which follow sort of the same themes," Lapham says. Further downtown, another row of grain silos is expected to get the shipping container treatment. As Lapham explains, "the basic structure of the silos are extremely—what can I call it?—non-leaky," making them amenable to this kind of reuse.