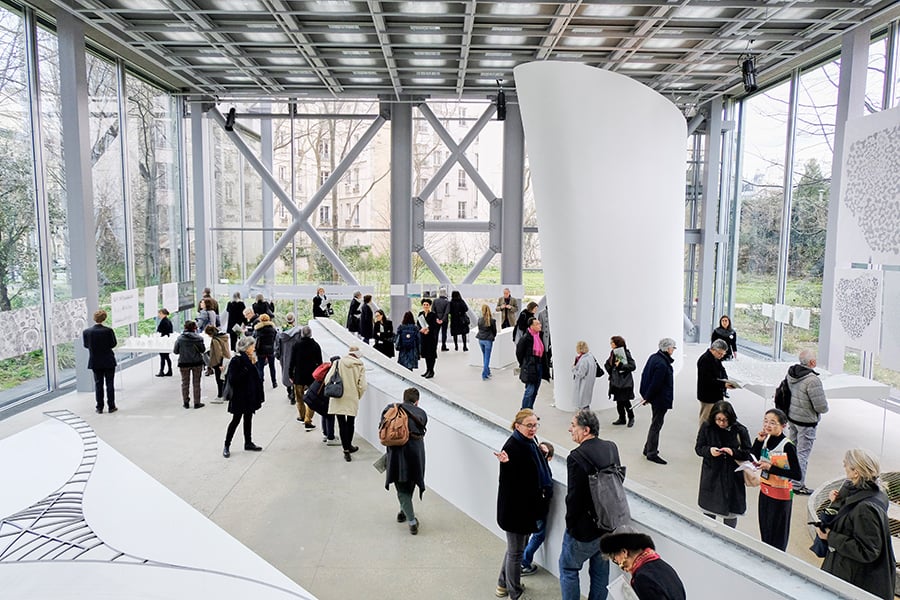 May 10, 2018
Fondation Cartier Exhibition Invites You Into the Whimsical World of Architect Junya Ishigami
The Paris art museum's first solo architecture exhibition, dubbed Freeing Architecture, is on view through June 18, 2018.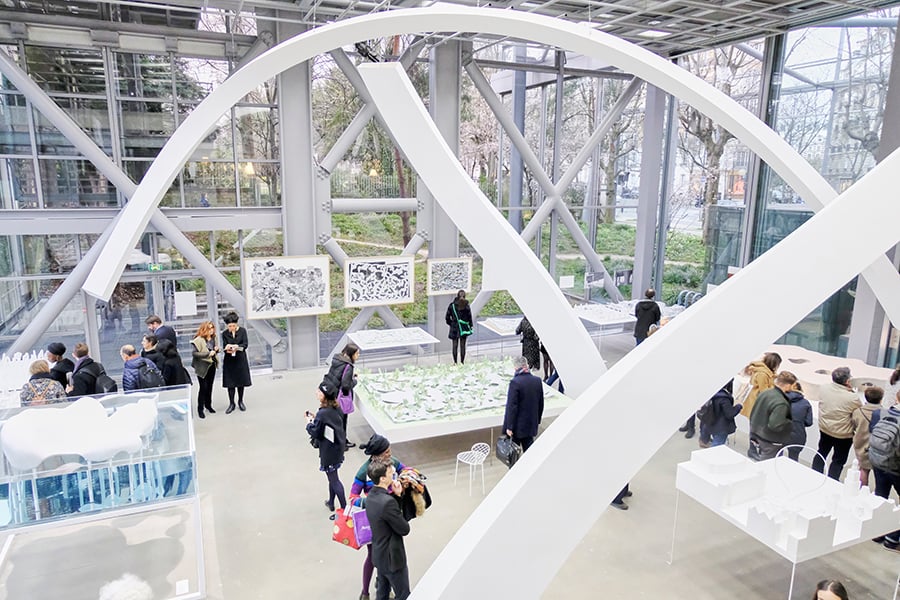 ---
"If we shrink to become tiny elves, everything is architecture," writes Japanese architect Junya Ishigami in the catalog of Freeing Architecture, his solo exhibition currently on display at the Fondation Cartier in Paris. For the exhibition, Ishigami, who runs a small Tokyo-based firm, has unfurled a multi-layered landscape featuring more than thirty models, drawings, and films. Freeing Architecture powerfully advocates for his architectural approach, one that fuses an emphasis on nature with childlike imagination.
The exhibition's power derives, in no small part, from its sheer scale, as well as its materials, textures, and use of perspective. (The SANAA-trained Ishigami, with a Venice Biennale of Architecture Golden Lion under his belt and an exhibition track record from Tokyo to London, is no stranger to the biggest challenge facing architectural exhibitions, namely, death by drab.) But with a carte blanche from curator Isabelle Gaudefroy, Ishigami makes full use of his models. Both the massive Richard Serra–like Chapel of Valley and the dancing ribbon of the Cloud Arch catapult up the gallery's double-height ceiling, touching down with seemingly random footprints that create a natural pathway through the exhibition.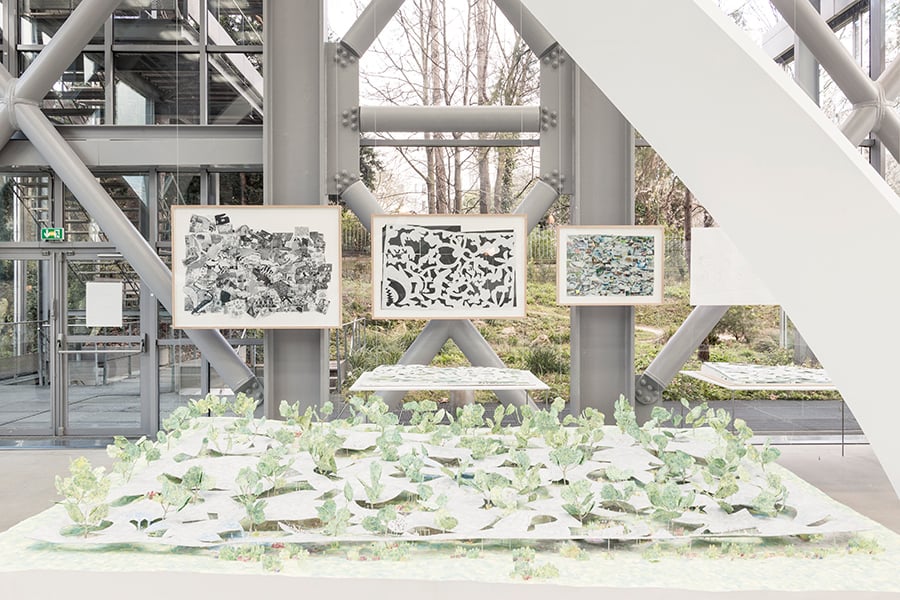 ---
Other projects, including the Forest Kindergarten in China and the University Multipurpose Plaza in Japan, expand horizontally, inviting visitors to crouch down to discover the models' hidden treasures. Tiny Pikachu and Totoro creatures nestle within the immaculate paper landscapes of sun-speckled trees and softly-shaped concrete clouds. This emphasis on the miniature scale, according to Gaudefroy, is inspired by children's perspectives and fantasies. That childlike perspective is harder to read in Ishigami's built projects, which are few and far between, making his models an ideal (and necessary) medium for the show.
---
More from Metropolis
---
Ishigami's playful quirks, however, contrast sharply with his exceptionally serious approach to architectural practice. "For Ishigami, nothing is a pre-conceived recipe," Gaudefroy, the curator, tells Metropolis. "If you commission one of his buildings, you must be ready to go along with him all the way in an extremely refined working process."
For example, Ishigami's latest project—a restaurant and hotel resort in Tochigi, Japan—illustrates his particular way of building. Before Ishigami even began designing the resort, he decided to transplant, tree-by-tree, an entire forest located on the project site to a nearby meadow of a similar size. Ishigami then flooded the meadow, creating a series of ponds and resurrecting the land's past life as a paddy field. The result is a landscape that hinges between manmade and organic, past and present. Five years later, Ishigami is finally beginning to work on the originally commissioned resort.
Embracing Ishigami's approach was a dive into the unknown for the Fondation as well. Days before Freeing Architecture was set to open, the architect descended upon the museum with his studio of ten and countless nimble-fingered interns in tow. The pristine gallery spontaneously morphed into a pop-up architecture office. "This sort of plasticity is really what Freeing Architecture is all about," says Gaudefroy, beaming, though with tangible relief in her voice.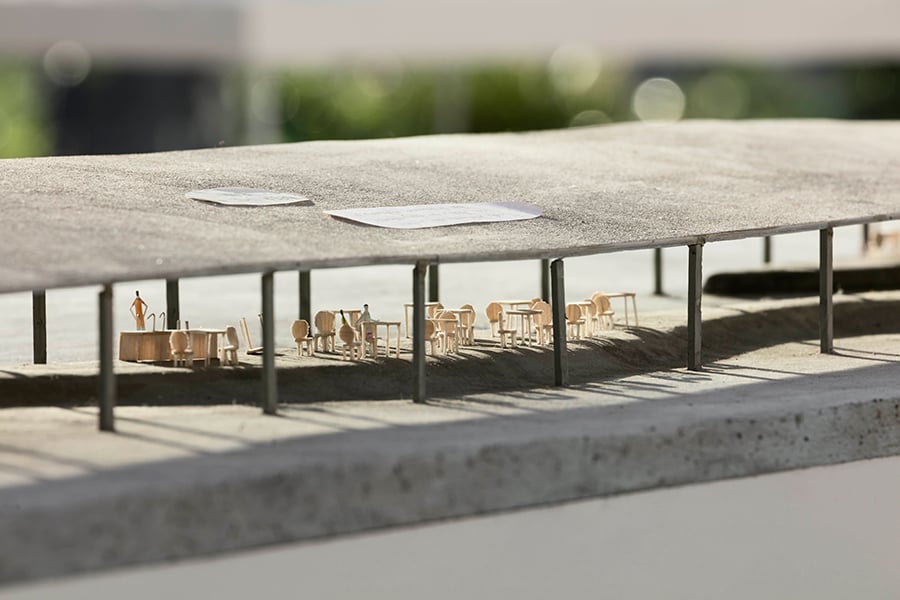 ---
The exhibition also highlights Ishigami projects that take on social challenges, though those models have been relegated to the Fondation's basement. Crucial projects like the Home for the Elderly, 8 Villas in Dali, and the KAIT Workshop in Japan offer ingenious designs that tackle the biggest issues facing society today, including supporting the elderly suffering from Alzheimer's, helping students with social anxiety, or recovering landscapes from deforestation. While these designs show that Ishigami's poetic and context-led approach doesn't totally disregard architecture's obligation to society, it is unfortunate that projects with the most social potential (like Home for the Elderly) have been cancelled, even as the fanciful trophies of Cloud Arch and House of Peace are full steam ahead.
As the Fondation's first solo architectural exhibition, Freeing Architecture has Ishigami invite us into his boundless and ephemeral world. In a moment where the design profession's missive couldn't be broader—from Forensic Architecture's bold investigative practice to the the upcoming Venice Architecture Biennale's pursuit of tried-and-true "atmosphere"—Ishigami shows how an architect can have his head in the clouds but keep two feet on the ground.
You may also enjoy "The Cooper Hewitt Announces National Design Award Recipients."